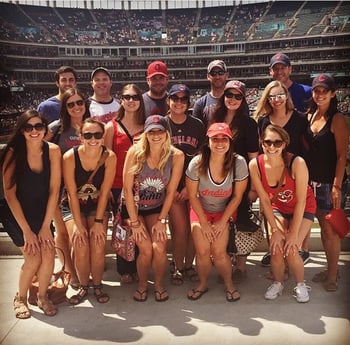 3,500 attendees, 225 speakers and more than 550 companies, all in 123 hours … and all in Cleveland, Ohio.
The much-anticipated Content Marketing World (CMWorld) is back, and only two weeks away.
From September 8 – 11, thousands of marketers worldwide will unite at the Cleveland Convention Center to hear from some of our industry's greatest voices. Guest speakers include John Cleese (@JohnCleese), Kristina Halvorson (@halvorson), Jay Baer (@jaybaer), Rand Fishkin (@randfish), Marcus Sheridon (@TheSalesLion), Robert Rose (@Robert_Rose) and Paul Roetzer (@paulroetzer), among many others.
And of course, CMWorld wouldn't be the same without the man in the orange suite, Joe Pulizzi (@JoePulizzi).
If you haven't registered yet, there's still time. And, if you're gearing up for a trip to Cleveland, below we've listed 5 things not to miss in Browns' town, and how to get the most out of CMWorld.
A Cleveland (Mini) Bucket List
Cleveland is in the midst of renaissance. And, I'm not just saying that because I'm a homegrown Ohioan. You're coming to Cleveland at the right time.
So, if you have a few spare hours between sessions, workshops or during the evening, below are 5 sights to see (or sample).
For a much more comprehensive list, check out Cleveland Scene's 100 Things Every Clevelander Must Do Before They Die. And, for more on the local marketing community, see why Why Cleveland is the Home of Content Marketing.
How to Prep for CMWorld Today
Events are exciting, yes, but they can also be overwhelming. Don't get swept up in the hustle, and lose sight of your end goals. Hoping to bring back an actionable content strategy for your team?
Mentally prepare for the conference with the following checklist.
Review the full conference agenda, and secure a spot in your priority sessions. (Note: This could take 2 – 3 hours, but definitely worth it to make the most of your experience.)
Download the event mobile app (only available if you've registered).
Make your own Cleveland bucket list.
Find a place to stay, or confirm your reservations.
Determine your top goals for CMWorld. Think: What do I want to walk away with?
Participate in the conversation on Twitter by following the #CMWorld hashtag.
Bring business cards!
And, for more conference prep, below are a few related resources we like:
If you're attending CMWorld, feel free to reach out to me (@SandieMYoung) or Jeremy Bednarski (@JeremyBednarski), who will be attending on behalf of PR 20/20.
And, while you're setting your agenda, don't miss out on Paul Roetzer's session, The Content Marketing Metrics That Matter: How To Measure, Visualize and Report on Content Performance, on September 9 at 2:30 p.m.


Sandie Young
Sandie Young started at the agency during the summer of 2012, with experience in magazine journalism and a passion for content marketing. Sandie is a graduate of Ohio University, with a Bachelor of Science from the E.W. Scripps School of Journalism. Full bio.