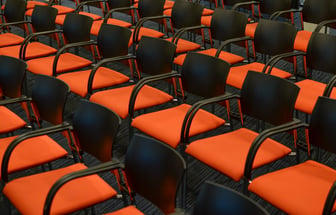 Editor's note: This post was originally published in 2017 and has been updated to be more current and comprehensive.
It's the most wonderful time of the year: conference season.
It's up to proactive marketers to stay on top of emerging trends and best practices— or risk falling behind. What better way to come together with fellow marketing pros than during industry conferences?
According to an article from Moz, marketing conferences are a huge commitment— both from management and the teammate attending (think: cost, time and productivity). However, the payoff is worth it, as attendees:
Learn new skills and tactics
Build new relationships via networking
Get access to new ways of learning, interacting and forming connections
Uncover new technologies and tools
Knowing that conferences are large commitments with even larger payoffs, it's also up to you as the attendee to truly ensure you are getting the most out of your time away from the office.
Below are a few ways to get the most out of your next conference to truly reap the benefits you've learned.
1. Plan in Advance
Don't just walk into a conference or speaking event blindly. Prior to the event, take the time to plan your day(s) accordingly. Download the event app if available and evaluate different sessions or speakers you want to see and register (if possible). Determine what will be the most valuable information for you and your team, and your marketing goals and strategy.
Don't miss out on the opportunity to listen in on something essential due to lack of planning.
2. Network
Attending an event isn't just about hearing people speak; it's also about networking. Before the event, check to see if individuals from your personal network, industry thought leaders, company connections or specific vendors will be in attendance. If possible, set up a time to meet during the event. Consider coffee, lunch breaks or even a happy hour to discuss cool ideas or just get to know each other better. Also, check to see if there are any local parties or meet-ups scheduled around the event where you can hang out and network.
3. Take Notes
After attending a conference, speaking event or listening in on a webinar, always document your favorite ideas. To do this, take notes throughout the event, session, etc. This will make it easier to compile a list of takeaways at the end. Some free tools to consider for note taking, include:
When taking notes, highlight or star key pieces of information you feel could be valuable for yourself and your team. Start a running list of ideas so it's easier to digest and fully utilize them in the future.
4. Knowledge Share
After you've determined what your key takeaways are, think deeper about how they can be applied to your work or specific projects. For example, if you attended a session on "top ways to optimize blog posts," sit down with your team members and overview the idea and brainstorm how it can be applied specifically to them.
Once an idea is discussed, you can then plan how you will build upon that idea to deliver results in the near future. Also, make sure to build out a reasonable timeline to ensure you take action on new ideas.
5. Re-watch Sessions
Chances are you will have learned a lot over the course of the event. This means it's almost impossible to remember all the important elements that you intended. If the event offers the opportunity, take some time and re-watch key sessions, or ones you may have missed. Check to see if the event offers an on-demand link or portal that will have recorded sessions available to watch. This will allow you to better digest the information at hand, and potentially discover key tips you may have missed the first time around.
Where PR 20/20 Plans to Make the Most Out of Conferences and More
The PR 20/20 team loves to take full advantage of speaking events and webinars each year and that stands true for this year, as well. So what events do we plan to make the most of this year? Check them out below:
Who: Members of the team recently attended INBOUND 2018, including PR 20/20's CEO Paul Roetzer (@paulroetzer), Sandie Young (@SandieMYoung), Mike Kaput (@MikeKaput), Tracy Lewis (@Tracy_J_Lewis), Jessica Miller (@jessica_joellen) and Keith Moehring (@keithmoehring).
What: "Through inspiring keynotes, innovative talks, educational breakouts, hands-on lessons, and tons of networking, you will learn how the INBOUND experience, and especially our content, is truly remarkable."
When: September 4 – 7
Where: Boston, MA
Check out this recap of one of the team's favorite sessions from Beth Comstock (@bethcomstock).
Who: Members from the team attended the annual event earlier in September, including Allison Melnik (@AllisonMelnik), Shannen Laur (@slaur9) and Tim Anderson (@TimetoAnderson).
What: "Content Marketing World is the one event where you can learn and network with the best and the brightest in the content marketing industry. You will leave with all the materials you need to take a content marketing strategy back to your team – and – to implement a content marketing plan that will grow your business and inspire your audience."
When: September 4 - 7
Where: Cleveland, OH
Did you miss this year's #CMWorld? Our team put together this recap post of top takeaways.
Who: Paul Roetzer will keynote the event, featuring "Marketing in the Machine Age: The AI Future."
What: "SMASH is the leading sales and marketing conference for senior care.

SMASH helps savvy strategists stay on top of the latest best practices, tools, and experts…like no other conference.

"
When: October 1 - 3
Where: Chicago, IL
Who: Paul Roetzer will be speaking at the event during an industry panel on "The Search Frontier."
What: "

Share18 Global Insights Tour will focus on the key trends driving performance across search, digital marketing and content. Whether your focus is SEO, digital marketing, leading a team or simply driving performance, our event has something valuable for everyone

."
When: October 10
Where: San Francisco, CA
Who: If you're attending, don't miss Paul Roetzer's session on "Artificial Intelligence and the Future of Small Business Marketing."
What: "ONWARD brings together the smartest minds in marketing and technology to explore how AI, digital assistants, and intelligent services will shape our world in the years to come. Join Yext and experts from some of today's leading brands, as we explore why

Knowledge is Power

at ONWARD18."
When: October 23 - 25
Where: New York, NY
Who: Paul Roetzer will be speaking at the event during his session "How to Get Started with AI in Marketing."
What: "

MarketingProfs' B2B Marketing Forum is more than just a quirky (not-so-little) conference. It's the place where leaders, innovators, and people who make things happen gather to learn about the latest in B2B marketing and share the secrets to success.

"
When: November 13 – 16
Where: San Francisco, CA
Who: The inaugural Marketing Artificial Intelligence Conference (MAICON) is powered by the Marketing AI Institute. We invite marketing

practitioners and leaders seeking to drive the next frontier of digital marketing transformation within their organizations.

What: Artificial intelligence has reached peak hype stage, but is it possible that its

potential to transform marketing, and your career, is even greater than advertised? MAICON is built to help marketers understand, strategize, experience, activate and improve AI.
When: July 2019
Where: Cleveland, OH
We hope to see you in attendance!
What conferences or speaking events are you attending this year? Share with us in the comments below.
Image credit: Pixabay
Allison Melnik
Allison Melnik is a consultant at PR 20/20. She is a 2014 graduate of Kent State University with a concentration in organizational communications and public relations. Full bio.