It's no secret that the Internet is changing the way consumers communicate and share information — and consequently the way businesses are trying to reach them. In fact, in 2010, it is projected that spending on digital/online advertising and marketing will overtake print for the first time ever.
As we wrote in How to Build Your Inbound Marketing GamePlan: "It's time to change the game. You have a choice. Stick to the traditional, safe marketing strategies that you have always known, or employ the inbound marketing tools and strategies that are giving organizations the power and agility to overtake the competition."
So, facing an evolving industry, are PR's top firms positioned to change the game and capitalize on emerging online opportunities?
Last June, we found that many top agencies were failing to make the grade online, struggling to integrate blogging, SEO and other inbound marketing strategies. And, while there's still plenty of room for improvement, overall online performance is treading in a positive direction. Let's take a closer look:
WebsiteGrader.com Highlights and Agency Scores
In May, PRWeek released the 2010 Agency Business Report, ranking the top 139 PR firms in the industry by 2009 U.S. revenue totals. Like last year, to get a feel for how PR firms are performing online, we ran PRWeek's list through Website Grader and pulled scores for each agency. The scores are on a 1-100 scale, with 100 being the best. Reports for each agency were run the week of Sept. 20, 2010.
While there were fewer firms included in the report this year, the top 25 firms remained relatively unchanged from 2009 to 2010.
Compared to last year, when the average grade was 49.1/100, we were pleased to find that sites fared much better this time, averaging 79.1/100 — up 30 points. Also, 9 of the top 10 firms scored above 90. (Last year, only 3 of the top 10 agencies scored this high.)
The number of firms with hosted blogs is also up — 24.1% from last year, from 38.4% to 62.5%. However, 52 out of 139 PRWeek top firms still don't have a blog.*
2010 Top PR Firms' WebsiteGrader.com Scores (1 – 100 Scale)
Website Grader is a free tool that measures the marketing effectiveness of websites. After entering a site's URL, Website Grader provides a score that incorporates more than 50 different variables, including search engine data, website structure, approximate traffic, site performance and others. Sites are graded against all others that the system has scored; a grade of 49, for example, means that out of the millions of URLs scored in Website Grader, 51% are deemed more effective.
Avg. Website Grade (all firms) = 79.1 (+61%)
Avg. Website Grade (top 10 firms) = 94.7 (+22%)
Avg. Website Grade (top 50 firms) = 87.4 (+46%)
Avg. Website Grade (top 100 firms) = 83.8 (+58%)
Grade of 90 or better = 56 or 40.3% (+36.5%)
Grade of less than 75 = 49 or 35.3% (-48%)
Grade of less than 50 = 9 or 6.5% (-43.5%)
Alexa Traffic Rank
Alexa is an online service that measures traffic for millions of sites on the Internet in a similar way to Nielsen television show ratings — the lower the number, the higher the volume of traffic to a site.
Avg. Alexa Rank (all firms) = 3,845,253 (-648,447)
24 firms (17.3%) in the top 1,000,000 (+3.2%)
14 firms (10.1%) in the top 500,000 (+3%)
Blogs
HubSpot grades blogs on a score of 1-100 based on traffic levels, and the number and quality of inbound links coming to it — the higher the ranking, the stronger the blog. PR 20/20 checked each of the 139 sites independently to confirm whether a blog was hosted on the domain or not.
No blog found = 52 or 37.4% (-24.1%)
Grade of 50 or better = 30 or 34.5% of blogs— Blog grade was not available when data was pulled in 2009.
Google Indexed Pages
This shows the approximate number of pages that have been stored in the Google index. Search engines tend to like lots of fresh and relevant content, so the more pages, the better.
Sites with more than 1,000 = 2 or 1.4% (-3%)
Sites with less than 100 = 64 or 46% (+3.1%)
Google indexed pages was the only metric we reviewed that did not improve from 2009 to 2010.
Inbound Links
Search engines view each inbound link as a vote of confidence for your site, and they have a direct impact on how your site ranks in the search engines. The more links, the better.
Sites with more than 1,000 inbound links = 50 or 36% (+10.4%)
Sites with less than 100 = 20 or 14.4% (-4.8%)
Website Grades for PRWeek's Top PR Firms
Following are WebsiteGrader.com scores for the top 25 firms in order of 2009 revenue totals, according to PRWeek's Agency Business Report, compared against scores from last year.
Edelman — 99 (+1) (2009 PRWeek ranking: 1)
Waggener Edstron Worldwide — 97 (+19) (2009 PRWeek ranking: 2)
Ruder Finn — 99 (+5) (2009 PRWeek ranking: 3)
APCO Worldwide — 90 (+17) (2009 PRWeek ranking: 4)
Qorvis Communications — 95 (+21) (2009 PRWeek ranking: 5)
WCG — 96 (+68) (2009 PRWeek ranking: 11)
Schwartz Communications — 95 (+9) (2009 PRWeek ranking: 6)
ICR — 90 (+23) (2009 PRWeek ranking: 7)
DKC — 98 (+58) (2009 PRWeek ranking: 9)
Taylor Global — 88 (+12) (2009 PRWeek ranking: 10)
Text 100 — 99 (+8) (2009 PRWeek ranking: 8)
Gibbs & Soell — 92 (+41) (2009 PRWeek ranking: 12)
Padilla Speer Beardsley — 97 (+8) (2009 PRWeek ranking: 13)
Allison & Partners — 91 (+28) (2009 PRWeek ranking: 20)
Peppercom — 96 (+8) (2009 PRWeek ranking: 16)
PainePR — 87 (+59) (2009 PRWeek ranking: 19)
Cooney/Waters Group — 53 (+32) (2009 PRWeek ranking: 29)
French/West/Vaughan — 97 (+25) (2009 PRWeek ranking: 18)
Coyne Public Relations — 92 (+30) (2009 PRWeek ranking: 24)
PCGCampbell — 68 (+50) (2009 PRWeek ranking: 14)
RF/Binder Partners — 60 (+15) (2009 PRWeek ranking: 21)
5W Public Relations — 98 (+24) (2009 PRWeek ranking: 23)
Shift Communications — 98 (Not ranked in 2009)
Capstrat — 97 (+13) (2009 PRWeek ranking: 22)
CRT/tanaka — 99 (+29) (2009 PRWeek ranking: 30)
Download the complete Website Grader Report (PDF file) to view scores for all 139 top PR firms. The report includes: PRWeek ranking, URL, Website Grade, Moz Rank, Alexa Traffic Rank, Blog Grade, Inbound Links, Bookmarks, Google Indexed Pages and Blog Presence.
About the PRWeek Agency Business Report (from PRWeek)

Holding company figures: The 2010 rankings do not include the majority of agencies owned by the following holding companies: Interpublic Group, Omnicom, WPP Group, Havas, and Publicis Groupe.
Data: Revenue is defined as fee income earned in the US, mark-up on billable items, and, when applicable, advertising commissions up to 10% of fee income. Revenue from subsidiaries and affiliates was not included if there was less than 50% ownership, while "n/a" denotes not applicable, where the agency did not submit the figure.
Visit PRWeekUS.com for additional information.
Related Posts
* We checked each website manually in September 2010. If you think we missed your blog, please let us know below in the comments or connect with us on Twitter @pr2020.
Image Credit: PRWeek
Tracy Lewis is a senior consultant at PR 20/20, a Cleveland-based inbound marketing agency and PR firm. Follow Tracy on Twitter @Tracy_J_Lewis.
Stay updated: Subscribe to the PR 20/20 blog, check us out on Facebook or follow the team on Twitter.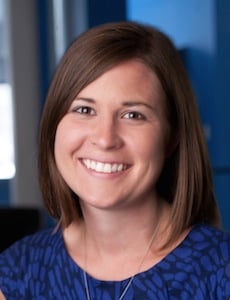 Tracy Lewis
Tracy Lewis is the director of talent and a senior consultant at PR 20/20. She is also the community manager for Marketing Agency Insider. She joined the agency in March 2009 after graduating from Ohio University. Full bio.