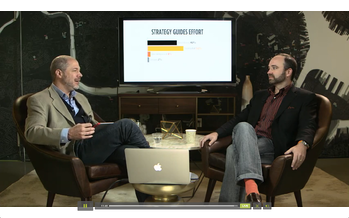 It's that time of year again. As 2014 winds down, content marketers are reassessing budgets and planning for an impactful 2015.
But, a lot has changed during the past ten months. In horrifying pop culture: the popular show "How I Met Your Mother" came to an end, and we all followed the "Kimye" wedding in our social feeds (not voluntarily for most). In February, Facebook bought Snapchat for a whopping $19 billion, the Internet of Things took over the tech scene, oh, and there are now more mobile devices than people in the world.
Needless to say, the way people consume digital media has changed. So, before you rethink your content strategy, get caught up on the current state of the industry with Content Marketing Institute's (CMI) fifth annual report, B2B Content Marketing 2015 Benchmarks, Budgets, and Trends — North America, compiled in partnership with MarketingProfs.
CMI Report: A Benchmark for Content Marketing in 2015
After last year's survey, CMI was dumbfounded at the fact that only 44% of marketers reported having a documented content strategy. CMI followed up this year and found that most of those who don't have a "documented" strategy do indeed have a verbal, undocumented strategy (48%).
What's more, marketers with a documented strategy also reported being more impactful. From the report:
"…as the research shows, it pays to take the time to write it down: 60% of those who have a documented strategy rate themselves highly in terms of content marketing effectiveness, compared with 32% of those who have a verbal strategy."
An actionable takeaway for your 2015 plan: Be strategic, and put it in writing.
Aside from strategy, measurement emerged as another big focus for 2015. It still ranks among the biggest marketing challenges, and, "only 21% say they are successful at tracking ROI." A mere 5% said they are "very successful," 10% are "not at all successful," and another 15% "do not track."
On the bright side, most do plan to work on content marketing measurement in 2015. (Forty-six percent said they are working on it now, and another 36% will be working on it over the next 12 months.)
If you're one of these marketers, check out Paul's Roetzer's (@PaulRoetzer) SlideShare on "The Metrics That Matter" to jumpstart your measurement strategy.
Bonus: Planning Tips
Below are a few guidelines to consider while mapping out your 2015 content focus areas, all based on CMI's report.
Start publishing more often.

Yes, bandwidth is a huge obstacle for most, but 70% have increased their number of content pieces since 2013. Twenty-six percent reported publishing content multiple times every week.

Focus on LinkedIn to grow your reach.

CMI found LinkedIn is the most used platform, and the most effective.

Start planning an in-person event.

Sixty-nine percent said this was the "most effective" tactic. Promotional content might include invitations, blog posts, social updates or paid advertising.

Make your content more engaging.

According to CMI, most marketers are already working on this initiative. More engaging content comes in many forms. A few examples: multimedia, like videos and infographics, or calls for feedback (i.e. survey).
Check out CMI's full report to learn about additional results, and review our list of top content marketing resources for additional books, tools, and industry influencers.
Benchmark your own progress with Marketing Score's assessment and analysis tool. Best of luck in 2015!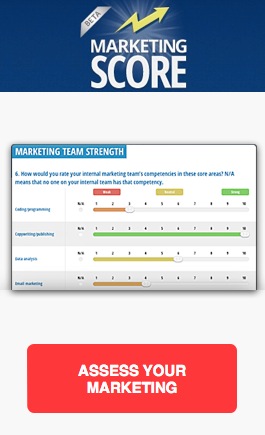 Sandie Young
Sandie Young started at the agency during the summer of 2012, with experience in magazine journalism and a passion for content marketing. Sandie is a graduate of Ohio University, with a Bachelor of Science from the E.W. Scripps School of Journalism. Full bio.