The marketing rate of change is accelerating,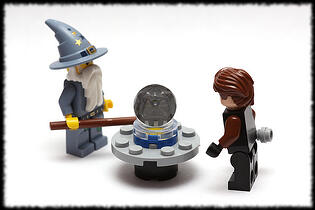 the technology matrix is growing, and the lexicon is ever evolving. Preparing 2015 marketing budgets and strategies can seem overwhelming with so many variables at play.
Fortunately, digital marketing leaders came together to discuss the marketing and consumer trends poised to impact the industry in 2015.
I sat in on the Afternoons at Ahuja panel discussion "Marketing: What to Expect in 2015," moderated by Jim D'Orazio (@jimdorazio), instructor at Cleveland State University and president of Practical Web Strategies. Below are key takeaways.
Prepare for a Data Tug-of-War
Businesses are in a position to collect data and draw keener insights, due in part to heightened collaboration between sales, marketing, customer service and IT teams, said Megan Kacvinsky, executive vice president of account and media services at Point to Point (@PointToPointInc). Departments are now able to connect disparate data and work "as one big team."
However, consumers are becoming savvier and more suspicious of when and how their personal data is being used by brands. Europe's new "right to be forgotten," cookie laws and Google incognito mode are leading examples of consumers taking back control of their data. As we gain greater ability to track data while consumers work to restrict access, marketers and technologists will need to navigate this new era—and embrace digital humanism.
Prioritize Marketing and Sales Alignment
Marketing and sales alignment is cited as an ongoing priority for businesses, but panelists agree that it is becoming more mission-critical than ever. And while collaboration is more possible, it is still a struggle for many organizations, said Paul Roetzer (@paulroetzer), founder and CEO of PR 20/20.
Operationally, many businesses continue to operate in silos. From a reporting standpoint, most marketers still don't track through the full funnel, making it impossible to tie their activities to the bottom line, and making it difficult to differentiate between sales' and marketing's role in success (or failure).
Understand the Burgeoning Marketing Lexicon
ZMOT. Moment of Inspiration. Inbound marketing. Content marketing. Whatever the popular terminology of the day, panelists agreed that these terms don't redefine marketing.
Inbound has been around since someone picked up a phone to buy the widget rather than wait for a sales rep to call on them, said Jason Therrien (@JasonTherrien), president of thunder::tech. There's just more technology now to support it.
Instead, this new vocabulary gives marketers a framework, describing a marketing methodology that complements a newer, more proactive buyer. Core tenets include not interrupting a consumer's life and creating real value with each interaction.
Use Tech to Centralize, Automate and Report
A large portion of the discussion circled back to marketing technology. What tools and technology will companies use in 2015? Modern marketers need three key pieces of tech: a marketing automation system, a customer relationship management solution and an analytics platform, said Roetzer.
Between desktop, mobile, tablet, the Internet of Things and beyond, consumer mobility has increased the need for marketers to adopt analytics platforms that can track users through the buying process. Marketers must sift through the marketing technology landscape to build a connected technology stack.
Once again, consumer pushback was addressed. "What is a marketer's dream becomes a consumer's nightmare," noted Therrien.
Marketers must understand how to deploy marketing tech "for good" and continue to add value throughout the consumer experience. Core marketing tenets, including good creative and a valuable offer, cannot be forgotten.
Solve for the Talent Gap
Underlying all the panel discussion lurked one fundamental question: Are marketers prepared to take on all of these challenges, technologies and opportunities?
Not without proper training, argued Roetzer. Facing increasing pressure to impact ROI, new technology and evolving buyers, most college grads don't resemble the "prototype marketer" required for the future of the industry. Instead, organizations need to adopt internal training academies and take advantage of the free curriculum available, to fill this gap.
Kacvinsky and Therrien agree that two parties bear responsibility: the employer and the employee. Be wary of employers that don't offer training and professional development opportunities, cautioned Therrien, citing an Adweek report that the average Starbucks barista receives more training than the traditional agency professional.
Marketers of all ages and experience should take advantage of the free training and resources available as they prepare to tackle the challenges and opportunities in 2015.
What are your 2015 predictions for marketers?
Image source: Pascal via Flickr Creative Commons
Taylor Radey
Taylor Radey is the director of marketing and a senior consultant at PR 20/20. She joined the agency in April 2013 with a background in digital and content marketing. She is a 2009 graduate of the E.W. Scripps School of Journalism at Ohio University, where she received a Bachelor of Science in Journalism, with a focus in public relations. Full bio.