Editor's Note: This post was updated Sept. 2012 with the most recent pricing, coverage and feature information. View the 2012 edition.
Monitoring social media outlets (i.e. blogs, forums, social networks) and responding to relevant posts is an effective strategy for organizations looking to: understand brand perception from internal and external audiences, connect with buyer personas, increase visibility online, establish thought leadership, provide value to their online communities and become familiar with how target audiences interact online.
However, due to the vastness of the web, social media monitoring can often be a time-consuming and cumbersome task. Luckily, there are tools available – both free and paid – to help streamline and simplify the listening process.
This post offers a look at some of the popular social media monitoring tools available, as well as a free comparison-chart PDF download. In the download, you'll find a side-by-side look at features, pricing and coverage areas for the tools mentioned below to easily determine which is best for your organization based on your business needs, budget and goals.
Radian6
Due to its large coverage area, robust analytics and workflow management capabilities, Radian6 is ideal for large companies who need in-depth social media monitoring.
Features include: Topic Analysis, which breaks each mention down by the words within them; Trending Analysis, which shows how mentions change over time; and Sentiment Rankings, which automatically determines whether a post is positive or negative, among other features. Basically, this software can slice and dice your data however you see fit, making it an awesome tool for identifying trends and opportunities. In addition, its dashboard has a simple interface with in-depth reporting capabilities, and easy-to-read graphs.
One setback, however, is its hefty cost in comparison to other tools. (Radian6 dashboard pricing starts at $600 per month.)
ScoutLabs
While its coverage area is smaller than Radian6 (for example: 12 million blogs compared to 100 million), ScoutLabs offers an effective tool for mid-to-large sized businesses looking to capture the online conversations around their brand and industry. Starting at $249/month, ScoutLabs users can track real-time metrics for buzz volume, customer sentiment, and competitive share of voice across the web.
In addition, one feature I really enjoyed was the Quotes application, which pulls social media customer opinions and emotions on your brand. Quotes are categorized into loves, hates, wishes, comparisons, recommendations, issues and caveats.
HubSpot
If looking to integrate social media monitoring into an overall inbound marketing campaign, then HubSpot may be the best fit for you. Along with its social media monitoring capabilities, this software offers a wealth of features, including a content management system (CMS), keyword-research tools, website analytics and lead-nurturing functionality.
Due to HubSpot's breadth of offerings, its social media analytics and workflow management capabilities aren't as strong as Radian6 or ScoutLabs (who focus solely on the social aspect). However, the software's strong point is that it integrates social activity into a larger campaign, instead of compartmentalizing it.
Note: We're a HubSpot partner agency and use the software for ourselves and a majority of our clients.
BuzzStream
What I love about BuzzStream is that it integrates social media monitoring with relationship management (i.e. finding, tracking and prioritizing contacts), making it the perfect platform for companies with a strong media- and blogger-relations focus.
The Dashboard includes results based on the search queries you are monitoring; however, you can also pull source and author information, helping you easily connect with influencers online who are writing about your company or industry. Conversations with influencers (whether through email, Twitter or blogs) are then managed through an online database, allowing you to efficiently manage relationships.
Sysomos
Similar to Radian6 and ScoutLabs, Sysomos is a robust social media platform, offering a wide variety of reporting and workflow capabilities, including sentiment ratings, user activity charts, most-active keywords, influencer ratings, demographics and more. However, the cost may be a hindrance for some organizations. (Plans start at $500/month). For this reason, the platform is likely best for companies with in-depth social media monitoring needs and extensive conversations online surrounding their brand and industry.
One unique feature of Sysomos is its Facebook Fan Page reporting capabilities. After linking your business page to the platform, you gain access to additional data that complements information found in Facebook Insights, such as details on user activity, automated sentiment analysis and top fans.
Google Alerts
Google Alerts are email updates of the latest relevant Google results (i.e. news, blogs, video and web groups) based on your choice of query or topic. They can be sent directly to your inbox or integrated into a Google Reader account, making them an easy and free way for organizations to monitor industry and company keywords.
They are ideal for smaller organizations with limited budgets and online chatter, or companies who do not need to activate an aggressive monitoring campaign. Downfalls of using Google Alerts for social media monitoring are that they can clog your email inbox and can be time-consuming to check. In addition, there is no way to easily sort, save or share the data, making it easy to miss mentions and hard to perform trend analyses.
NetVibes/Google Reader
NetVibes and Google Reader are RSS feed readers where you can create personalized dashboards that pull in your favorite blogs, news sites and social media searches. These free tools are ideal for companies with small budgets or with limited monitoring needs.
Also, because material is hand picked by the organization, RSS accounts are extremely relevant. The downside being you have to already know where to find the content online (i.e. which blogs to follow, etc.), and will miss any mentions outside of these sites. In addition, feed readers do not have any sorting, analytics, workflow or notification features, making them more time-consuming to monitor compared to other tools.
Addict-O-Matic
This free tool auto-populates, pulling content from the top 150-200 blogs, top 15-20 news sites and popular social networking platforms based on your search query. In doing so, it saves you time in that you do not have to find and submit individual RSS feeds. Each keyword is then housed on its own separate URL on the Addict-O-Matic website for future reference.
In general, it's a great tool when looking for a quick snapshot of keyword activity across the web to gather a high-level overview, but not ideal for in-depth, or ongoing, monitoring. Drawbacks are similar to RSS feed readers in that there are no sorting, analytics, workflow or notification features.
What Next?
After selecting the appropriate monitoring tool and identifying relevant conversations online, participate. Leave comments on blogs, and answer questions on social sites and forums. Just remember, your responses should be non-promotional and focus on providing value to the community. Through your genuine, active participation, people will begin to view you as an expert resource and thought leader in your industry.
We welcome you to share your favorite social media monitoring tools below.
Tracy DiMarino is an associate consultant at PR 20/20, a Cleveland-based inbound marketing agency and PR firm. Follow Tracy on Twitter @TracyDiMarino.
Subscribe to receive the PR 20/20 blog by email or RSS feed.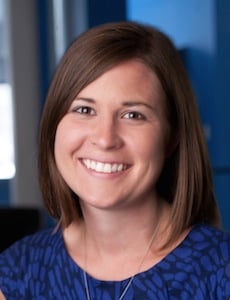 Tracy Lewis
Tracy Lewis is the director of talent and a senior consultant at PR 20/20. She is also the community manager for Marketing Agency Insider. She joined the agency in March 2009 after graduating from Ohio University. Full bio.