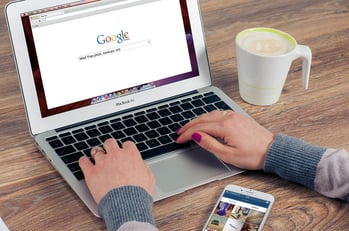 Is your site's content going stale? Or is this the first time you're considering offering a blog or resource section on your site? Either way, it sounds like it's time for a new editorial calendar. And if you're putting all of this work into creating new content, you'll probably want it to rank. In April 2017, there were 345 million Tumblr blogs alone, which means there's a lot of content to compete with these days.
This post will help you lay the groundwork for an effective content calendar rooted in SEO strategy. If you're looking for a new editorial approach, you've found the right resource.
Related Read: How to Update Your SEO-Based Content Strategies for RankBrain
Play to Your Strengths: Picking Your Target Keywords
Pinpoint Your Top Keywords
Already have a blog, or even just a website? Find out what you're ranking for, first. If you have paid SEO software, such as HubSpot, Moz Pro or BrightEdge, use these tools to find the topics you're already ranking for in the top two pages (positions one through 20). If you don't have access to these tools, pull this data from Search Console.
Document, in separate groups, the following:
The keywords you're ranking for in the top three spots.
The keywords you're ranking for in spots five through 20.
For each keyword, also document, if possible:
Search volume.
Click-through rate.
Impressions.
Position.
Great, you have your starting point. Here's what you do with the data.
Leverage Your Top Content
Let's start with your non-branded keywords ranking within the top three spots and have relatively high clicks and search volumes (or impressions). (If you do have keywords in the top three spots, congratulations, you're off to a great start.) Since you're already doing a great job ranking for these keywords, the next step is to find related keywords and topics you'd like to rank for, as well. You can use something as simple as Keyword Planner, or dive into your internal SEO tools.
For example, if you're already ranking in the top three spots for "what is inbound marketing," find key phrases that relate, such as "HubSpot inbound marketing" or "how to build an inbound marketing campaign." Thanks to your current rankings for inbound marketing agency, you can leverage this already-ranking content to boost your rankings for related keywords. How?
Map out how the original content / original ranking page can map to each of these additional content pieces. (So in this case, how could you link your page that is ranking for what is inbound marketing to a page about how to build an inbound marketing agency.)
Map out how these related topics can be linked together.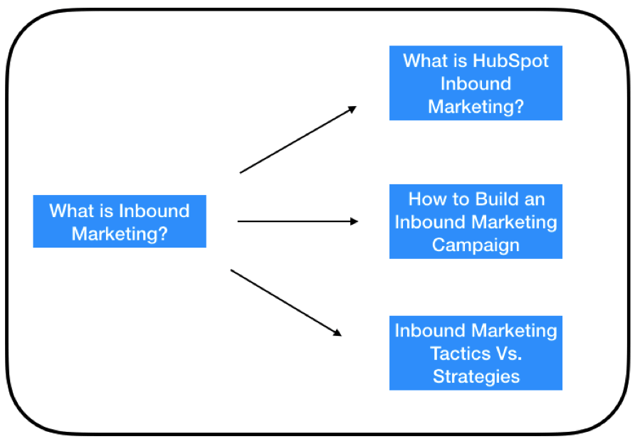 Linking these content pieces together can be as simple as including a "related read" CTA within a blog post and linking out to the related content piece, or it could be as complex as creating an entire guide, whereas each chapter covers one topic and leads to the next chapter.
Take Aim at Striking Distance Keywords
Remember those keywords you were ranking for in the fifth through the 20th spots? Those are your striking distance keywords, or the keywords that have a potential to rank in those top three positions. You'll want to incorporate these into your partially created content map, which currently should contain your top-ranking keywords and phrases, as well as their related words and phrases.
Look for internal linking opportunities between all of these topics. The more search engines can understand how your content fits together, the better your rankings. You're using the authority of your top pages to boost your authority for your lower ranking pages and keywords.
Related Read: Content-Based SEO for Blogging
Reimagine Your Content: Think Beyond a Blog Post
Content type partially dictates, more than ever, your content's rankings. Because SEO, also now more than ever, is about providing helpful, effective content based on the search query. For example, if I looked up, "Cleveland inbound marketing agencies," I would probably expect a list post of some kind, with descriptions and reviews of Cleveland inbound marketing agencies. However, if I were looking up, "what is inbound marketing," I would expect a definition and some examples.
Some examples of content types include:
Video
List post
Multi-page guide
Blog post
Article
Chart
Here's a roundup of the top ten best types of content for SEO.
New Content
Go into Google and type in your target keyword, as well as variation of your target keyword, and explore the content types that are ranking the highest. This will give you a clue into the best type of content for your keyword or phrase.
Recycling Content
Don't be afraid to recycle some of your old content. This could be optimizing the post for your target keywords and updating links and stats, or it could be changing a blog post into an infographic, or a multi-page guide. It could also be as simple as adding a editor's note or adding the year to the title.
If you have content that doesn't need updating, find a place for it in your content map so that you're not duplicating efforts when you go to actually create your new content.
Just Get Started: What to Do if You're Not Ranking for Anything
Don't have any rankings to build off of yet? That's OK. While it might be a longer, harder road for you to rank, you can get there. Start off with a blog, as this is a piece of digital property you own and you can control.
Follow this step-by-step approach to blogging basics for starters. It'll take you through keyword research and content selection for SEO beginners. Then, when you are ranking, come back and visit this post.
As we mentioned earlier in this post, the steps in this article only account for a portion of search engine optimization. However, having a solid editorial calendar is a crucial piece of any SEO strategy, as content remains one of the top influencers for rankings.
Want to build a full inbound strategy in 2017 that's measurable, attainable, and above all, actionable? Get started today.
Erica Herbert
Erica Herbert is a Consultant at PR 20/20. She joined the agency in April 2016 after spending two years at a digital marketing agency in Cleveland. Erica is a graduate of Columbia College Chicago, where she earned a degree in magazine journalism.