October 2013 data from Wanted Analytics found that digital advertising and marketing jobs grew at a 19% year-over-year increase from 2012 to 2013.

With more jobs available, they are becoming harder to fill. According to Wanted Analytics' hiring scale—a 1 to 99 ranking, with 99 representing the most hard-to-fill conditions—digital marketing positions rate an 86. It states that for every digital marketing job opening in September 2013, there were approximately eight potential candidates.
As a result, competition for the most quality talent is fierce with corporations, agencies and publishers all wanting a piece of the pie. In this post, we offer a peek into how some recruiters find, evaluate and place modern marketers.
Finding Great Marketing Talent
Online Marketing Institute's Digital Marketing Talent Study found that referrals are the most frequently used recruiting strategy, with 70% of large enterprises and 75% of agencies relying on them for their hiring needs.
As Leslie Mitchell (@RecruiterLesMit), recruiting manager at HubSpot, explained in a PR 20/20 interview: "We look for companies that are innovative in their space, and we often tap our own employees for referrals. The majority of hiring that goes on in our marketing teams happens through word of mouth or someone having worked with someone else at a previous company and can vouch for them. We also keep an eye out for the movers and shakers—the companies who are doing really cool things with their marketing—and we start there."
Lars Lofgren (@larslofgren), marketing analyst at KISSMetrics, advocates for a similar recruiting approach, encouraging hiring teams to befriend marketers that they respect. In How to Recruit a World-Class Marketer for Your Startup, he says: "Your goal is to create a connection with marketers that might be good candidates down the line. This definitely isn't poaching. You might find someone that's a good fit and looking for a new opportunity. Great! Start actively recruiting that person. But if people are happy where they are, don't get pushy. Take a long term approach."
Similarly, in an interview with PR 20/20, career expert and founder of Come Recommended Heather R. Huhman (@heatherhuhman), says: "If you're an employer who is searching for the right talent, you should consider exploring niche communities. Seek out those online communities where marketers gather, and engage with skilled people. Once you establish a relationship with them, do your best to regularly interact and continue to build trust while you grow your talent pipeline."
Keep in mind that best candidates likely already have jobs, and aren't in the free market. Luckily, social media, candidate-focused content and traditional networking can all help in this initial relationship-building stage, helping you expand your network and connect with potential fits.
Inside the Wanted Ad
So, what are recruiters looking for in top digital marketing talent?
PR 20/20 used keyword searches on LinkedIn to determine which marketing skills were most commonly used in job listings and contact profiles. In both cases, "social media" was both the most sought after, and promoted, skill on LinkedIn. See below for a breakdown of all skills.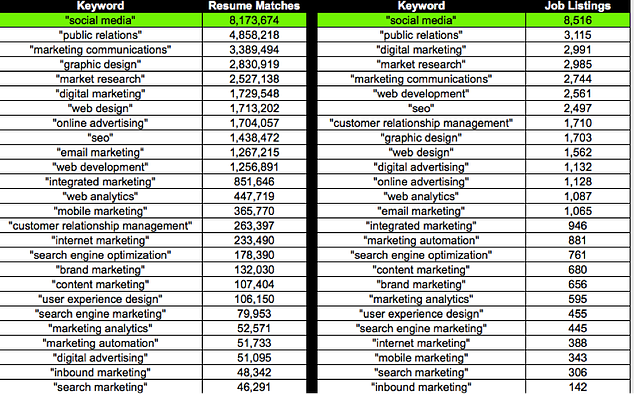 LinkedIn Search, pulled June 18, 2014
Beyond the "Gut Check"
What's scary is that "30% of large companies are unable to adequately distinguish between individuals with the right skills, and those without," according to Online Marketing Institute's Digital Talent Survey.
Yet, technology and analytics could provide more objective capability assessments and gauges of success. Instead of evaluating based on "gut," we encourage you to select marketers smarter. Assess current high-performers at your organization—skills, personality traits, backgrounds, etc.—and use these criteria as a measuring stick to evaluate new hires.
Many organizations have access to demographic data, web analytics, online behavior reports, educational history, personality test results and more, but aren't leveraging this information in hiring decisions. Analytics-based HR, though not yet widespread in the marketing realm, offers tremendous opportunities for savvy companies.
For example, SAT scores and grade-point averages historically drove hiring decisions at Google. But, extensive workforce surveys revealed they didn't relate directly to on-the-job performance. As a result, Google has since updated its evaluation criteria to better coincide with actual drivers of success—a sense of mission and self-autonomy.
Relatedly, Catalyst IT Services, uses an online assessment to collect applicant data. It looks not only at what a candidate answers, but also how they answer it—for instance, whether they spent longer on certain questions over others. Using this behavior data, they are able to better infer how people will perform in certain situations.
At PR 20/20, we use marketing automation software to gather applicant online behavior analytics (time on site, pages viewed, etc.), which we pair with the skills outlined on an individual's application. We then prioritize candidates based on an applicant scoring system—similar to that of lead scoring. This helps us ensure skill sets align with our open positions and candidates have done their homework on our company in advance.
That said, while data can help you better recruit and manage people, it shouldn't be an end-all, be-all. Pair the data with human insight for the strongest assessments and decisions.
Recruit and Hire Smart
As detailed above, technology is a driving factor behind both the types of marketers in demand today, and the ways in which hiring teams recruit and evaluate them.
What strategies do you have for finding and hiring talent?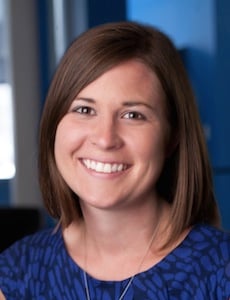 Tracy Lewis
Tracy Lewis is the director of talent and a senior consultant at PR 20/20. She is also the community manager for Marketing Agency Insider. She joined the agency in March 2009 after graduating from Ohio University. Full bio.