My infatuation with Pinterest, a social bulletin board and image-sharing site, started at my college roommate's wedding this past September. While she's always been crafty, she took DIY to a whole new level, creating everything from centerpieces to ceiling drapery. When I asked the secret to her ingenuity, I got a one-word answer—Pinterest.
I was intrigued, and apparently not the only one. In joining the site, I was pleasantly surprised to find that many of my friends (more than just my techie, marketer ones) already had Pinboards—or personal online archives of things they've found on the web—and were actively saving and sharing everything from recipes to desired home décor.
The site's quick rise in popularity among people who aren't normally early adopters—like my mom for instance—is one of the reasons I think marketers need to pay attention. In fact, TechCrunch reports that site visits grew 40-fold from June to December 2011 to 11 million.
This kind of adoption presents awareness, branding, sales, SEO and customer-loyalty opportunities for marketers. Interested in getting started with Pinterest? Read on for more information and tips.
How it Works
Pinterest lets users save and store interesting things they find on the web onto online Pinboards using a browser add-on. For easy comparison, it's similar to clipping recipes, wedding ideas, quotes, and other items out of a magazine and posting them on a bulletin board—except it's all done online. (Note: The great part about this for marketers is that if somebody pins something off your site, you get a followed link, helping with search rankings.)
In addition to creating their own Pinboards, users can follow those of their friends, enabling ideas and products to spread quickly.
Below are screenshots of my Pinboards and activity stream as examples.
Pinboards

Activity Stream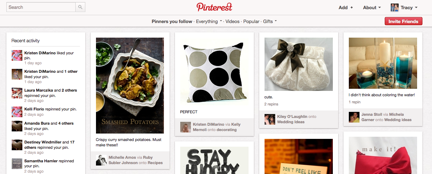 Is Pinterest a Fit for Your Brand?
Pinterest visitors are 58% female, and typically between 25-44 years old. Consumer or B2C brands targeting these demographics are likely the best fit, especially if they relate to the following popularly shared items:
Clothing and accessories
Recipes
Home décor and furniture
Arts and crafts
Wedding decorations, flowers, dresses, rings, etc.
Baby clothes
Activities and ideas for children
Hairstyles
Places to visit
Top brands that have found success on Pinterest include: Whole Foods, Real Simple, Bergdorf Goodman, west elm and the Travel Channel, among others.
That being said, participation is not limited to these types of companies or markets. For instance, nonprofits may find success by telling their story through images, as charity:: water or The National Wildlife Federation are doing. Be creative, and find a compelling way to present your brand's products/services, values and interests visually.
Pinterest and Marketing
If Pinterest seems like a fit based on your audience, products/services and company goals, then below are some tips and considerations for getting started.
Create Pin-able Content
Integrate plenty of visual content onto your website and blog. Pinterest is a visual site; attractive or interesting images are usually the ones that get pinned and shared. Pins automatically link back to the image source.
Add 'Pin It' buttons to your site to make it really easy for people to share your content, like Etsy recently did.
Get Active in the Community
Create a profile on the site. Include a keyword-rich description of your organization, and links to your website and social accounts. Keep your profile public so it appears in search engine results.
Share things relevant to your target audiences and products/services; however, don't be overly self-promotional. Be sure to follow Pinterest etiquette.
When pinning, include keywords within your image descriptions to help your content get found in searches on Pinterest.
Create multiple Pinboards based on specific topics, rather than placing all your content in one board. Assign a Pinterest category to each Pinboard to help people find them.
Follow and interact with users by liking, repinning and commenting on things they share.
Consider launching a contest or giveaway to get your online following excited. For example, Lands' End Canvas held a "Pin It to Win It" promotion.
Share Your O-pin-ion
How are you using the site? What opportunities do you think exist for marketers? Share your comments below.
Tracy DiMarino is a consultant at PR 20/20, a Cleveland-based inbound marketing agency and PR firm. Follow Tracy on Twitter @Tracy_J_Lewis or Pinterest.
Stay updated: Subscribe to the PR 20/20 blog, check us out on Facebook or follow the team on Twitter.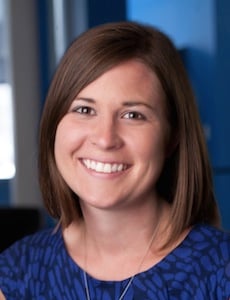 Tracy Lewis
Tracy Lewis is the director of talent and a senior consultant at PR 20/20. She is also the community manager for Marketing Agency Insider. She joined the agency in March 2009 after graduating from Ohio University. Full bio.