Editor's Note: We've dropped "Net" from the original name, and moved PR 20/20's Marketing Score into public beta as of November 2012. Sign up free today!
Advances in marketing technology have created both talent and knowledge gaps.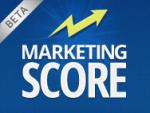 Corporate marketing departments and marketing agencies struggle to recruit and retain qualified professionals for career paths that didn't exist three years ago. In addition, agencies have failed to meet growing demand for integrated services, and to connect their services to measurable outcomes.
"There's an underlying level of frustration among senior corporate marketers worldwide when it comes to agency contributions to business value creation, strategic thinking, and digital marketing development." — Donovan Neale-May, Executive Director, CMO Council
As a result, it's become increasingly difficult for marketers to devise and execute integrated marketing strategies; select the right marketing agency partners; allocate time, money and talent; and adapt resources and priorities based on real-time performance.
In Search of a Better Way
At PR 20/20, we've experienced these challenges first hand, and we've become motivated to find more efficient solutions that increase agency productivity and profitability, while creating greater value for clients.
A successful client-agency relationship starts early in the sales cycle with the discovery process. While we've used an online survey tool for more than six years to audit prospective clients, there are inherent flaws in the process:
It's time intensive to turn responses into actionable intelligence.
High-level personnel are required to analyze responses, and therefore it's not scalable.
Results lack scoring systems and visualizations that establish benchmarks for performance.
The format doesn't enable a true assessment of business and marketing strengths, and, therefore, success potential.
It fails to properly set and align performance expectations.
There's a disconnect from actual marketing campaign strategy and project management systems.
The process by which survey inputs are turned into recommendations, including services and pricing, is not transparent to clients.
We believe there's a better way. Our goal is to develop a platform that dramatically improves processes—business development, budgeting, strategy creation and campaign management—and has wide appeal and value to agencies, business owners and marketers.
This is the first step.
Introducing Marketing Score
PR 20/20's Marketing Score is a free online tool that assesses the strength of your business and marketing foundations, forecasts potential and aligns expectations.
It's a subjective analysis from the viewpoint of internal stakeholders, including sales/marketing management and company executives. It's also a marketing intelligence engine that recommends actions to improve your performance.
Marketing Score is based on the principle that every element of an organization, as it relates to marketing, can be divided into one of three categories: assets, neutrals and escalators.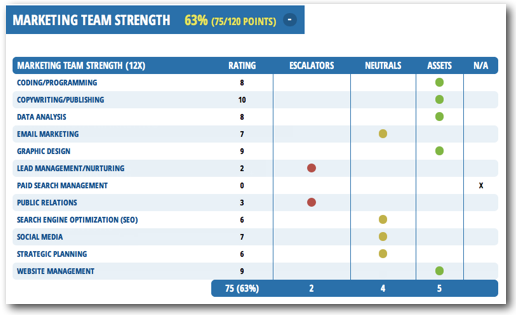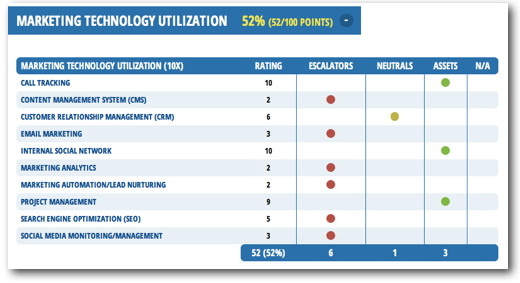 By evaluating and scoring these elements, organizations can devise integrated marketing strategies; select the right marketing agency partners; allocate time, money and talent; and adapt resources and priorities based on performance.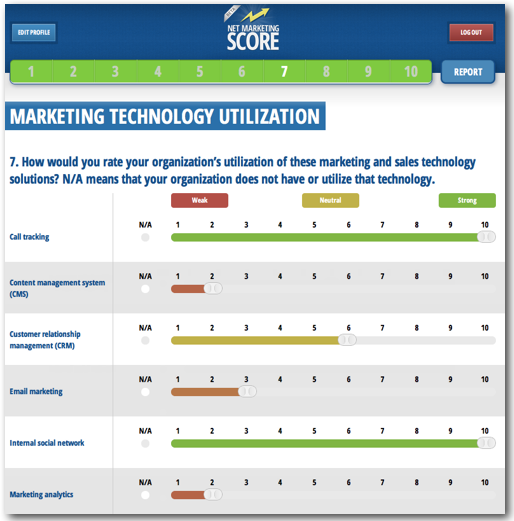 The platform scores more than 130 factors in 10 sections, and takes approximately 10-15 minutes to complete. The ratings are then used to generate automated recommendations, which will become more intelligent and in-depth over time.
Example Rules-Based Recommendation:
Factor 1: High-growth company
Factor 2: More than 50 employees
Factor 3: Very weak (1) internal communications
Factor 4: No internal social network
Recommendation: Break down communications silos, reduce email clutter and improve internal communications. Consider integration of Yammer, an enterprise social network designed to build social-savvy businesses that are more collaborative, efficient and productive.
While the beta tool focuses on assessments and recommendations, the product roadmap includes more robust solutions that will solve much larger marketing challenges. For example:
Build integrated marketing strategies that connect actions with key performance indicators (KPIs) and audiences.
Determine marketing talent needs and team structure.
Forecast marketing agency services costs and marketing team salaries.
Match businesses and marketing agencies.
Allocate marketing resources—talent, time and money.
Adapt resources and priorities based on real-time performance (agile project management).
Join the Marketing Score Beta Program
We began rolling out the private beta program in September 2012, and have now moved into public beta. We invite you to come along for the journey. Sign up today.
Stay updated: Subscribe to the PR 20/20 blog, check us out on Facebook or follow the team on Twitter.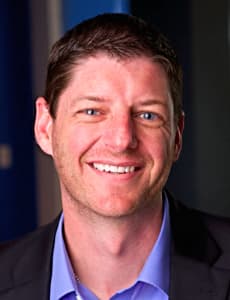 Paul Roetzer
Paul Roetzer is Ready North's (formerly PR 20/20) founder and senior advisor, as well as the founder and CEO of Marketing AI Institute. He is the author of Marketing Artificial Intelligence (Matt Holt Books, 2022) The Marketing Performance Blueprint (Wiley, 2014), and The Marketing Agency Blueprint (Wiley, 2012); and the creator of the Marketing AI Conference (MAICON). Full bio.