Top marketing news, articles and tips from the fourth week of August 2012.
Content Marketing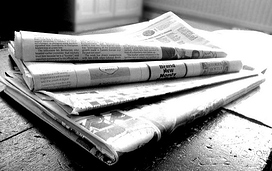 If you're an avid Pinterest pinner, you understand th
e addictive behaviors of organizing these tiny photos onto virtual topic boards. Richard McManus (@ricmacnz) thinks that mediums like these are changing the way web users consume content, making topic pages the next big thing for web publishing. The only roadblock is that three of the biggest services on the web (Facebook, Twitter and blog platforms) are organized chronologically.
What do you think? Take note next time you search your Pinterest boards for a recipe, tag a photo on Flickr or save an article on Delicious.
Another content trend we hope to see more of? Presenting data in a compelling way. We've all been a victim to poorly created graphs and data visualizations that are impossible to interpret. Adam Singer (@adamsinger) suggests this presentation by Ian Lurie (@portentint) as a prime example of how to cut out all of the bells and whistles, and simplify data to make the information more meaningful and actionable. And, the actual slideshow is pretty awesome too.
Corporate Social Media Policies
Have you ever been asked to share your social network passwords in a job interview? The California Senate has recently nixed this behavior, approving a bill that bans employers from asking for this information from current or potential employees. While it may seem like a way for businesses to get a behind-the-scenes look at who they're working with, Jason Boeis (@Jason Boies) says this is one of many things you should leave out of your social media policy.
And, cracking down on employee social media monitoring or use may be a thing of the past. Amber Naslund (@ambercadabra) argues that employee social media participation is "critical to companies' overall business strategy." She offers two strategies that organizations need to know for social media success:
Realize the tone and precedent your social media policies and guidelines set for your employees' participation in social initiatives.
Empower your employees to be brand representatives online. You want them to feel compelled to engage, not obligated.
If you're hesitant to include social media participation in your business' policy due to fear of distraction or inefficiency, share these six simple productivity tips with your team to help them focus time and energy.
Facebook Updates
Company News
Stats & Studies
SEO Bookmarks of the Week
This thorough link-building guide from Search Engine Land is filled with more than 50 tips and tricks for novice link builders and webmasters alike.
Ready to test your SEO project management knowledge are you? Rate your knowledge of seoPM guidelines with this fun Jedi Challenge, and take your skills from mere Padawan to Master.
What articles made your top list last week? We'd like to hear your opinions.
Stay updated: Subscribe to the PR 20/20 blog, check us out on Facebook or follow the team on Twitter.