Part 1 of this blog series on video optimization discussed hosting options and beginner video best practices. Part 2 focused on optimizing your video on YouTube.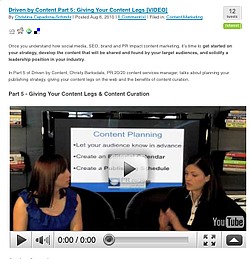 Part 3 is all about how to optimize video on your website. This information pertains to both embedded YouTube videos as well as those that use your website's video player. We will detail activities you can do through your content management system (CMS), as well as activities that may require the support of a website developer, or someone with HTML coding expertise.
The Right File Format
Make sure that your video content is in one of the following file formates: .mpg, .mp4, .mov, .wmv, .asf, .avi, .ra, .ram, .rm or .fly. Google can index these file types. (Bing does not list the formats it can index.)
Its Own Page
When possible, make sure to give your video its own web page or blog post. The content around your video is an opportunity to tell search engines what it is about, so include keywords and be descriptive.
Optimization Activities With a CMS
Page Title (less than 60 characters)
Optimize the video's page title as you would any other web page. Integrate your keywords, placing them first if possible. At the same time, make sure the title will grab your audience's attention and entice them to click. This may be your only opportunity to get them to watch.
Meta Description
Also similar to standard on-page optimization, create a meta description that details what the video is about, integrates keywords and motivates searchers to click. Keywords in meta descriptions don't carry much weight with search engines, but search engines often use a page's meta description as the text under the main link on a results pages, and will bold terms that match the search query. You get up to 150-160 characters, so make them count.
URL
Be sure to integrate keywords into your page's URL. For example, "www.DomainName.com/keyword-and-more-keywords." Keep URLs short and user friendly.
Description
The only way a search engine is going to understand what your video is about is if you literally spell it out for them. Create a description that is posted directly above or below the video. This description doesn't have to be a word-for-word transcript, but it should highlight the main points covered in the video and integrate your targeted keywords.

However, if you prefer, you can include a transcript of the video to integrate additional, indexable content. For this, Adobe offers a tool, SubPly is a free online tool, and YouTube can automatically caption your video using voice recognition software. If you prefer to create your own transcript for an embedded YouTube video, follow these instructions. To add a transcript to a video hosted through your CMS, talk to your developer on the best way to create this file.
Comments
Make sure to allow viewers to leave comments. While comments don't carry much weight with search engines, they are additional text that may get indexed, and a way for users to engage with your content.
Rating
Give viewers the option to rate your video in some manner. Again, search engines look at audience participation as one of the many factors to determine the strength of your video. Embedded YouTube videos can include this feature just by selecting it during the upload process. If you don't use YouTube, ask your developer about adding this feature to your player.
Social Media Buttons
Search engines continue to utilize social media more to identify popular videos, trends and viral content, so make it easy for viewers to share your video. This includes share buttons for Facebook, Twitter, LinkedIn and social bookmarking sites (e.g. Digg, Delicious, Reddit and StumbleUpon) as well as the ability for viewers to embed or copy and paste a link to your video on their site.
Advanced Video Optimization Activities
The following activities are a little more technical in nature, and may require the support of a web developer, depending on your internal capabilities.
Video Markup
Google supports two markup formats — Facebook Share and Yahoo! SearchMonkey RDFa — that enable you to add indexable information about the video directly in the HTML code. Here you can include the video's title, description, thumbnail URL and source URL. The following Webmaster Central blog post provides additional information.
Video Sitemap Submission
Google now allows you to submit video sitemaps using Webmaster Central. Video sitemaps are integrated into your website's XML sitemap, and must include at least the following five elements:
Title
Description
Play Page URL
Thumbnail URL
Raw Video File Location
I recommend reading the following video sitemap guide from Google. Bing does not offer this option yet.
Media RSS (mRSS)
mRSS feeds are RSS (Real Simple Syndication) modules capable of sharing media files, such as video, audio and images. Google enables you to submit your mRSS feed URL instead of, or in addition to, a video sitemap. With mRSS, search engines will automatically be alerted to any new video content you publish. Click here for more information about submitting mRSS feeds to Google (you'll need to scroll half way down the page).


Additional Resources
For additional resources on optimizing video, I highly recommend reading this resource from Google and subscribing to ReelSEO.com.
Optimizing Video Series
Part 1: How to Optimize Video
Part 2: Optimizing Video on YouTube
Does anyone else have any advice on how best to optimize video for the web?
Keith Moehring is business development manager and a consultant at PR 20/20, a Cleveland-based inbound marketing agency and PR firm. Follow Keith on Twitter @keithmoehring.
Keith Moehring
Keith Moehring is the vice president of strategic growth at PR 20/20. He joined the agency in July 2006, and is a 2004 graduate of the University of Toledo.