What's Your Marketing Score?
Every element of an organization, as it relates to marketing, can be divided into assets, neutrals and escalators. Assets are existing strengths that can accelerate marketing success, while escalators are weaknesses that require additional resources to improve.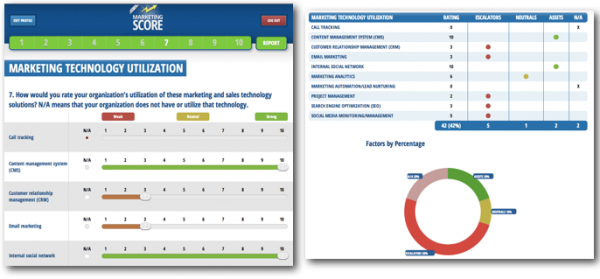 By evaluating and scoring these elements, you can devise marketing strategies; select the right marketing agency partners; allocate time, money and talent; and adapt resources and priorities based on performance.
Marketing Score (@MKTScore) is a free assessment tool and marketing intelligence engine powered by PR 20/20 that automates the process, and is now available in public beta. Sign up free today to get your Marketing Score.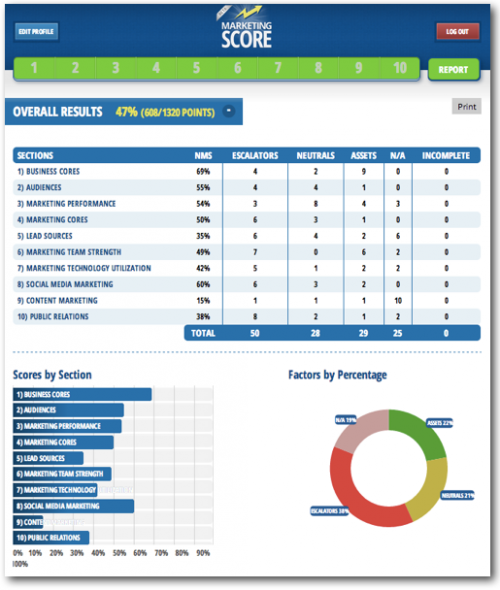 What's Included in Version 1?
We first introduced the Marketing Score concept in an August 2012 blog post—Origins of a Marketing Intelligence Engine—and shared additional details about the product roadmap and vision in a podcast with Mitch Joel (@mitchjoel) in September (fast forward to 25:25 for Marketing Score).
At its core, PR 20/20's Marketing Score is an assessment tool. Version 1 focuses on this function. We're still building the logic/recommendations behind the intelligence engine, which will come in a future release, likely Q1 2013.
Here's what you'll see in the public beta:
Profile: Your profile information feeds our marketing intelligence engine, which will make strategic recommendations based on company size, growth goals, industry, revenue, marketing budget and more. Profile data also will enable benchmark reports, giving you the ability to compare your Marketing Score, section-by-section, against similar organizations. So, while you won't see the immediate connection between this information and the assessment ratings, it's a critical piece of the product roadmap, and the value Marketing Score creates.
Ratings: Provide an assessment of your organization's marketing program, including core areas of performance, lead sources, marketing team, technology utilization, social media, content and public relations. Use the slider-bar rating system to score each factor. Simply click on a number, or drag the bar to your choice. All answers are auto-saved.
Report: This is where the real fun begins. Once you complete the assessment, you'll see visualizations of your ratings overall, and section-by-section. There are 10 sections, with a total of 132 factors. It takes 10-15 minutes to complete all sections. Print your report, or download it as a PDF.
Feedback: There's a feedback tab in the right column throughout, which we encourage you to use. Is there a feature you'd like to see? Bugs to report? Ideas to improve the value and utility? Overall impressions to share? Let us know!
Auto Save: Your account is auto-saved with every change you make, so feel free to log out and come back at any time.
What's Coming (Soon)?
We have an extensive product roadmap, but a few of the highest priority items include:
Recommendations: As mentioned above, the marketing intelligence engine, which will provide advice based on your input, is in development now. This element holds almost infinite potential, so it will continually improve and become more intelligent over time.
Company Profiles: We see tremendous value in the ability to aggregate and average ratings from multiple people within an organization, so we're working on a company profile dashboard.
Notes: As you go through the different factors, you'll start to see the potential each has to impact your business. We're going to give members the ability to add factor-specific notes throughout the assessment, and then export those via email. To-do functionality is also being evaluated.
Website: We're committed to turning the Marketing Score website into a valuable resource for marketers that will focus on educational content, and provide the knowledge and tools needed to turn assessments into improved marketing performance.
Agency Program: In the short term, marketing agencies interested in using Marketing Score to assess their leads and clients can register contacts through a Google form. We're also working on plans to build a partner program designed to help agencies secure, retain and grow their accounts. So, stay tuned.
Go to Marketing Score to get started. Once you create (and confirm) your account, you'll be able to log in at any time to view and update your responses.
Your Score Is Just the Beginning . . .
Join us Dec. 17 for an introductory webinar—The Marketing Assessment: How to Use Your Marketing Score to Build Campaigns, Allocate Resources and Drive Performance.
Attendance is limited to the first 100 registrations, but the webinar will be recorded and made available on demand. It's a great way to end the year, and move your marketing forward in 2013!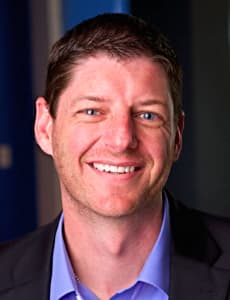 Paul Roetzer
Paul Roetzer is Ready North's (formerly PR 20/20) founder and senior advisor, as well as the founder and CEO of Marketing AI Institute. He is the author of Marketing Artificial Intelligence (Matt Holt Books, 2022) The Marketing Performance Blueprint (Wiley, 2014), and The Marketing Agency Blueprint (Wiley, 2012); and the creator of the Marketing AI Conference (MAICON). Full bio.