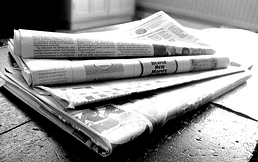 Inbound Marketing Industry Report, highlighting top articles and news stories from the fourth week of November 2012.
Whatever your Thanksgiving traditions are, we hope you had a wonderful holiday! Let's dive into some of our noteworthy picks that you might've missed during the break.
Social Strategy: Where to Spend Your Time
Augie Ray (@augieray) explores how much impact social media sentiment really has on business success. "Social business and peer-to-peer models are changing products and services themselves. Today, we are much too focused on how to tweet and post while ignoring how the social era demands changes in the way we conduct business," he says.
Rather than focusing so innately on social chatter—which Ray makes a strong case does not necessarily impact consumer behavior or stock prices—brands should find ways to take advantage of the larger potential benefits offered by today's social business environment to improve processes, increase innovation, enhance culture and more.
A caveat: Just because it may not necessarily impact the bottom line as much as we think, it's still important for brands to monitor online chatter and respond when appropriate, become active on the networks that make sense, and even jump in on industry discussions, pending marketing goals and objectives.
The Best Marketers Are Innovators
While we're on the topic of the changing nature of marketing, Mitch Joel (@mitchjoel) touches on a recent survey that focuses on marketers' poor perceived performance, and the need to take a step back, revisit the basics and evaluate what exactly you're trying to do. With the introduction of digital marketing, we're constantly reassessing strategies and tactics. But, "digital changes nothing if all a brand is doing is traditional marketing in new marketing channels." As one commenter remarks, "Digital marketing should be not traditional marketing dressed in digital clothes."
Which is exactly why innovation is key. And that key is easily accessible to marketers.
In a recent report, 45% of senior executives said marketing is involved in birthing innovative ideas, compared to just 19% who named IT as responsible. Scott Brinker (@chiefmartec) says, "Because marketing can't accurately report the financial return of every single initiative in which it engages, much less predict such returns in advance—and nobody expects them to—they're in a unique position to invest in innovations without constantly getting trapped by short-term NPV [net present value] arguments."
What's New?
A New Social Ghost Town?
We've heard Google+ referred to as a ghost town before, but now Facebook? A new study reports on businesses' Facebook posting activity (or lack therof) and engagement rates have decreased over the past year, and that the full roll-out of Timeline may be to blame.
What articles caught your eye last week that we missed while stuffing our faces? Share them in the comments below.
Stay updated: Subscribe to the PR 20/20 blog, check us out on Facebook or follow the team on Twitter.