You're one of the millions of people watching online video. Your company has a great story to share that would work on a visual medium. You're eager to get started creating video for your website, blog or social media channels.

But you also:
Don't have the time
Don't have a large budget
Don't have an internal video department
You're not alone, and you're more capable than you may know when it comes to managing a video project.

PR 20/20 recently launched its first self-produced video series, "Driven by Content," to educate our audiences on the emerging area of content marketing, as well as to document our methdology and activities.

By calling on the fundamental strategic planning and project management tactics that we employ for other creative projects, we were able to put together an engaging video series that was designed for our target audiences.
The Rationale
We wanted to make a program that was informative and incorporated several different types of online video features that clients may connect with, like interviews, scripted material, graphics and presentations.

We also experienced many of the challenges that our clients face when incorporating web video in their content marketing strategy, including: limited resources, tight taping schedules, short deadlines for delivery, coordinating a team of professionals new to video, and managing the creative approval process.

The idea was to help marketers work through the barriers to getting started in online video, assemble a team of internal champions and video professionals, and produce and publish videos that support inbound marketing goals.
The Methodology
The following is a practical methodology to creating a web video, and includes questions for you to start thinking about for your organization, and PR 20/20 notes from self-producing our own project in the "Driven by Content Snapshot." So take five and read on for more.
Step 1. Create Your Concept
Questions to Get You Started:
What story do we want to tell?
What audiences do we want to reach?
What messages do we want to communicate?
What calls to action do we want to include?
What goals do we want to accomplish? (Lead generation, brand awareness, customer loyalty)
Where will we publish the video online?
What type of video do we want to create?

What format and length?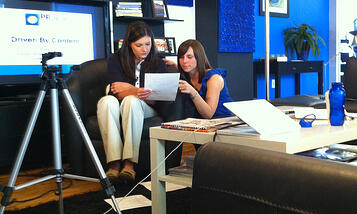 Christina and Christy discuss script changes for Part 5 of Driven by Content.
Driven by Content Snapshot
PR 20/20 is focused on content marketing for our clients as part of an integrated, inbound marketing campaign. However, as a newer concept, with many dynamics, we saw a need in the market to introduce content marketing to the masses at a 101 level, and cover the basics of what needs to be considered when investing in content projects.

With video consumption on the rise, we chose this medium, combined with accompanying blog posts, to publish the information in a strategically sequenced, five-part series.

We wanted to create simple videos that used a personal, interview-style approach, and keep the length shorter without sacrificing quality. This possibly meant that some of the videos would be longer than others, based on the subject matter's complexity. As our agency relies on the strength of our team, with a wide base of knowledge and content marketing experience, we chose to involve five of our consultants as guests, each with their niche area to discuss in detail.
Step 2. Build Your Team
Questions to Get You Started:
Who will internally champion the project?
Who will be recruited to participate in the video project? (Employees, customers, partners, etc.)
What technologies and aptitudes do we have internally for capturing, editing and publishing web video?
What areas will we need to outsource to professional videographers, editors, etc.? And, where do we turn?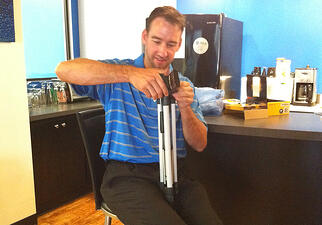 Keith readies the camera for our first taping.
Driven by Content Snapshot
Through a quick analysis of our human resources, we uncovered some untapped talents and background experience in video production and editing, including someone to write the script and host the series, and others to handle the technical details and production assistance. We used our agency's Kodak Zi8 Pocket Video camera for capturing footage and iMovie for the Mac for editing.

PR 20/20 has connected with several professional video providers that specialize in web video and more sophisticated corporate video projects. However, with time and budgets in mind, we worked with what we had internally. Also, the nature of the videos lent itself to a more raw and simple final product, which could be easily edited and shared. While we sacrificed some in the way of production quality, we were able to focus on the content matter, and control the full creative process.

For more significant video projects, or if you don't have internal capabilities, it's important to connect with video providers that understand the full picture of production, publishing, distribution and optimization. It starts with going back to your goals of the video, and investing the time and resources in projects that have the greatest potential for impact.
Step 3. Work out the Details
Questions to Get You Started:
When and where will we be capturing the videos?
What scheduling steps do we need to take?
How much lead time do people need that are involved?
What preparation or training needs to be worked on with video participants, both from a lead role and support aspect?
What backdrop, lighting, sound and wardrobe do we need?
Is this scripted, off-the-cuff, or a combination?
Are there graphics, audio or other important elements we want to include?
Driven by Content Snapshot
Our team worked together to figure out the details: creating a set and backdrop to tape the segments; coordinating shooting schedules that worked for the individuals involved; facilitating early prep with scripts, and full rehearsals to polish the segments; conducting test shoots with the video-capturing and editing equipment we had at our disposal; and the gathering and planning for visuals and other editing features we wanted from our editor.
Step 4. Produce
Questions to get you Started:
Who can internally tape the videos and assist with production?
What is our process for the taping? Are there natural pauses or breaks in the script/segment where we can cut? Or is it all in one take, and will we need to capture multiple takes to get it right?
Who will be in charge of the direction of all involved, quality control of the shoot and be accountable for success?
How do we keep people motivated during what can be a long process, and remove the frustration and/or jitters associated with being taped?
Who has creative license and the decision-making power to authorize changes during the editing process, including final approval of the videos?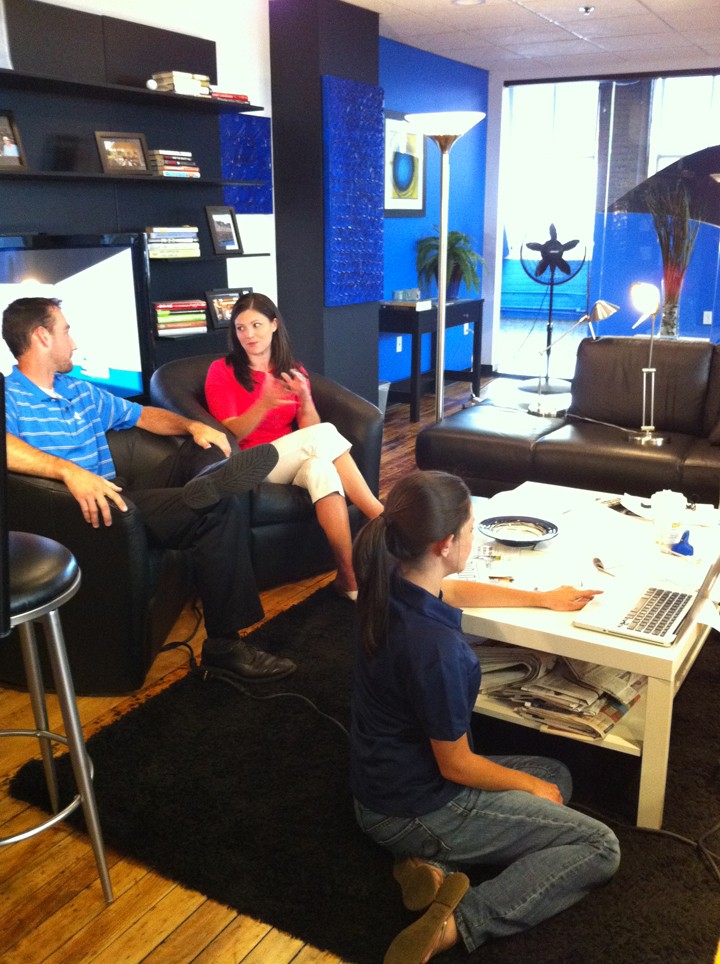 Action! Taping Part 3: Content & SEO.
Driven by Content Snapshot
PR 20/20 had all hands on deck for the production days, making it a fun and challenging team-building activity. When time permitted, associates lent a hand listening and watching the production with the script in hand for quality control, manning the background presentation, setting up the stage each taping day and of course, serving as the on-camera personalities.

The team effort allowed us the ability to shoot all five segments, including introductions, in one work week, squeezing in taping hours during our busy workloads. We also teamed up to create content for the accompanying blog posts. The director had final say on the deliverable videos, as well as review and approval of the accompanying blog posts and promotion strategy.
Step 5. Publish
Questions to Get You Started:
Where will the videos be published?
How will the videos be linked or embedded to our site, blog or social media?
How will we promote these videos?
What metrics (quantitative and qualitative) will we use to evaluate the success of the videos?
Driven by Content Snapshot
Due to the nature of the videos, and goal to distribute through the social web, we hosted the videos on a newly created YouTube channel, and embedded the videos in PR 20/20 blog posts. We then posted a blog article each day with the video, for five days in a row, launching the series one video at a time. The videos were shared to blog subscribers, and also through social media channels like Twitter, LinkedIn and Facebook.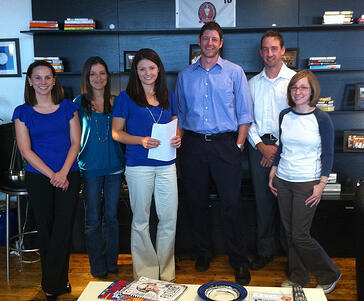 The PR 20/20 Driven by Content contributors.
That's a Wrap
While the success of the videos can be measured in video views, and the educational uses for clients and prospects in the areas of content marketing, there were also inherent benefits in coming together as a team, and challenging ourselves to create a product that delivers value to the audiences we serve. This is the bread and butter of content marketing, and we look forward to the next phase of video for PR 20/20.
Resources:
Christina is an assistant vice president and consultant for PR 20/20, a Cleveland-based inbound marketing agency and PR firm. Follow her on Twitter: @ChristinaCS
Subscribe to receive the PR 20/20 blog by email or RSS feed.