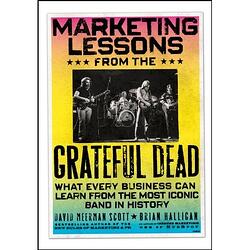 Like many influencers ahead of their time, the Grateful Dead took risks and made sacrifices to pursue their passion and ultimately change the landscape of the music industry. Lucky for us (and them), their struggles paid off and now present an excellent case study that is inciting the rise of a new, niche fan base —today's marketing professionals.
Since the mid-1960s, the band has abandoned standards in branding, building a business model, communication style, marketing and performances — all of which are examined in Marketing Lessons from the Grateful Dead by David Meerman Scott and Brian Halligan.
The book documents the band's success in creating a unique brand and encouraging a truly engaging fan experience. Scott and Halligan present simple marketing tactics used by the band, apply them to today's business world and provide examples of companies that, like the Grateful Dead, have found success in going against "the norm."
Here are a few marketing takeaways I found particularly insightful:
Create an Original and Innovative Brand
From the beginning, the Grateful Dead built a unique brand that set them apart from their competitors and intrigued fans. They did this by selecting an unusual name, constructing a band of unlikely musicians and creating a business model that defied normal success factors (e.g. achieving platinum record sales). As a result, it was able to establish its own category focused on listening to (rather than defining) its audiences' needs.
Similarly, Scott and Halligan urge companies to think from a customer standpoint. Forget about the industry norm and ask yourself "What is the most logical way to fill my customers' needs?" and "What differentiates me from my competitors?" While it's important to stay in touch with your industry and remain conscious of your competitors, it should never dictate or limit where you take your business.
To champion the brand and connect with your audiences, you need to build a marketing team with diverse talent. Scott and Halligan encourage companies to build teams with a range of skill sets and experiences, including digital citizens, analytical thinkers, content creators and those with industry reach.
Attract and Engage Your Fans
The leading factor behind the Grateful Dead's success was its die-hard community of Deadheads that supported, listened to and lived for the music. From its beginnings in San Francisco, the band sought to encourage personal connections and open dialogue with fans.
For example, the Grateful Dead placed a direct call-to-action inside the October 1971 live Skull and Roses album, requesting their fans to connect with them:
"DEAD FREAKS UNITE: Who are you? Where are you? How are you? Send us your name and address and we'll keep you informed. Deadheads, P.O. Box 1065, San Rafael, California 94901." – pg. 70, Ch. 9: Bring People on an Odessey
The response was overwhelming, receiving 10,257 responses in six months. Within five years, 63,147 Deadheads (in the United States alone) had requested to receive regular mailings from the band. Scott and Halligan relate this permission-based fan connection to a pre-Internet social network.
With this opt-in mailing list, the band was able to know their audience better, deliver fan communications and establish a community for Deadheads. The list also supported a variety of the band's marketing activities, including ticket sales, which were kept entirely in-house and generated a majority of the band's income.
Share Your Value Through (Free) Content

Deadheads also benefited from premium, or "fremium," content, which is also the foundation of inbound marketing today.
By allowing fans to record live performances, permitting entrepreneurial vendors to create band paraphernalia and encouraging the distribution of both, the Grateful Dead removed the usual obstacles for music enthusiasts during the pre-Internet era. This availability of content without barriers makes the Dead's music and brand "spreadable."

"The Grateful Dead teaches us that your most passionate fans will pay a premium price for the best quality….The challenge in the upgrade model is to give away something that is considered valuable, and something that people will use regularly and become familiar with. It is the familiarity that grows from regular use…that generates the value and desire for the premium version of the same product or service." – pg. 122, Ch. 15: Upgrade to Premium
Scott and Halligan have found professional inspiration from a shared interest in the Grateful Dead, the music and the experience they receive from being loyal followers (aka Deadheads). What brands give you inspiration from their marketing mission or core values? What lessons can you draw from them to implement in your own marketing strategy?
For more information
To learn more about individual businesses implementing Grateful Dead marketing tactics, watch How to Market Your Business Like the Most Iconic Band in History, a recent HubSpot webinar hosted by co-authors Scott and Halligan. The webinar showcases innovative companies such as Rue La La, Burton Snowboards and the New Belgium Brewing Company.
Dia Dalsky is an associate consultant at PR 20/20, a Cleveland-based inbound marketing agency and PR firm. Follow Dia on Twitter @DiaDalsky.
Stay updated: Subscribe to the PR 20/20 blog, check us out on Facebook or follow the team on Twitter.
Photo credits taken from Flickr Creative Commons (in order): Tony the Misfit; ActiveSteve; Jared