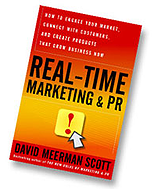 In today's real-time world of consumer-generated content, social networking, crowdsourcing and viral marketing, speed and agility win. Businesses that are not proactive and engaged run the risk of alienating customers, losing market share and becoming irrelevant.
Bestselling author David Meerman Scott explores the power of real-time business in his latest book, Real-Time Marketing & PR, released by Wiley today (Nov. 1, 2010). As part of his research, Scott reached out to the top 100 Fortune 500 companies (of which only 28 responded) to determine how they had adapted to the new realities of the real-time Web.
What he learned was that there is a positive ROI for investing in real-time marketing and PR, and that real-time companies are more successful than their Fortune 100 peers:
"A comparison of 2010 stock prices reveals that on average the publicly traded Fortune 100 companies that engage in real-time communications beat the S&P 500 stock index while the others, on average, underperformed the index."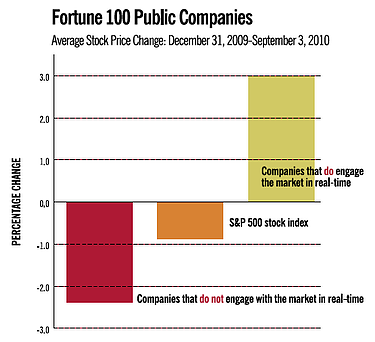 Scott has published his findings in a free 28-page eBook — Real Time: How Marketing & PR at Speed Drives Measurable Success — which you can download here.
In the eBook, he shares how companies such as Boeing, Chevron, Coca-Cola, Ford, Intel, Prudential Financial, State Farm Insurance, UPS, Verizon Communications and Wells Fargo are using social media and blogging to engage audiences and connect in real time to grow their businesses.
"The key to a business or brand getting one step ahead of its competitors is to reach consumers faster through the mediums they are consuming on a daily basis, at their convenience."
Scott also poses the question, based on the lack of response from nearly 75 percent of the Fortune 100, if it's possible that some companies are too big to succeed in this real-time world.
Are they too consumed with planning, and too constrained by their reliance on traditional marketing and media budgets, to win in today's consumer-driven business environment? For some conservative, slow moving organizations, that certainly appears to be the case.
The Moral of the Story
Spend less time planning, and more time engaging with audiences online where they are communicating and consuming information.
The eBook highlights four actions that every business can take to improve their chances of success in a real-time business world:
Build a (Real-Time) Team.
Monitor What's Being Said.
Develop Guidelines and Train Staff.
Engage with the Market.
Download the free eBook — Real Time: How Marketing & PR at Speed Drives Measurable Success.
Buy the book — Real-Time Marketing & PR: How to Instantly Engage Your Market, Connect with Customers and Create Products that Grow Your Business
Paul Roetzer is founder and president of PR 20/20, a Cleveland-based inbound marketing agency and PR firm. He can be found on Twitter @PaulRoetzer.
Stay updated: Subscribe to the PR 20/20 blog, check us out on Facebook or follow the team on Twitter.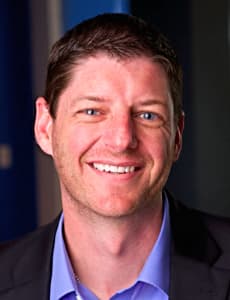 Paul Roetzer
Paul Roetzer is Ready North's (formerly PR 20/20) founder and senior advisor, as well as the founder and CEO of Marketing AI Institute. He is the author of Marketing Artificial Intelligence (Matt Holt Books, 2022) The Marketing Performance Blueprint (Wiley, 2014), and The Marketing Agency Blueprint (Wiley, 2012); and the creator of the Marketing AI Conference (MAICON). Full bio.