HubSpot's Latest Product Updates Connect Marketing, Sales & Service
Looking for a one-stop-platform to build and maintain your website, do marketing automation (emails, social, workflows and more), and connect the dots with sales and service engagements? An all-encompassing customer experience—and the platform to make it happen—was the vision presented at this year's INBOUND marketing conference by HubSpot.
In his keynote, HubSpot founder and CTO Dharmesh Shah (@dharmesh) talked about alignment. He also touched on a decision most companies weigh regarding their tech stack: Do we go with a platform that has "most of what I need," or do we assemble a group of discrete products to get what's known as "best-of-breed?" Sidenote that there are 5,000+ options for organizations choosing from the various marketing technologies out there … So what's Dharmesh's recommendation? Start with a core platform, then plug in the rest for the best of both worlds.
And in true alignment with HubSpot's own mantra to solve for the customer (SFTC, see #3), the company introduced a platform update that now spans marketing, sales, integrations (Connect) and customer engagement—all built around the HubSpot CRM.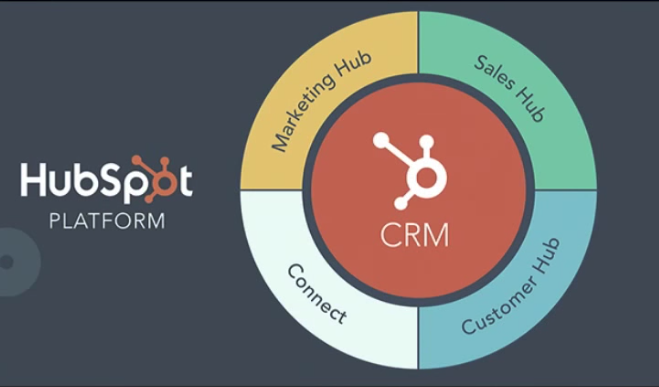 The HubSpot platform, via #INBOUND17.
A Platform that Solves for the Customer—from Marketing, Through Sales and Service
Following the founders' keynotes, VP of Product, Christopher O'Donnell (@markitecht), walked the audience through HubSpot product update details. O'Donnell used the story of a marketer who takes on a CEO role, and in doing so moves from being responsible for marketing to the full customer experience: "Imagine being responsible for the entire customer experience from the first interaction on the website all the way through delighting your customers."
Check out the full HubSpot product keynote presentation below. You can also visit hubspot.com/new for a comprehensive list of updates, or keep reading for our highlight summary.
Christopher O'Donnell (@markitecht), HubSpot's VP of Product, walking the crowd through HubSpot product updates at #INBOUND17.
TL;DR - The average marketer uses dozens of different tools for CRM, MAP, CMS, chats, meetings, and more. The latest from HubSpot is designed to help organizations break down silos across marketing, sales and service. In turn, there's a more seamless customer experience, better closed-loop reporting, and a more personalized approach to customer engagement.
From its website: "HubSpot offers a full stack of software for marketing, sales, and customer success, with a completely free CRM at its core. They're powerful alone—but even better when used together."
Introducing Customer Hub
Your biggest growth lever is your current customers. For businesses looking to grow and thrive, customer retention and referrals are key. With the introduction of Customer Hub, organizations can now:
Do

case management.

Organizations will be able to use the Customer Hub for messaging (aka

Conversations

, which we'll mention again below), service tickets, ticket escalation, and more.

Help customers help themselves with a

native knowledge base.

Keep a pulse on

customer sentiment

with built-in customer feedback, NPS and reporting.

Automate

customer testimonial

gathering.
"With Customer Hub, businesses can now rally their teams around the customer, allowing them to have better conversations, develop deeper customer insights, and strengthen their relationship with your business." -Dharmesh Shah, co-founder and CTO, HubSpot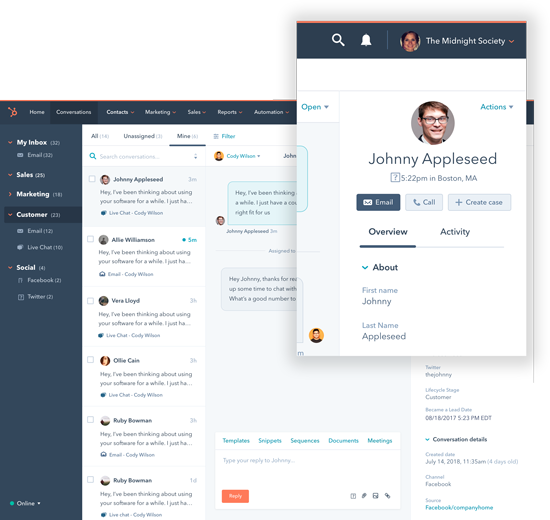 HubSpot Customer Hub.
Customer Hub comes to market in 2018, and it will be included free within HubSpot CRM. Read more about Customer Hub in the announcement post from Dharmesh.
Marketing Hub Updates
It wasn't all sales and service in terms of product updates. As HubSpot grows better, it aims to help marketers do the same with the latest in Marketing Hub updates.
HubSpot's CMS grows up.
The "COS" (content optimization system) is now called the "CMS," and with it came a few upgrades. Updates related to HubSpot's CMS include native site search; the ability to efficiently build new pages at scale; the ability to import Google Doc drafts into the CMS without formatting issues (yay!); a direct connection with GoDaddy; a native integration with Shopify for ecommerce; 3,500 layout templates; and more.
And on top of all that, it's fast …
Third-party data shows the HubSpot CMS is 2x faster than the average CMS in North America.

Recent infrastructure improvements added an additional 20% speed boost to any page with lead capture.

AMPs (accelerated mobile pages) load 3x faster than non-AMPs, and every blog post will automatically be an AMP.
Content strategy: do more with less.
Ready to see more results with less content? In efforts to double down on quality content and performance, HubSpot did an experiment based on the Pareto Principle—i.e. 80% of the effects come from 20% of the causes. Data showed that in reality 20% of HubSpot's posts (629) produced 93% of HubSpot's leads. So HubSpot tested cutting post volume in half, and focused on quality content. The result: more traffic with less content.
The nod toward deeper, connected, topic-based content also aligns with the latest best practices in building SEO and search authority. For more on the future of content strategy and SEO, read the HubSpot methodology here.
To put a platform behind the topic-cluster process, HubSpot has launched Pillar Content. Read more on topic clusters here.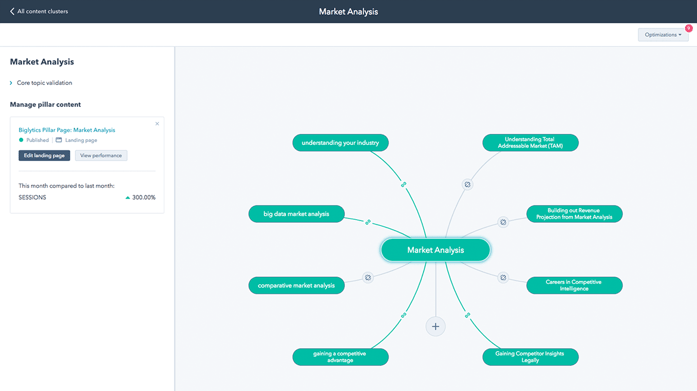 HubSpot Pillar Content.
More new marketing tools & integrations.
A few additional updates that our team was personally excited about are listed below, related to account-based marketing (ABM) and social.
Facebook: The Facebook-HubSpot integration got a little deeper, with the integration of ads, audiences and video.

Marketers can now create Facebook ads inside of HubSpot, which will be automatically synced and tracked in Hubspot.

Marketers can also sync HubSpot lists and visitors with Facebook Audiences, to easily run targeted lookalike campaigns.

And video — now upload videos to HubSpot file manager, then easily include in Facebook posts.

Instagram: Coming soon to beta, marketers will be able publish direct to Instagram from the HubSpot portal.
Sales Hub: The HubSpot CRM Gets an Upgrade
When it comes to CRM, HubSpot has built more robust features and improvements for growing teams. This includes (but isn't limited to):
Sophisticated sales team management, with control access, team settings, permissions, and more.
Greater flexibility for sales processes, including the ability to create workflows for sales tasks and lead rotation, and native support for products (build a library of products direct in HubSpot, then incorporate that customization in your outreach, marketing efforts, etc.).
Additional reporting capabilities for your sales pipeline and sales reps, so teams and managers can see accurate rep- and team-level reporting.
Baked in artificial intelligence, including priority notifications (similar to the Facebook news feed, where reps see the notifications that matter most to them), send time optimization, and predictive lead scoring.
Better mobile access, now available on iPhone, Android and iPad.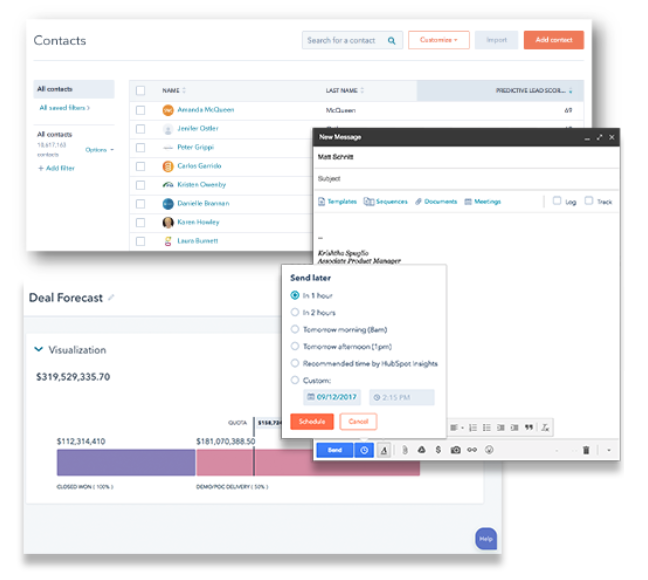 HubSpot Sales Professional.
The updated Sales Professional launches in the Sales Hub on Nov. 1, 2017, and will cost teams of up to 5 users $400/month. That said, anyone with the current Sales Pro, will be upgraded to the new Sales Professional. Read more about HubSpot Sales Hub here.
Conversations: More than Messaging
How do you prefer to communicate with your friends and family? Chances are, it's messaging.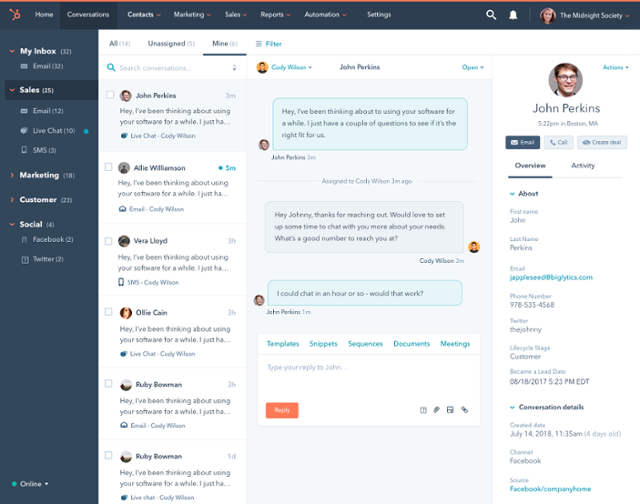 HubSpot Conversations.
Another big product announcement was the launch of Conversations across Marketing, Sales and Customer Hubs. Enable one-on-one conversations with your brand at scale, across teams (marketing, sales, service) and channels (think Facebook Messenger, your website chat, Slack, social media and more).
On top of being multi-team and multi-channel, Conversations will link directly to the HubSpot CRM, and it will be scaled with chatbots for high-volume inquiries.
Connect: Integrations and Acquisitions Bring Wider, Smarter Capabilities to the Platform
The HubSpot Connect Program has recently grown from 48 to 100+ integrations, including Shopify for ecommerce; Facebook video, ads and audiences; an ABM integration with Terminus; and more.
It will be interesting to watch as Scott Brinker (@cheifmartec), who recently joined team HubSpot as VP of Platform Ecosystem, wrangles with the opportunities the martech landscape presents.
Grow Your Business with HubSpot
For more on what's new from HubSpot this #INBOUND17, visit hubspot.com/new. And if you need to talk to someone about what it's like to use HubSpot, our team is just a phone call or email away. We're happy to share our experiences.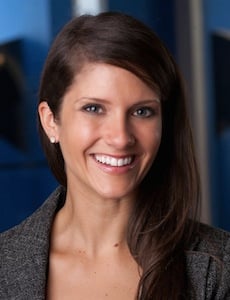 Jessica Miller
Jessica Miller is VP and managing director of PR 20/20, where she guides strategy and performance, and champions the ongoing pursuit of building a great marketing firm. For more than a decade, Jessica has built lasting partnerships that connect marketing strategy to bottom-line business outcomes. Jessica joined PR 20/20 in 2011 with global agency experience. She is a graduate of the E.W. Scripps School of Journalism at Ohio University. Full bio.