On Monday, May 21, the Cleveland HubSpot User Group (#CleHUG) held its latest event at Flannery's Pub in downtown Cleveland. The event, Apps Over Apps, provided an overview of the HubSpot App Marketplace, a collection of third-party applications that can be directly integrated into the HubSpot user portal.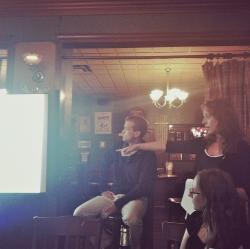 The group was joined by special guest and proud Clevelander, Steve Lazuka (@stevelazuka) president of Interact Media, LLC and developer of Hubspot's "App of the Year," the Zerys Content Marketplace.
That's Steve and I co-presenting to the crowd, in the photo to the right. Also, in full disclosure: Interact Media is a PR 20/20 client.
Tom Monaghan, (@computertom) email project manager at HubSpot, also stopped by to discuss HubSpot's recently launched email and contacts tools.
Overview of the App Marketplace
The HubSpot App Marketplace features more than 55 third-party applications that integrate external marketing tools with HubSpot's inbound marketing suite. From call tracking and content services, to CRM integrations and analytics, the Marketplace offers a variety of additional benefits to users and is continuously growing.
It currently offers applications in the areas of content, analytics, CRM integrations, social media, SEO, online advertising, ecommerce, email and more. To access the App Marketplace—and any of the apps we mention below—HubSpot users can simply to log into their Portals and go to "Marketplace" in the main navigation.
Review of Four HubSpot Apps
While there are many noteworthy apps available, Cleveland HUG condensed our review to focus on several integrations most relevant to our group—content, event marketing, customer relationship management and social media.
Zerys Content Marketplace
With this application, HubSpot users can outsource content development to a marketplace of more than 20,000 pre-screened writers that specialize in a variety of industries.
Using a reverse bid-technology, SmartPost, Zerys lets customers post a content opportunity and set their minimum and maximum price. Writers then submit a piece for the customer's review and edits, and approval or rejection. Customers do not pay for content unless they are 100% satisfied with what has been submitted. Once approved, content can be directly published to your HubSpot portal, providing a simplified management process.
The most frequent feedback from customers is that it takes time to find your favorite writer(s). For someone using the system for the first time, it may take several submissions before you find a writer that fits your criteria from both a quality and pricing standpoint.
Eventbrite Integration
Eventbrite is a free online service that enables people to create, share and join events. This application enables users to integrate their Eventbrite accounts with HubSpot Contacts. Once activated, HubSpot can then pull attendee information into Contacts for use in lead collection and email campaigns.
Through several graphs, users can analyze events based on registered attendees and revenue.
One limitation discussed during the HUG event is that attendee information can only be collected from those who directly register for an event. If one attendee purchases multiple tickets, those attendees are not accounted for in the total number of attendees reported to HubSpot.
Highrise CRM Integration
Highrise enables companies to store, update and manage a complete history of customers, prospects and other contacts for use in sales and marketing. Through the Highrise CRM app, users can spur HubSpot to automatically copy leads, lead intelligence, reconversion events and website visits to Highrise for use by sales team members. It also enables closed-looped analysis in HubSpot Sources, as won deals from Highrise are automatically updated in HubSpot's portal.
One posted review discussed at HUG was that the app doesn't enable automatic tagging or lead nurturing/email integration with HubSpot. These features would be a welcome update.
The HubSpot Marketplace includes several CRM integration apps, including those for Salesforce and SugarCRM. We feature Highrise here because it's what we use at PR 20/20.
Like to Download
This app provides HubSpot users with an alternate gating method for content. Instead of requiring visitors to complete a lead form, use of this app places content behind a "Like" button. In some cases, visitors may be more willing to "Like" a page on Facebook than share their personal contact information. Therefore, gating content behind a "Like" button may help boost the number of people you reach with the content, while still providing a way to stay in front of them over time.
There are downsides, too, though. Understand that this may result in an inflation of social media likes that isn't an accurate reflection of brand or fan loyalty. Additionally, this gating approach does not provide your sales team with access to lead information for direct follow-up.
App Marketplace and Cleveland HUG Resources
Want to see the full Cleveland HUG presentation, Apps Over Apps? Check out the slide deck on SlideShare for additional details. If you are a developer interested in contributing to the App Marketplace, check out HubSpot's resources for developers.
Lastly, as the Cleveland HUG leader I'd like to invite interested Cleveland-area marketers to join the group. We are open to new members, and non-HubSpot customers are welcome. Please join the Cleveland HUG LinkedIn Group to stay in touch.
Feedback on the App Marketplace
What apps have you integrated and tested in your HubSpot portal? We're interested to hear your thoughts!
Stay updated: Subscribe to the PR 20/20 blog, check us out on Facebook or follow the team on Twitter.