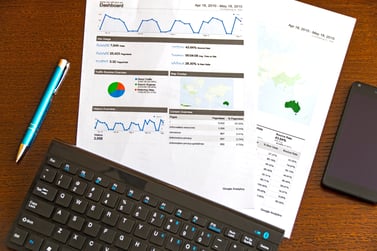 Why are you partnering with a marketing agency? Chances are, you want to take marketing performance to the next level.
Of course, marketers want to leverage data to make smarter and faster decisions. But there's a gap. According to a Gartner report, marketing analytics are influencing only 53% of decisions.
So, how do you determine whether you're partnering with a data-savvy and performance-driven agency? Consider the below checklist a starting point.
How to Find a Performance-Driven Marketing Agency
Here's a few tips for evaluating a current or potential agency partner. Use it as an internal gut-check too!
1. They ask about goals, and use performance benchmarks to align on realistic expectations.
Does your marketing agency know your organization's top goals for the year, and outlook for the next 3-5 years? Does your agency have access to (or report to you on) where you track against those top goals? (Have they asked? And have you been able to answer?)
Align on where your organization is going, and how its progressed so far. From there, an agency partner can better track supporting metrics that matter most to your bottom line, look into what's working, and more accurately forecast strategy and performance. A performance-driven agency will always keep its client's "north star" at the forefront.
2. They look under the hood before submitting a proposal.
How can a marketing partner tell you with confidence that they can improve performance or accelerate growth without the basic understanding of what they're working with? A performance-driven agency will ask for benchmark data during an audit phase, then commit to due diligence to confirm that data (and the forces driving results, or lack of).
If a client wants to grow its brand or increase leads generated, there will be a different strategic approach for the client with 5,000 monthly visits vs. one with 500,000.
3. Proposals include, in writing, goals the partnership sets out to achieve.
What does a successful partnership look like? Spelling out the answer in writing, based on aligned goals and benchmark data, should be at the heart of your service proposal. It also makes it easy to evaluate on a regular basis and determine whether the partnership is a success.
For example, language from a SaaS contract to align on goals and benchmarks:
"[Details of current marketing strategy here.] Here's a snapshot of current metrics:
1,200 website visitors/month

30 webinar registrations/month

2.5% website user-to-webinar conversion rate

10% webinar-to-customer conversion rate
Company set a goal of 300+ new customers over the next 12 months. If we exclude the viral coefficient, and any potential growth tied to a freemium model, here's a look at what's required to reach that goal.
Assuming the visitors-to-webinar (2.5%) and webinar-to-customer conversion rates remain constant, Company needs to generate 10,000 monthly website visitors per month to reach an annual run rate of 300 new customers.
10,000 (2.5%) > 250 webinar registrants (10%) > 25 customers
Taking into account that website user-to-webinar conversion rate is likely to drop* as the overall audience increases, Company should strive for 17,000 monthly website visitors to reach its goal.
17,000 (1.5%) > 255 webinar registrants (10%) > 25.5 customers."
From this position, the agency and client can now more objectively look out across the industry, competition, and resources behind your strategy to determine realistic expectations.
4. They think about services with end goals in mind … and allocate resources accordingly toward priority goals.
As a performance-driven marketer, I always want to have a handle on which resources are going toward my top goals. Performance-driven agencies should make this crystal clear.
At Ready North, we tie each marketing campaign (and most tactical marketing activities) to a specific client goal. Think brand awareness, lead generation, sales, loyalty, etc. Each activity has a purpose.
We also introduced the point pricing model. Each activity has a point value (2 points for an email, 5 points for an article, etc.).
When each activity has a goal and a point value, it's easy to show clients exactly how resources funnel up to top-line goals. This makes it easier to steer the ship, realign strategy, and tie activities to results.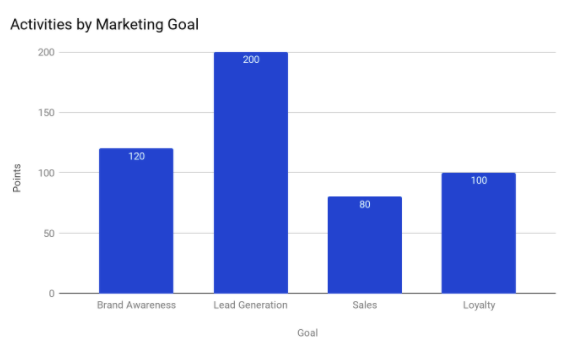 Here's an example of points dedicated to marketing goals.
The example above looks great if the client and agency are partnering on lead generation as the primary focus. If it's converting leads to sales, however, this type of resource allocation may warrant a discussion on why activities are top-of-the-funnel heavy. Are there enough leads to convert, or did the client first need some awareness and lead volume so that the agency could focus on conversions?
5. They measure frequently, and use insights to adjust recommendations based on what works.
If your agency is truly driven by performance, they're checking data constantly. They've set up dashboards and alerts that show progress toward specific set goals (such as website visits or leads generated from a specific campaign), and they're adjusting strategy and promotion based on that data.
For example, let's say you've partnered with an agency on a lead generation campaign with the goal of 300 sales-qualified leads (SQLs) in the first 90 days of launch. You have a promotion plan ready to go, and implementation is underway. A performance-driven agency will check progress after each wave of promotional tactics, and adjust accordingly. They'll be fine-tuning landing pages, paid campaigns, and audience targets based on what's working well — and allocating resources in accordance with meeting that 300 SQL goal over 90 days.
For less focused goals, such as increasing media placements 10% year over year, a performance-driven agency will have metrics at-the-ready and always know where you're tracking against the goal and time of year. For example, it's 75% of the way through the year and you're at 80% of the overall goal. But, the end of the year is a lower media pickup time for your industry. A performance-driven agency knows this based on the past few years of data, and will recommend a push before the end of year to reach the overall goal before a slowdown—even if that means working ahead of resources in October and November, then scaling service back for December. Performance guides those types of recommendations.
6. They're certified across marketing, sales and service platforms where your performance data lives.
Your agency partners should be experts when it comes to your martech stack. A performance-driven agency will also be experts when it comes to interpreting data throughout the customer journey and across your martech stack.
Consider agency partners certified across sales platforms (Salesforce), marketing automation platforms (HubSpot, Adobe), analytics (Google Analytics), and other key techs that drive your marketing operation.
Not convinced? Make it a requirement that your agency partner takes on-demand courses or passes certifications in your core technologies. Then notice the difference in strategic recommendations, implementation, and reporting.
7. They care about establishing a source of truth.
This one is a personal favorite … If you're reporting data that no one else trusts, why report it?
Performance-driven agencies work with clients to ensure performance data is accurate as it flows across online and offline channels, and from marketing through sales and service. This alone takes time, testing, and detailed spot-checks to ensure data integrity.
8. They connect data across multiple platforms to show the big picture impact.
Similar to a single source of truth, performance-driven agencies don't expect clients to log into multiple platforms to piece together what's actually happening. They do the legwork to set up one 'dashboard' if you will, which surfaces metrics and insights clients care about most.
For example, Ready North uses Databox to pull information from a client's website, marketing automation platform and CRM into one instance. This gives clients a one-stop-shop for marketing performance metrics.
Here's what Databox can do.
9. They use context to unlock the "how and why" that raw data may not clearly show.
Any performance scorecard should include key metrics, along with clear descriptions of what's driving performance. Especially if your marketing agency is an extension of your team (i.e looped in on activities, milestones, etc.), they should be able to answer where increases in traffic are coming from, whether that traffic is engaged or qualified, what's driving goal completions, and how regular marketing activities are impacting performance.
At Ready North, we've added that narrative behind each Databox visual slide, so clients see performance by the numbers as well as read what it all means.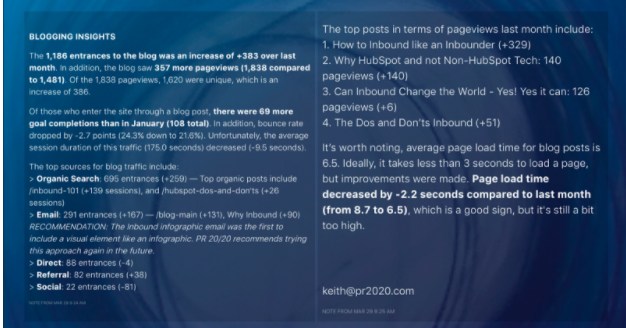 Ready North also answers the "why" behind Databox dashboards with context.
10. They are good storytellers when it comes to letting the data run the narrative.
Looking for marketing buy-in? Let data tell the story. A performance-driven agency will prep its internal champions for meetings with critical stakeholders. While data will guide the narrative, performance-driven agencies will build trust by telling how data connects to the bigger picture too.
To ensure your reporting really resonates with internal stakeholders, go back to the basics of storytelling.
Set the scene with benchmark data.

Call out early obstacles and challenges.

Highlight early wins or pilot metrics to build curiosity and set the stage for your internal champion.

Show sample tactics, deliverables and campaign strategy that drove performance.

Highlight a customer win that exemplifies the ideal brand experience (and your marketing strategy). For example, this customer first learned of the organization through our contest, came back regularly for content, interacted with our calculator tool, replied to a nurture email, used our enablement materials to gain purchase approval, and has since referred three qualified leads. Hit your story home with a real example.

Connect marketing performance milestones to a bottom-line business impact.

Build excitement with forecasts of what's to come.
11. They aren't afraid of math.
Marketing is math. Traditionally, many think of marketers as the creatives, writers, and big-idea people. As marketing involves research, budgeting, performance analysis and MROI, it's clear that your marketing team will need to be savvy when it comes to left-brain math and logic.
Look for signs that your agency partners are math-adept in the early proposal and planning phases. (See above, to numbers 1, 3, and 4 specifically!)
12. They understand the complexities of MROI.
And "complexities" may be an understatement.
"To me, marketing ROI is like the ocean: there are many streams to get there."
— Quote from Sam Melnik, VP of Marketing, Allocadia
A performance-driven marketing agency will work with your organization to understand the building blocks, including, at the most basic level:
Marketing operational costs and budget.

What is the actual spend?

Marketing goals.

What results do we want that spend to produce?

Marketing, sales and customer data that will connect the dots between spend and return.

How are we tracking results? Does this process align with the actual customer journey?
From there, a performance-driven agency understands that the output of the process is information. Performance-driven agencies are able to recommend some great tools to measure MROI (see G2 Crowd's list of marketing resource management tools for an idea), and they're able to dive into results across regions, product lines, channels, and attribution models.
Read more on the topic from the Ready North team:
13. They ask the tough questions when it comes to marketing performance and the overall partnership's performance.
Opening the door to performance-driven conversations is key! And it shows that your marketing partner cares about making it as easy as possible to talk about performance regularly. This can, of course, be a data-driven conversation, but make sure your marketing partner takes the time to also ask about the intangibles.
Consider the basics:
Here's what we've set out to accomplish (reiterating the goals of the partnership), and here's where we stand (with actual metrics). We're ahead/behind/on-track, and recommend (actual recommendations) to build momentum.

Here are what we see as wins so far. (Actually list them out.) What about you? What's most important to your team?

Here are a few areas we notice opportunities to improve. (Actually list them out.) What do you think, and what are we missing? For example, which project management processes have been working well for you, what can we improve? How are negative metrics and/or missed goals an opportunity?

What does success look like in your own role, and how can we make sure you reach that next level in your career?
It's constructive conversations like this that can really improve the relationship and drive performance.
How are you tracking marketing performance within your organization or at your agency? We're always open to ideas, and seeking the latest when it comes to proving value to our clients.