HubSpot User Group Recap
Ready North is a huge fan of HubSpot, as you may know.
We're so hot on HubSpot, we created a fan club.
Okay, not exactly. But we did found the Cleveland HubSpot User Group (HUG), where we hold events each quarter for like-minded HubSpot fanatics. A recent event was focused on HubSpot Payments, a relatively new commerce function inside the HubSpot CRM.
We sat down with Jack Coopersmith, Go-to-Market Lead for HubSpot Payments and Commerce, to discuss.
Why mix commerce and CRM?
I'm glad you asked.
Today, many businesses' commerce functions live outside of their CRMs. But in the future, you'll see CRMs containing commerce.
Here's why: Commerce needs to come out of the back office (and out of the dark ages) for businesses to truly delight their customers. On average, 40% of B2B transactions are still completed via paper check. Yikes. And on top of that, it takes an average of five tools to manage the quote-to-cash process in a business.
In every sector, the pandemic brought a need to digitize and automate processes, including how customers pay for goods and services. Layer your customers' purchase history, preferences, and needs over your CRM, and you're poised to provide better service.
Still sound a little weird?
Well, consider this: The Inbound Marketing and Flywheel methodologies were both novel ideas when they launched, but organizations who embraced them realized a competitive advantage. Bringing commerce into the CRM with HubSpot Payments is an equally significant inflection point, both for HubSpot users and the market as a whole.
How does HubSpot Payments work?
In typical HubSpot fashion, Payments uses a familiar interface as the rest of the HubSpot framework. It's slowly moving into the top nav for all portals, but you can always access it from your Settings gear.
When you use Payments, you're creating a link. Think of it like a Meetings link—similar to a Meetings link, the process takes about 90 seconds (or less) to complete. The customer or prospect clicks the link and accesses a custom quote, where they can pay immediately through credit card or ACH.
And the options for using Payments links are virtually endless. Think about eliminating friction in the purchasing process. Where is your customer when they're ready to purchase? Put the Payments link there:
In chat.
In a marketing email.
On a HubSpot webpage or landing page—or embedded like a form in a non-HubSpot page.
In a CTA button.
In a meetings link.
HubSpot Payments is powered by Stripe in the back end, but it's not a Stripe integration. The benefit? You get the reliability of Stripe, without the headache of protecting customer payment methods.
So, are you convinced that HubSpot Payments is the future of commerce? Check out the full HUG recording to learn everything we talked about, and subscribe to our newsletter to stay connected on all things HubSpot.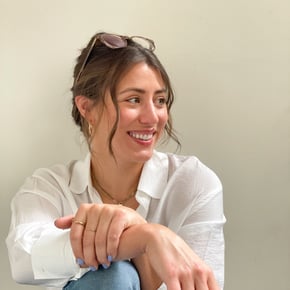 Elizabeth Juran
Elizabeth Juran is Ready North's director of operations. She joined the agency in March 2017 with a background in corporate marketing and communication.