Your ERP and CRM are both crucial to the success of your business. Your ERP streamlines business functions while your CRM streamlines the customer experience, both with the goal of increasing revenue.
So why keep them separate?
These two tools have traditionally been siloed by most businesses—a huge missed opportunity for growth.
Why should you integrate your ERP and CRM?
Businesses with an established ERP are well aware of the system's benefits, including effective management of financials, fulfillment, inventory, and sales. In fact, one of the most popular ERP systems, NetSuite, enables users to reduce manual and spreadsheet-based processes by up to 70%.
The same is true for businesses utilizing a CRM to deepen relationships with customers, where the average return on investment for every dollar spent on the system is $8.71. Users of HubSpot's CRM platform (specifically its Sales and Marketing Hubs) see a 74% increase in deal-close rate after just 12 months.
Both of these systems have information that is critical to the growth of your business. Therefore, combining their data can provide you with an invaluable 360-degree view of your business that highlights key areas of opportunity.
Integrating comprehensive business data into your marketing strategy can also give your company a competitive edge at every stage of your sales funnel. One example of this at work is how understanding your customers' unique purchase behaviors could fuel content marketing efforts to attract similar customers.
What are those opportunities and how can your business realize them? Read to find out.
How do you integrate your ERP and CRM to create a full-funnel marketing strategy?
Whether your goal is to boost brand awareness, generate more leads, or increase customer satisfaction—a full-funnel marketing strategy is the key to success. Without it, you are missing out on major opportunities to attract, nurture, close, and retain prospective customers.
The centralized database that results from an ERP and CRM integration can empower your sales team to make data-driven decisions that align with your marketing goals.
To learn more about the specifics of unifying your ERP and CRM and see a real-world case study of integration in action, check out our webinar, How To Establish a Full-Funnel Marketing Approach With an Established ERP, using the button below.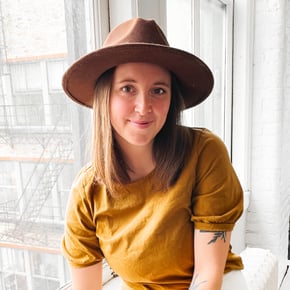 Ashley Dulaney
Ashley is the director of marketing and communications at Ready North and is passionate about storytelling. In her free time, she enjoys hiking, trail running, cross-country skiing, and camping in the wild Adirondack Park with her two dogs.