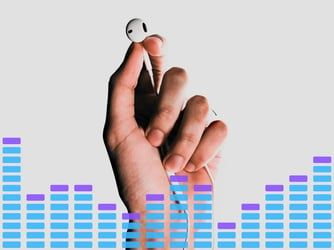 Walking your dog, working out, taking public transportation, folding laundry—what do these activities all have in common?
You guessed it, they're each an opportunity to become a more educated marketer and professional.
🤔🤔🤔
Based on the title of this post, you know how: Podcasts.
It's the golden age of podcasts. Entering 2020, there were 800,000 active podcasts. And there's a podcast for everything.
If you want to hear personal interviews with the songwriters behind Top 40 greatest hits, dive deep on the music of movies, or re-watch The Office alongside two of the show's stars, there's a podcast for that.
And if you want to absorb marketing news and insight from industry leaders during your commute with a new podcast, we've got you covered with 12 of our team's favorites.
1. This Old Marketing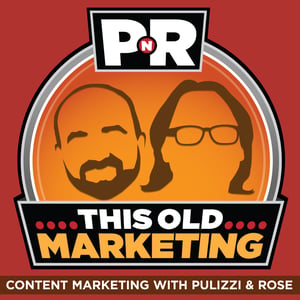 The creators: Joe Pulizzi (@JoePulizzi) founded the Content Marketing Institute (CMI) and Content Marketing World, and is the author of Killing Marketing, Content Inc. and Epic Content Marketing.
Robert Rose (@Robert_Rose) is the founder and chief "troublemaker" for The Content Advisory, the education and consulting group with CMI, and authored Killing Marketing (with Joe), Managing Content Marketing and Experiences: The Seventh Era of Marketing.
Overview: First started in 2013, This Old Marketing is THE podcast for content marketers. Joe and Robert discuss the marketing news of the week each episode, offering a big-picture look at what's happening in the industry. As accomplished marketers, authors, speakers, and entrepreneurs, these co-hosts sprinkle in nuggets of wisdom from their illustrious careers.
According to Joe Pulizzi's website, the podcast "has generated millions of downloads from over 150 countries."
Where to start: 224: 8 Big Content Marketing Predictions for 2020
Start listening:
2. Breaking Brand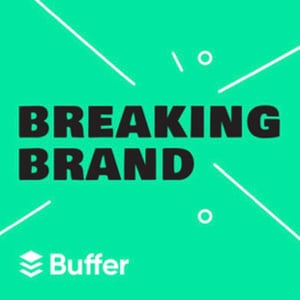 The creators: Breaking Brand is a podcast by Buffer (@buffer), whose products are designed to make social media marketing simpler and smarter.
Overview: How do you create a brand from scratch? In this narrative podcast, Buffer explores the history and approach of an agency that's helped launch or expand some of the world's most unexpected and iconic brands, like quip, Harry's, SmileDirectClub, and Warby Parker.
Each episode explores what makes the agency so effective, including its culture, and approach to marketing and brand.
Where to start: 1. Gin Lane (the beginning)
Start listening:
3. Marketing Over Coffee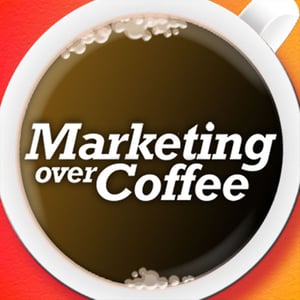 The creators: Marketing Over Coffee is hosted by two longtime marketers.
Christopher Penn (@cspenn) is instrumental to the progress of data-driven marketing and PR, modern email marketing, and artificial intelligence/machine learning in marketing. He's authored more than two dozen books, keynoted several top events, and has a popular weekly newsletter.
John J. Wall (@johnjwall) is a partner at Trust Insights and advisor at EventHero. He's specialized in customer relationship management, marketing automation and sales support systems, and his work has been cited in some of the world's most prominent publications.
Overview: This weekly podcast is the perfect blend of marketing insight and fun. It's aptly named. The hosts are drinking coffee as they record, and as a listener, you feel like you're sitting in on a casual, interesting conversation with colleagues.
Both Christopher and John know their stuff, covering current news on social networks and AI, offering SEO and search insights, as well as best practices for email marketing and copywriting.
If it's not the two hosts discussing the industry, they're sitting down with titans of marketing and beyond. Past guests include Simon Sinek, Seth Godin, and Ann Handley.
Where to start: Seth Godin - This Is Marketing, Nov. 14, 2018
Start listening:
4. 2Bobs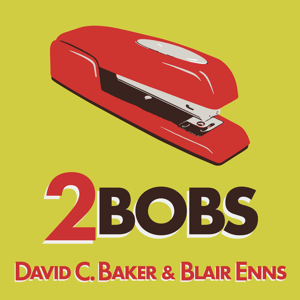 The creators: 2Bobs is hosted by Blair Enns (@blairenns) and David C. Baker.
Blair is CEO of Win Without Pitching, a sales training and coaching program for creative professionals, and has spent 25 years in advertising and design. He also wrote The Win Without Pitching Manifesto and Pricing Creativity: A Guide to Profit Beyond the Billable Hour.
David has advised 900+ marketing firms on the topics of financial management, growth, and other topics. In addition to consulting and speaking, he authored The Business of Expertise, Managing (Right) for the First Time, and Financial Management of a Marketing Firm.
Overview: In reference to Office Space (the movie), 2Bobs is a podcast that entertains and informs. Each episode, our two hosts discuss topics to make you a smarter entrepreneur, professional, and colleague.
Each episode is around 30 minutes and covers an issue related to staffing, business development, pricing, growth, and much more.
Where to start: A Beginner's Guide to Negotiating
Start listening:
5. Build a Better Agency Podcast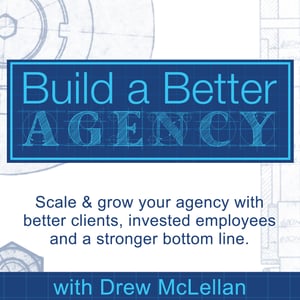 The creators: Agency Management Institute (AMI) was founded in 1995 with the goal of teaching and promoting best practices for agencies. Today, their suite of resources (i.e. events, workshops, accreditation program, blog) help agencies take their performance to the next level.
Drew McClellan (@DrewMcLellan) is the host of the Build a Better Agency Podcast, an author, the owner of AMI, and also owner of his own agency—McLellan Marketing Group. Across his many ventures, Drew aims to inform and educate marketers to help their businesses thrive.
Overview: The Build a Better Agency Podcast is designed for agency owners and leaders. Each guest brings extensive agency experience and/or offers an area of expertise fundamental to agency growth and performance.
Where to start: EP 219: A year of reflection and growth for agency leaders with John Jantsch
Start listening:
6. Ground Up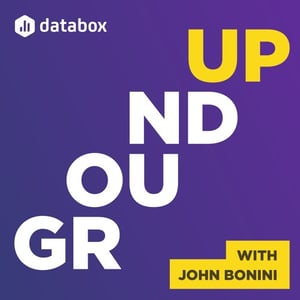 The creators: Are you drowning in data? Databox (@databoxHQ) was founded on that feeling. Databox pulls all of an organization's data into one place to help users automate reporting and more effectively visualize that data.
The host is Director of Marketing John Bonini (@Bonini84). He's passionate about building brands and telling their stories, and uses Ground Up as an opportunity to uncover them with his guests.
Overview: John sits down with builders. They're entrepreneurs, marketers, and leaders who have endured the hard stuff to create something great. These are the stories behind their success. It's not about the numbers, but what it took to build them.
Where to start: 55: Kieran Flanagan / How HubSpot Instilled a Culture of Growth That Expanded Well Beyond Marketing
Start listening:
7. MAICON Speaker Series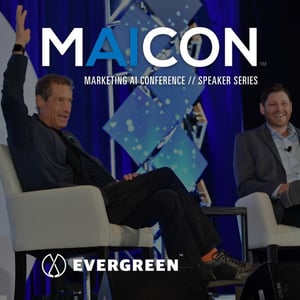 The creators: This marketing and AI podcast was created by Marketing AI Institute (@MktgAi) during the Marketing AI Conference (MAICON) in July.
Launched by PR 20/20 in 2016, the Institute's mission is to "make AI more approachable and actionable for modern marketers." MAICON is the annual conference the Institute puts on to provide marketing leaders with the tools to understand, pilot and scale AI.
Overview: The MAICON Speaker Series was recorded live at MAICON 2019. Each episode features two speakers from the conference discussing the curent state and future potential of artificial intelligence.
Just like the conference and the Institute, the podcast is designed to inform marketers of how AI can impact them today, and what it will do in the future.
Where to start: Episode 1: What Is Marketing AI? Plus, Setting Your Team Up for Success.
Start listening:
8. DeepMind: The Podcast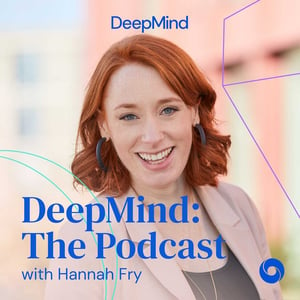 The creators: DeepMind (@DeepMindAI) believes AI "could be one of humanity's most useful inventions." Founded in 2010 and acquired by Google in 2014, DeepMind's goal has always been to accelerate the field, and to research and build AI systems.
The host, Dr. Hannah Fry (@FryRsquared), is a mathematician, broadcaster, and author of Hello World: How to Be Human in the Age of the Machine. She regularly works with physicists, computer scientists, and architects, but knows how to communicate the complex topic of AI research no matter where you're at.
Overview: This podcast is an "eight-part series that explores topics such as the link between neuroscience and AI, why we use games in our research, building safe AI, and how AI can be used to solve scientific problems."
Doesn't sound applicable to your marketing role?
AI is already accelerating change in the marketing industry and, at PR 20/20, we believe that 80% of what we do every day will be intelligently automated to some degree in the next three to five years.
This podcast is designed for the non-specialist; for the person who wants to understand the new frontier of AI and what current AI practitioners are already doing today.
Where to start: AI and Neuroscience: The virtuous circle
Start listening:
9. Conversational Marketing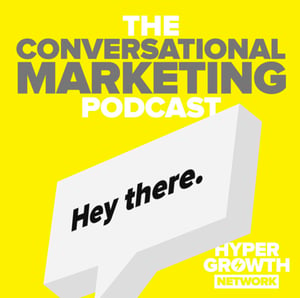 The creators: Drift (@Drift) is the first conversational marketing platform. This podcast is part of the Drift HYPERGROWTH Podcast Network, which is "your ticket to getting better every day."
The hosts are Sammi Reinstein (@sammireinstein) and Sara Pion (@sara_pion). Sammi is a conversational marketing specialist who focuses on creating compelling customer experiences. Sara, also at Drift, generates demand through web, email, and chatbots as a growth marketer.
Overview: Conversational marketing is all about being human and personal in your marketing. And this podcast lives up to its name in many ways.
If you're already practicing conversational marketing, you'll undoubtedly find a new tactic to add to your playbook. If you're not, learn from the hosts and their accomplished guests on how you too can make your marketing more human and personal.
Where to start: But Really, What Even Is Conversational Marketing?
Start listening:
10. From the Drift Vault: Seeking Wisdom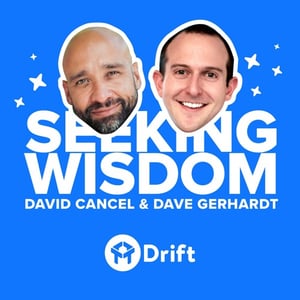 The creators: Seeking Wisdom was hosted by two of Drift's growth leaders. David Cancel (@dcancel) is a serial entrepreneur who founded Drift and other Hypergrowth startups. He was also instrumental to HubSpot's growth as its Chief Product Officer from 2011 to 2014.
Dave Gerhardt (@davegerhardt) was Drift's VP of marketing until late 2019. He helped jumpstart the marketing efforts to transform the startup "from $0 to eight-figures in revenue."
Overview: The premise of the podcast is simple. Do you want to get better every single day?
During Seeking Wisdom's 214 episodes, David and Dave discuss the principles that have defined their journey to success in business and in life. Some episodes feature long-form interviews with leading marketing and sales pros, while others are short snippets of wisdom that will linger with you well after you listen.
Though the final episode was published in May of 2019, whenever I have the chance to talk about podcasts, this evergreen all-star demands a mention.
Where to start: (#109) 5 Management Lessons from Peter Drucker
Start listening:
11. Hidden Brain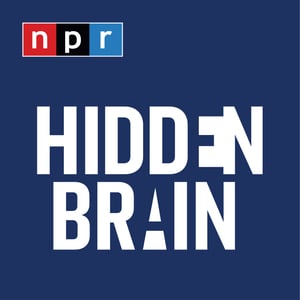 The creators: NPR's mission is to create a more informed public. You know their radio, but their podcast productions are strong, too. NPR produces more than 25 of them.
Hidden Brain is hosted by NPR's social science correspondent Shankar Vedantam.
Overview: Can we trust our memory? Can we actually multitask? Do we trust facts? These simple, but fascinating questions, are what Hidden Brain strives to answer.
Through a blend of science and storytelling, Hidden Brain uncovers the "unconscious patterns that drive human behavior, shape our choices, and direct our relationships."
As a human, Hidden Brain is fascinating. If you want to tie it into marketing, understanding people is step one of any great idea.
Where to start: 8/26/2019 You 2.0: Deep Work
Start listening:
12. WSJ's The Future of Everything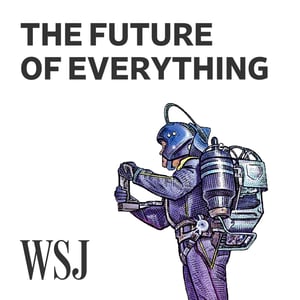 The creators: You know the Wall Street Journal, it's one of the largest newspapers in the U.S. in terms of circulation and has also won more than three-dozen Pulitzer Prizes.
Journalist and audio producer Anthony Green (@AnthonyGrreen) hosts the podcast.
Overview: Discover how science and technology are revolutionizing our lives. Each episode hones in on a particular scientific advancement that is altering how we live, work, or play.
Marketers want to stay on the cutting edge. WSJ's The Future of Everything gives you the opportunity to pursue that to the extreme.
Where to start: AI Hiring, Never Retiring: Working in the 21st Century
Start listening:
Coming Soon: The Marketing AI Podcast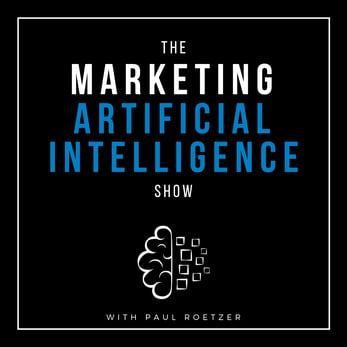 The Marketing AI Podcast is the story of AI + you. Join Paul Roetzer, founder of Marketing AI Institute and creator of the Marketing AI Conference (MAICON), on a journey to understand, pilot and scale AI in your organization.
Be the first to know when the podcast is live.
What podcasts are you listening to?
With 800,000 active podcasts out there, we might have missed one or two gems. Let us know what you're listening to with a comment below, so we can level up our commutes with a new podcast.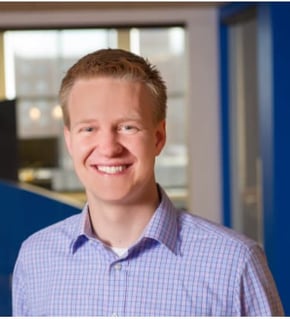 Tim Anderson
Tim Anderson is a consultant at PR 20/20. He joined the agency in February 2017. Tim graduated in December 2016 from the University of Mount Union, where he earned a degree in marketing with a minor in communications.