Last year, Google introduced Author Rank, an aim to legitimize real authors of great content online and catch content scrapers, as explained by Chris Penn (@cspenn) in the article How to Use rel=author Tags for SEO. Google's rel=author tags also help optimize websites and thought leaders on industry topics. Using Authorship capabilities with the rel=author tag, Google hopes for better engagement between authors and readers.
By incorporating rel=author tags, Tracy's image appears next to her content in search results.
How can you use rel=author functionality on your website? In his article, How to Implement Rel=Author, AJ Kohn (@ajkohn) lays out the basics of the process with a "Three Link Monte." Basically, there are three connections you'll need to make to establish rel=author tags on your blog:
Rel="Author" — Link your blog post or article to your author page.
Rel="Me" — Link your author page to your Google profile.
Rel="Me" — Link your Google profile page to your author page.
Note: Rel="Publisher" tags also exist to connect brand Google+ pages to content in a similar fashion. Learn more here.
Format Your Website (Rel="Author")
The first step, which may involve a website update: every author needs to have his or her own page on your website, so you can connect a profile to a specific author page online. If you're the only author of your blog, you don't need to go through this step.
To link your blog posts or articles to an author page, set up rel="author" with the following snippet, usually programmed into the blogger byline:
<a class="url fn author" rel="author" href="http://www.YourBlogURLHere.com/about">
Here's how the snippet looks in AJ Kohn's source.
Set Up a Google Profile, Connect to Your Blog (Rel="Me")
Next, you'll want to connect your site to your Google profile with the following process:
Create a Google+ profile at https://profiles.google.com/ (if you haven't already). Be sure to upload a clear, distinguishable photo, and fill out the "About" tab with relevant professional and personal information.
Add a Rel="Me" tag to your author page that links to your Google profile, using the following snippet: <a class="url fn author" rel="me" href=https://plus.google.com/YourGoogleProfile>.
Navigate to the "About" tab on your Google profile and click "edit profile" in the upper right-hand corner of your screen.
In the right-hand column click on "contributor to" and add a custom link to your author page on your blog. To do this, type your "Blog Name" in the first line, and then add your author page URL in the second.
Be sure that "anyone on the web" is selected in the "who can see this?" box, and click save.
Double-check that the process worked. Make sure you've set up your three links correctly by running a sample through Google's rich snippet testing tool.
"Contributor to" should include a link to your blog when set up correctly (see arrow).

The above is a preview of Google's Rich Snippet Testing Tool—confirming the links your rel=author tag is set up with, and how it should appear in search results.
Note: Instead of a Google profile, you can also claim your content via an email address. For directions on this alternate method and more information on rel=author, visit Google's Authorship home page.
What's Next?
What would you like to see in terms of claiming your content online, and how has (or will) the move affect your business and marketing efforts?
Please share your thoughts on the process, or what's next for authors online, in the comments below.
Jessica Donlon is client services manager at PR 20/20, a Cleveland-based inbound marketing agency and PR firm. Follow Jessica on Twitter: @jessicadonlon.
Stay updated: Subscribe to the PR 20/20 blog, check us out on Facebook and Google+, and follow the team on Twitter.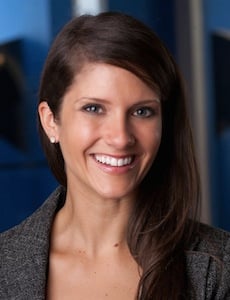 Jessica Miller
Jessica Miller is VP and managing director of PR 20/20, where she guides strategy and performance, and champions the ongoing pursuit of building a great marketing firm. For more than a decade, Jessica has built lasting partnerships that connect marketing strategy to bottom-line business outcomes. Jessica joined PR 20/20 in 2011 with global agency experience. She is a graduate of the E.W. Scripps School of Journalism at Ohio University. Full bio.