Communications professionals, from marketers to journalists breaking headlines, work with an overarching goal in mind: make people care about you or your cause so much that they take action.
Action ranges from encouraging audiences to comment on and share a blog post all the way to making purchasing decisions, but what about when the stake
s are higher and sharing information as we know it is at risk? A milestone in the SOPA / PIPA legislation protests hits today as tech giants—including Google, Microsoft, Wikipedia and Reddit—take action and "
blackout" their sites on the web.
How has this issue grown awareness, and encouraged people to care and take action? Let's go through the marketing basics.
Note: For background on SOPA and PIPA, see our earlier blog post.
How The SOPA Protest Made Its Way Across the Internet
1. Gather Enough People Who Care
SOPA is polarizing because it impacts everyone that uses the web for business and in their personal lives, in a very real way. Its potential impact on entrepreneurs, business leaders, tech companies and more is too intense for people to ignore. So they decided to take a stand.
2. Educate and Empower Through Content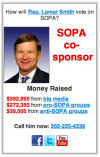 Making sense of complex issues, SOPA opponents created infographics to educate the public, and empower them to share the information in an easily digestible format. A few examples:
People in many industries, and with many different viewpoints, have written on the topic and their stance, shared blog posts, commented on other posts, and therefore created community around the topic.
To help people relate to what may have seemed like a distant piece of legislation, tools like SOPA Track were created to show where legislators stand on SOPA / PIPA.
3. Spread Information through Social Media Wildfire
As content spread, more people got on board in the anti-SOPA movement.
For example, #StopSOPA and #BlackoutSOPA hashtags drive conversations on multiple channels, and "Stop SOPA" avatar icons sported by social influencers have kept the issue top-of-mind.

Marketing Land's Greg Finn (@gregfinn) examined social media's effect on the legislation in his article, #BlackoutSOPA: A Look at the Social Media Movement that Helped Stall the SOPA Legislation.
4. Don't Forget about PR
As the conversation grew, both on- and offline media took note. Reddit co-founder Alexis Ohanian (@kn0thing) has been a leading voice in the legislation's opposition, pushing the issue through the tech industry and into mainstream media.
Media who support SOPA legislation—like MSNBC, Fox News, ABC, CBS, and NBC—have also come under scrutiny for not giving the issue coverage, as found in a report by Media Matters' Ben Dimiero (@bendimiero).
The Culmination
The above are tactical elements that have snowballed, cumulated, and together call for action and even mass online protest.
A marketer's mission is accomplished when you have communicated your stance on an issue clearly—and convinced another to take action. Whether it's an individual's action to spread the message or a government body shelving an issue, SOPA / PIPA invokes movement. Influencers do the same:

So why can't you search Wikipedia today?
In protest, many in the #StopSOPA movement have aligned to "blackout" websites today in protest. The SOPA blackout list includes Wikipedia, Reddit, WordPress, MoveOn.org and others. Find a full list on Mashable.
Robert Plant (@drrobertplant) calls "Black Wednesday" a wake-up call for IT executives in his Harvard Business Review article, as he notes that passed bills would leave websites vulnerable to government repression and add risk and costs for organizations that need to continually police content.
To make sure organizations participating in Black Wednesday do it right, Google's Pierre Far (@pierrefar) explains in a Google+ post how to code a website's blackout protest correctly, also known as The Google-Approved Way to Take Down Your Website In Protest.
When web users see sites down, where will they go for information? Twitter's Dick Costolo calls Wikipedia's SOPA Blackout "Foolish" [Updated], as many would normally go to Wikipedia for information, but that site won't be available on a day it may be most in need. In response, Wikipedia has left SOPA-related information accessible on the site today, encouraging visitors to contact their legislators and demand action.
Business PR Note: Assess & Communicate a Clear Position
College PR majors are taught an idealistic stance: PR is the backbone of an organization and is responsible for keeping that organization "right" in the eyes of audiences it cares about. To that tone, if you're a publicly facing company, you may need to know where your company stands on major issues like SOPA, in the case that customers or prospects want to know.
Are you moved to act? Visit americancensorship.org to contact your Senator, voice an opinion, and motivate change.
Jessica Donlon is a consultant at PR 20/20, a Cleveland-based inbound marketing agency and PR firm. Follow Jessica on Twitter: @jessicadonlon.
Stay updated: Subscribe to the PR 20/20 blog, check us out on Facebook or follow the team on Twitter.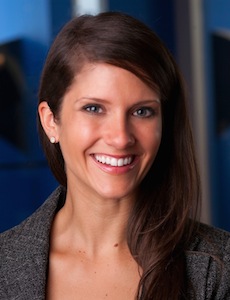 Jessica Miller
Jessica Miller is VP and managing director of PR 20/20, where she guides strategy and performance, and champions the ongoing pursuit of building a great marketing firm. For more than a decade, Jessica has built lasting partnerships that connect marketing strategy to bottom-line business outcomes. Jessica joined PR 20/20 in 2011 with global agency experience. She is a graduate of the E.W. Scripps School of Journalism at Ohio University. Full bio.