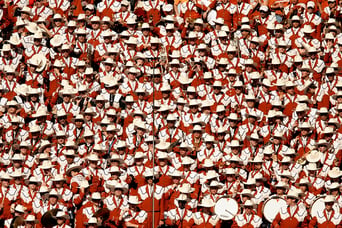 Ready to drive strategy and performance?
I'm convinced there are two databases every marketer needs at-the-ready to do so effectively.
Audit your company's (or client's) audiences and accelerators. Create two living databases. And keep these databases updated.
Need inspiration to get started on the work that will make everything else in your marketing realm fall into place? Let's go.
1. Audiences
To start, list any and all audience segments you consider relevant to your brand.
Each audience listed should have a tangible size associated with it (so a specific number, whether it's the list size of total customers in your database or the size of the estimated total addressable market from research). Also, include the type of audience for each (direct, borrowed, purchased).
Insider's Tip: Add an annotation of the source of each list size, whether it's the link to your total addressable market statistic, or a specific, actual database list in your CRM.
When thinking through audiences, consider:
Employees

Customers (all-time, current, past; and consider specifying by product or service)

Partners

Competitors (in your databases)

Website visitors

Leads (and consider specifying by conversion points)

Prospects (consider specifying based on your business model and corporate strategy)

Subscribers

Attendees (consider events, webinars)

Social networks (for branded accounts, as well as thought leaders within the company)

Reviewers

Media contacts

Total addressable market size (TAM)
There are plenty more ideas out there, and this is a database that can grow with your company over time.
Now that you have a draft contact database, what stands out? There are tons of ways to question, slice and dice audiences. Here are a few starter prompts:
How many of the same contacts are on multiple lists?

Is there an opportunity to re-activate an audience to achieve a near-term goal?

Is there someone on the leadership team with a network worth publishing to more frequently?

Which segments matter most to your business' long-term strategy?

How does that priority audience change based on the marketing objective at hand?
Revisit your audience database frequently to update metrics related to list size, growth over time, engagement frequency, and priority.
Over time, your audience awareness will turn into familiarity, and familiarity will turn into intimate knowledge. It's the brands and marketers who truly understand audience activation that are able to drive audience growth and engagement.
"How effectively you develop and nurture relationships with your audiences can determine your organization's ability to build a strong brand, grow a talented team, create a powerful culture, gain exposure in priority markets, establish brand loyalty and affect the bottom line."

—Paul Roetzer, CEO of PR 20/20 and Marketing AI Institute, 15 Steps to Build Your Performance-Driven Marketing Plan
2. Accelerators
When we say accelerators, we're referring to existing assets that can be leveraged to push performance, achieve success, and fuel marketing campaigns.
Just like you did with your audience database, list each accelerator.
Accelerators can be organized by status (opportunity, active), priority (high, medium, low) and type (collateral, event, industry trend). Example ways to classify the type of accelerator include:
Audience lists (customers, influencers, leads, subscribers — see above)

Content (ebooks, white papers)

Events

Digital marketing properties (mobile apps, websites)

Partnerships

Speaking engagements

Sponsorships
If you need inspiration to get started here, or if you're new to a company or client, check out your file storage, marketing automation, and analytics reporting systems for a library of ideas.
Go beyond owned assets to consider borrowed accelerators—those of close partners, customers, or the industry at large. An accelerator, or existing asset, can be a lead-generation campaign your company launched three years ago that needs updating; a happy customer willing to do a case study; and the event that would be the perfect launchpad for the updated campaign and case study.
With a good list in place, document each accelerator's details, such as which company goal or objective it aims to meet, how it's performed to date, where it lives online, launch details or milestones, the project owner, upcoming promotional efforts, and so on.
"Marketing strategies with the greatest potential ROI tap into and maximize existing assets."
— Paul Roetzer, CEO of PR 20/20 and Marketing AI Institute, 15 Steps to Build Your Performance-Driven Marketing Plan
You can build entire campaigns around accelerators. Or at the least, put continuous promotion plans in place to extend campaign value instead of falling into a one-and-done routine.
Yup, worth repeating. Stop recreating the process each time! Keep a continuous pulse on audiences and accelerators to kick growth into overdrive.
Accelerate Planning: The Marketing Growth Hackathon®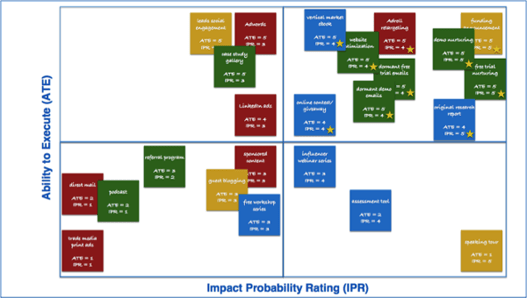 Documenting audiences and accelerators are two parts of a more comprehensive Marketing Growth Hackathon® model PR 20/20 runs for its clients.
The accelerated brainstorming session provides the framework and focus to help marketing teams prioritize goals and identify campaigns with the greatest probability to impact business results in the next 90 days.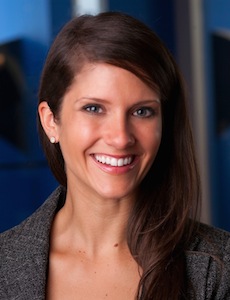 Jessica Miller
Jessica Miller is VP and managing director of PR 20/20, where she guides strategy and performance, and champions the ongoing pursuit of building a great marketing firm. For more than a decade, Jessica has built lasting partnerships that connect marketing strategy to bottom-line business outcomes. Jessica joined PR 20/20 in 2011 with global agency experience. She is a graduate of the E.W. Scripps School of Journalism at Ohio University. Full bio.