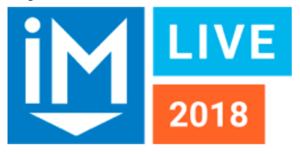 Marcus Sheridan kicked off this year's IMPACT Live conference by asking one mission-critical question: How do we define inbound today?
Since its inception in 2005 (thanks, HubSpot), inbound has become a loaded term. It means a lot of different things to different people. But at its core, and in Sheridan's words, "To be inbound is to be helpful."
It's no wonder then that Bob Ruffolo's motivation to host IMPACT Live once again was to "make you and your organization successful."
IMPACT Live is an annual, single-track digital marketing conference that brings together marketing professionals that range from agency CEOs to content coordinators to marketing directors to discover the latest in inbound.
So, in case you missed the third-annual event, below are a few of our favorite quotes from this year's festivities.
Disclaimer: There were too many impactful insights from the show to share in this post. So, if you were at the event, please share your favorites in the comments below!
1. Kipp Bodnar (@Kippbodnar), CMO of HubSpot
"The less you assume, the more successful your marketing is."
In other words: the more data, the better.
Kipp's session focused on HubSpot's 2018 marketing strategy, which puts customers at the center of all efforts. He emphasized that by collecting and analyzing relevant data points, we have power to create a truly delightful buying experience ... an experience that is ever-evolving based on key performance indicators.
By doing so, marketers can make it easier for customers to also be a brand's best advocates.
2. Marcus Sheridan (@TheSalesLion), Acclaimed International Keynote Speaker
"We are all media organizations whether we like it or not."
Marcus made it clear: we must be in the mindset of showing and "not just telling it." He noted that by next year (2019), 80% of all content consumed online will be video, and social video already generates 1,200% more shares than text and images.
If you haven't already, there's no better time than the present to hire a videographer. If brands aren't showing and clearly explaining what they offer and why it matters, they may as well not exist.
3. Kathleen Booth (@WorkMommyWork), VP of Marketing at IMPACT
"Transform your agency [or organization] that happens to publish a lot into a publisher that happens to have an agency inside of it."
Similar to Marcus, Kathleen emphasized the need for the shift to a publisher mindset. Ultimately, your website needs to put the customer's needs before your own. After all, it will likely drive a majority of customer-to-brand interactions before a sale or in-person meeting.
Related, and if you haven't seen, check out IMPACT's new homepage, which features articles and education front and center.
4. Ann Handley (@MarketingProfs), Head of Content at MarketingProfs
"Engaging content is more about brains than budget."
The noise online is deafening. So the question remains: how can marketers stand apart and truly differentiate their brands through content?
Ann says that good content takes guts. You might even need to change the existing narrative around your product or service with a bolder, braver message. Ask yourself questions like: Who are you? Why do you do what you do?
Once you have stronger tone, you can integrate these messages into key places on your site, like the About Us page, on your Instagram, within FAQs, and more.
5. David Meerman Scott (@dmscott), Marketing and Sales Strategist
"The closer you get to someone, the more powerful the shared emotions are—good or bad."
David spoke to the importance of growing fandoms. He related growing a fandom community to developing your own personal fandoms (e.g. hobbies, interests). People often have three fandoms that they realize as they mature. These passions make us happy; they make it easy to dedicate time and money to it.
By sharing personal experiences with consumers, brands can replicate that same sort of tenacity in its community. A good example: Apple did this by establishing a face-to-face support system through its Genius Bar.
But, you don't need Apple's resources to cultivate the same bond; social media is a good place to start facilitating meaningful engagement.
6. Chris Duprey (@ChrisDuprey82), COO at IMPACT
"As an inbound leader, we have to be coaches, teachers and mentors. That is the essence of inbound leadership."
You might be shocked to hear that only 15% of employees (worldwide) feel engaged at work. When discussing the topic of leadership, Chris pointed out that we must be obsessed with the success of our people and our teams—regardless of industry, company size or title. Happier, engaged colleagues make for better, more impactful outcomes.
Thus, it all starts with putting people first, collaborating more often and adapting to change.
7. Paul Roetzer (@paulroetzer), CEO of PR 20/20
"AI can be your competitive advantage in marketing. Now is the time to start."
Even if you don't know it, your life is already machine-assisted (think Netflix, Google Maps, Facebook) and soon your marketing will be too.
Paul discussed how to get started with AI and marketing by using the 5 P's of marketing AI. This framework focuses on ways to intelligently automate manual tasks in the following five areas: planning, production, personalization, promotion and performance. You can read more about the 5 Ps here.
Keep up with the latest industry trends.
Be the first to know about the the latest marketing news, tips and best practices. Subscribe to our blog.

Sandie Young
Sandie Young started at the agency during the summer of 2012, with experience in magazine journalism and a passion for content marketing. Sandie is a graduate of Ohio University, with a Bachelor of Science from the E.W. Scripps School of Journalism. Full bio.