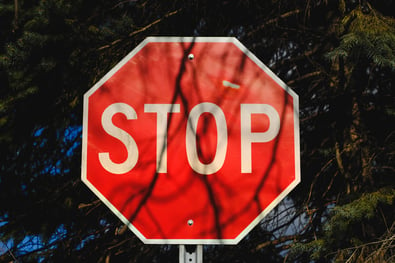 Editor's note: This post was originally published in 2013 and has been updated to be more current and comprehensive.
The term doublethink was pioneered by George Orwell in his dystopian masterpiece 1984. In it, an alternate England is enslaved by the totalitarian Party, headed by the omnipresent Big Brother.
To maintain power, the Party invents Newspeak, a reductionist language that eliminates the ability to express complex thought.
Doublethink is the result: the ability to believe two contradictions without question. In 1984, doublethink is everywhere: citizens believe they've been perpetually at war with another country one day, perpetually at peace the next. It's also present in the Party's slogan: "War is peace. Freedom is slavery. Ignorance is strength."
That world may be fictional, but doublethink is real—and it's destroying your content creation efforts.
We're All Patchwriters
Content marketers (like any content creators) are in danger of doublethinking their way to a practice more insidious than plagiarism: patchwriting.
Poynter's Kelly McBride (@kellymcb) defines patchwriting as "a failed attempt at paraphrasing." The practice includes everything from repurposing someone else's words to kidnapping another's ideas and dressing them up as your own.
As seen in this PR 20/20 blog post, patchwriting isn't full-on plagiarism. It's more like intellectual laziness.
And the breakneck pace of the content marketing world encourages it—making patchwriting far easier and far more dangerous than simply copying someone else's work.
Why?
Because everyone is at risk of slipping into the practice. And it's easy to doublethink our way into believing that patchwriting is good writing. We have no problem holding this contradiction in our heads because we're bombarded by more ideas than ever. More insight. More chatter. More noise. We consume more. Way more.
Ravenous crowds want more content. And more competitors than ever are rolling out buffets.
To keep up, as readers and creators, our schedules are packed. Deadlines never die. And the content marathon mandates that we sprint the whole 26.2.
As a result, patchwriting becomes commonplace. It's hard to detect, often ignored, sometimes tacitly encouraged and infrequently challenged.
Welcome to the world of doublethink.
It's a world where content producers think two opposing thoughts—without realizing that one negates the other.
It's a world where quantity is quality. Repetition is originality. Lazy thinking is thought leadership.
It may seem tempting on the surface, but in reality patchwriting creates a sea of lukewarm content that distracts us from the best and brightest. It does a disservice to our customers, our readers and our industry.
It's time for a regime change. That requires a sincere commitment from content marketers everywhere to raise their game.
It requires a quiet revolution in the habits we adopt when we create content.
6 Steps to Overthrow Patchwriting
Regime change takes time. It requires resolve on everyone's part. It mandates self-policing. And it demands a relentless commitment to producing incredible content.
Believing in the mission is one thing. Arming yourself for it is another.
Content marketers need to have practical strategies in their arsenal to combat patchwriting each and every day in the trenches. Here are a few to get you started.
1. Catalog your inspirations and sources.
Having your own archive as a reference inspires fresh ideas and indicates where existing ones came from. Capturing your thoughts as they unspool in real-time isn't hard: try Evernote or Google Keep.
With their tagging and organization features, you're always sourced: create a new Evernote notebook for every blog post, ebook or content offering, or add a reminder to Google Keep notes to make your thoughts more action-oriented.
Sound like a lot of work? Keep in mind, you're also planning for the future. Content sources can be reused, and may inspire content at different points in your sales funnel, or geared toward other audiences.
2. Identify your value proposition.
Poynter's McBride offers the following important suggestion: "The litmus test [for original work] is new value or new ideas."
Before you put pen to paper or fingers to keys, ask yourself the following:
Am I adding value? How? Write out your value proposition if necessary.
Do I have a different perspective or opinion on the topic than the accepted wisdom, current debate, respected thought leaders, etc.?
If not, am I offering what HubSpot's Dan Zarrella (@danzarrella) calls "personal relevance?" In short, is there a reason (entertainment, humor, shared interest, etc.) others would find value in this, even if the topic has already been discussed?
If you can't convincingly answer at least one of these questions, you need a new topic or change of direction.
3. Budget enough time for great content.
When you're behind schedule, patchwriting rejoices. Break content creation into phases: brainstorming, outlining, writing, editing, whatever's necessary. Schedule a block of time to execute each phase. (At PR 20/20, we typically block down for two hours at a time.)
Put up a sign on your door. Wear headphones. Remove yourself to a secluded location. Do whatever it takes to indicate your unavailability during block time.
Creating free time, instead of hoping for it, gives you more time to research and plan. When your back's not against the deadline wall, your odds of creating unique, valuable content rise.
It's time to become a productivity ninja. Need more tools? Check out the top 40 productivity apps for 2018 here. Know any other great productivity resources? Highlight them in the comments section.
Bonus tip: Keep yourself (and team) on track by building out content calendars in monthly, quarterly or yearly increments, so you never run out of ideas. Download PR 20/20's free content calendar template, which includes:
Content production pipeline
Content publishing calendar
Persona buying cycle map
4. Focus, focus, focus.
Free time means nothing unless you use it. Writing time should be sacred, not something you do in between Facebook breaks.
Unplug. Use tools like StayFocusd (Chrome) or LeechBlock (Firefox) to censor the worst time-wasting sites. Or, go offline entirely with Freedom, a web connection blocker.
Need the internet? Try a tool like FocusWriter (Windows, Mac, Linux) or WriteRoom (Mac). They black out everything but your writing, leading to a distraction-free screen.
5. Read and set aside.
Read first, write later. After you have an outline and a direction for your content asset, read your source(s) thoroughly.
Set the sources aside. Write. Don't revisit the source until you've written as much as you can. Call out areas as you write that require more information or fact-checking.
Revisit the source when you're done to fill in gaps. Repeat the process until you've got a final draft. You'll avoid slipping in language and ideas that aren't yours.
6. Give your work to another set of eyes.
Preferably someone who knows about the topic. This one is a no-brainer and easy to do, which makes it really easy to skip. Even if your editor isn't an expert, they'll offer a crucial second opinion on the work's originality. Better yet, give them access to the sources in your Delicious or Evernote account — just in case.
Free Tools to Check Your Work
We get it— when you're in the zone and churning out content, it's easy to accidentally patchwrite or plagiarize. Check out this list of free tools to double check your work for these writing blunders:
What other strategies do you use to combat patchwriting? What tips do you have for content marketers looking to compose original and valuable content?
Image credit: Unsplash