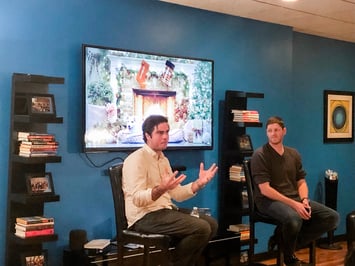 You've likely heard the hype: Artificial intelligence is everywhere. It's taking over! ROBOTS WILL SOON DO OUR JOBS! HUMANS WILL GO EXTINCT!
Kidding. (If this is the AI news you're hearing, you need a better source. I recommend the Marketing Artificial Intelligence Institute.) But AI is poised to massively influence how marketers work. It's estimated that 80% of a marketer's job function will be intelligently automated, to some degree, in the next 3-5 years—and AI and other analytics will have trillions of dollars in annual impact.
Some have even compared AI's impact on humankind to that of electricity. As a savvy marketer, you're right to think you should get ahead of the curve. Early adopters of AI will be poised for an incredible competitive advantage.
In our recent HubSpot User Group (HUG) meeting, we talked to Kevin Walsh, senior product manager of machine learning at HubSpot, about the ways marketers can harness the power of AI. He came with some great news: If you're a HubSpot user, there are four simple ways you can start using AI immediately to make a splash in your marketing strategy.
Note: If you're not a HubSpot user, no fear! There are still plenty of ways to get started with AI in marketing. Check out this blog post for tips.
HubSpot and AI: A Match Made in Marketing Heaven
HubSpot is always tweaking and updating their technology behind the scenes to make us better marketers. While they may not always use the term "artificial intelligence" to explain their tools, Kevin shared with us how machine learning (a type of AI that helps a machine get smarter by "learning" from large amounts of data) is already impacting the features you use every day.
1. Sales Hub's
Predictive Lead Scoring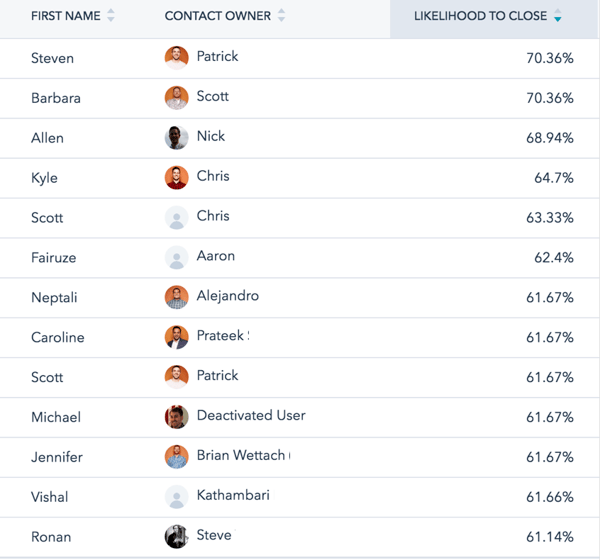 This feature, which exists in Marketing Hub Enterprise or Sales Hub Enterprise accounts, shows the likelihood of contacts becoming customers in the next 90 days.
According to HubSpot, their machine learning algorithms crunch the following data to do so:
Demographic information contained in standard contact properties.

Firmographic information provided by HubSpot Insights about the contact's company. (

Here's a good explanation of firmographics.

)

Firmographic information about your business and HubSpot account.

Interactions logged in the HubSpot CRM, such as tracked email clicks, meetings booked, calls made, etc.

Web analytics, email interactions and form submissions from the Marketing Hub.
2. Sales Hub's
Email Sending Recommendations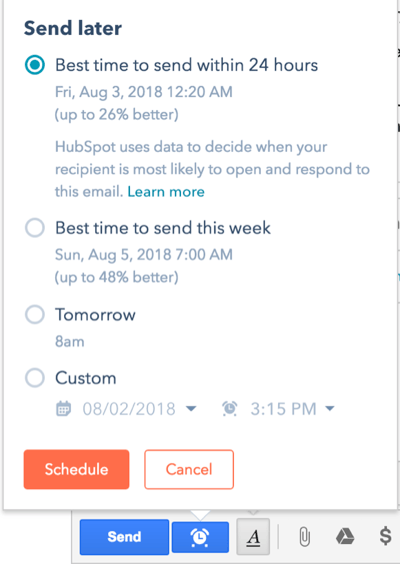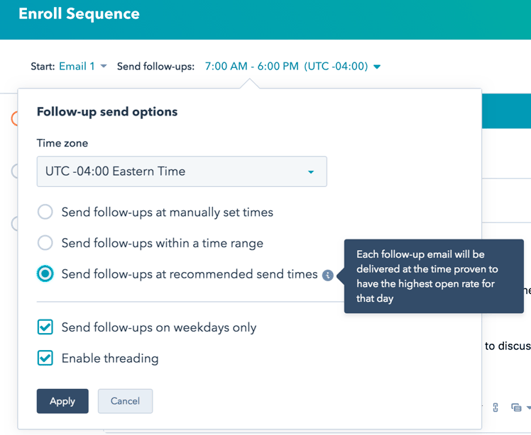 When you set up a sequence in your Sales Hub Professional or Enterprise portal, you're nurturing a prospect with a series of "targeted, timed emails." You'll notice when you're scheduling sequence follow-ups that you have the option (within the Advanced settings drop-down) to "Send follow-ups at recommended send times."
On the back end, machine learning is using anonymized data from across portals to determine the time with the highest open rate for that day. For example, if you send an email at 9 a.m. EST, it may not be the time best suited for open rates across the country or across the world. With that knowledge, you have the advantage of sending a follow-up email when a contact is most likely to open it.
A similar technology is employed within the HubSpot CRM, where you can compose an email and opt to "Send Later," then let machine learning make a decision on the best time to send within 24 hours or within the week.
3. Marketing Hub's
Continuous Optimization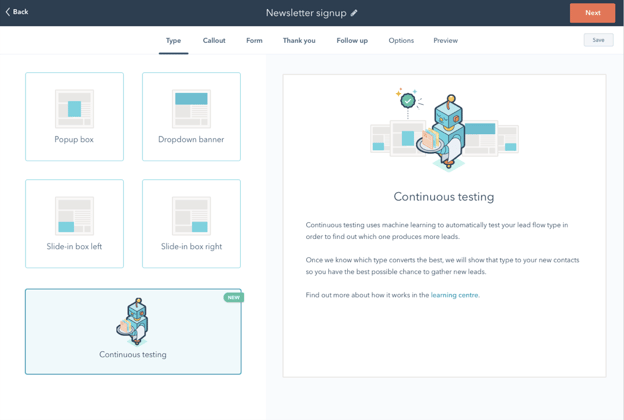 With this feature, HubSpot collects data from activities like lead flows and predicts the best options for customization. It continuously tests these assets with your portal's data, then, upon determining what works best, automatically applies the optimized settings.
This means that machine learning is doing the heavy lifting, and you don't need to manually create A/B tests to develop the best-performing campaigns possible.
4. Marketing Hub's
Content Strategy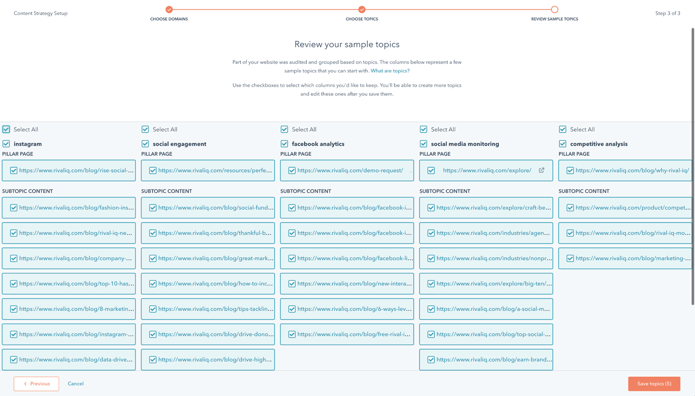 The latest recommendation among content marketing experts is to arrange your website's content based on pillar pages and topic clusters, instead of just keywords. Well, HubSpot's Content Strategy tool uses machine learning to show the themes with which search engines associate your content. It can pull that data to make topic suggestions and give metrics that can help shape your SEO strategy.
Something to look forward to: HubSpot is working on building out this tool even further to help fill gaps in your SEO strategy, recommending content you didn't know you needed.
Learn More About Artificial Intelligence and Marketing
Register for the inaugural Marketing Artificial Intelligence Conference (MAICON). The event will be held in Cleveland, Ohio at the Huntington Convention Center, July 16 - 18, 2019.
We invite you to join us in navigating marketing's next frontier. Visit www.MAICON.ai to view the full agenda!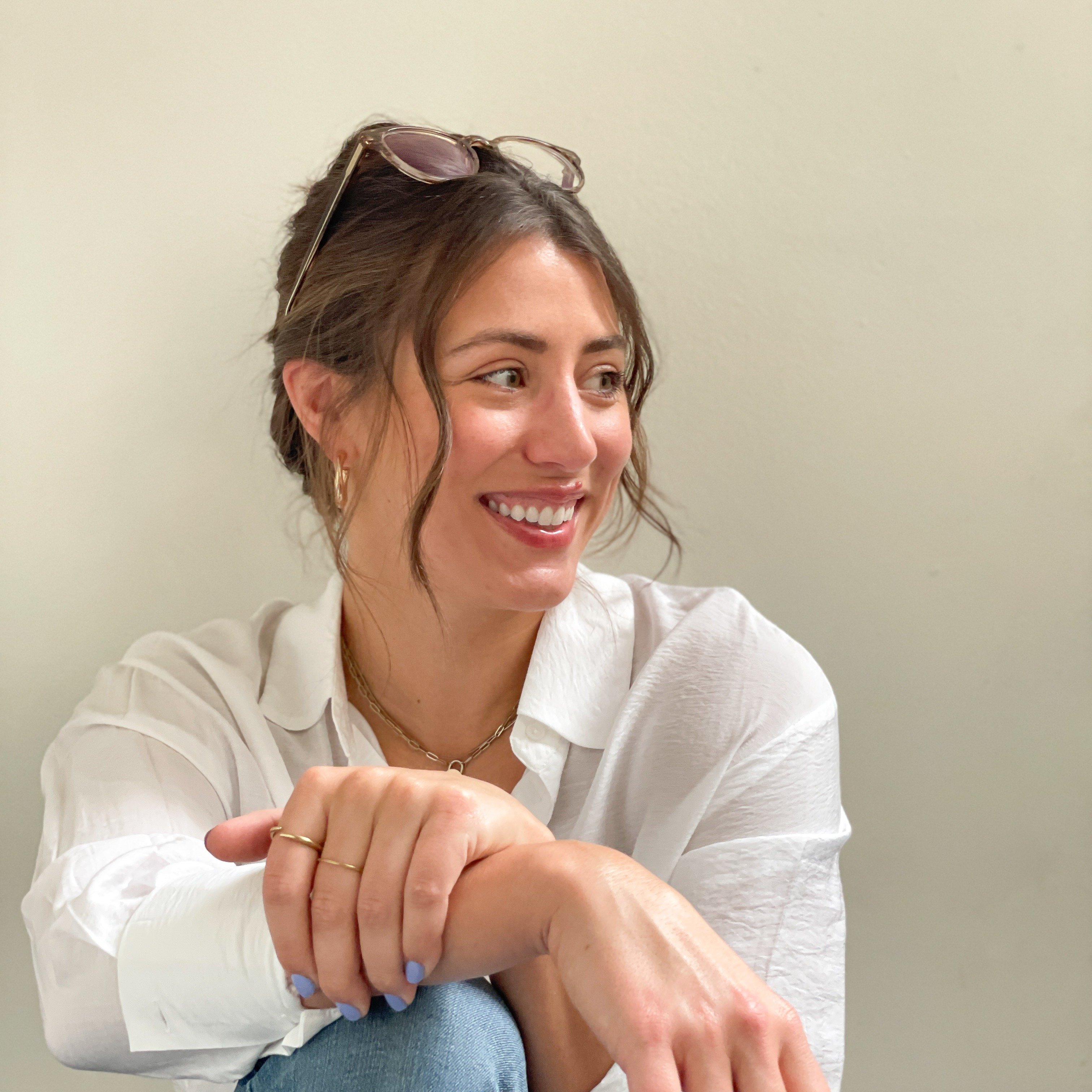 Elizabeth Juran
Elizabeth Juran is Ready North's director of operations. She joined the agency in March 2017 with a background in corporate marketing and communication.