What do movie stars, marketers and journalists all have in common?
"When you strip everything away,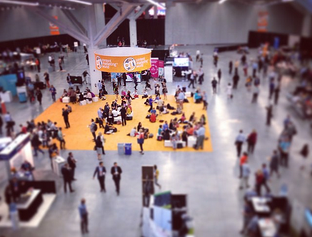 we are all striving toward the same goal, and that is connecting with our audiences," proclaimed Kevin Spacey on stage to close Content Marketing World 2014, the largest content marketing event on the planet held in PR 20/20's backyard of Cleveland, Ohio.
President Underwood (as I sometimes refer to him) was preaching to the content-craving choir—Content Marketing World's biggest crowd to date, which consisted of 2,600 attendees from more than 50 different countries.
During the closing Q&A session, the critically acclaimed actor said something that perfectly encapsulated this year's conference: "It begins with knowing what story you want to tell. Everything else will follow."
Content marketing is far from a new concept: It has been an active practice for more than 100 years. But in today's digital world of oversaturated channels, marketers need to do more than create content. We need to be able to tell compelling stories with real purpose behind them.
The PR 20/20 team learned a lot, met a bunch of interesting people, and feverishly took notes during keynotes and breakout sessions. Of all the topics discussed, the team honed in on four key takeaways from Content Marketing World 2014.
1. The Moment of Inspiration is the Greatest Opportunity To Connect with Your Audience.
Before you can prove ROI with your content marketing efforts, you should strive to create MOI, the moment of inspiration.
Andrew Davis (@TPLDrew) kicked off day one of the conference with an opening keynote that focused in on the importance of inspired content and how to create the elusive moment of inspiration—an instant in time that sends the consumer on a journey.
Great storytelling is hard and tying storytelling to revenue is even harder. But becoming a master of creating MOI to help drive revenue is far from impossible. Mr. Davis provided us with four simple secrets to creating MOI that drives revenue:
Build suspense.
Foster aspiration.
Drive empathy.
Harness emotion.
Need some inspiration? Look no further than the modern day master of MOI: Disney. Feature films like Finding Nemo and 101 Dalmatians told such compelling stories that resonated with audiences of all ages, that they drastically spiked the sales of clownfish and Dalmatians all across the world. That's powerful influence, right?
As PR 20/20's Rachel Miller (@RachelAMiller) puts it, "Our goal as storytellers should be to do more than just push our content out to our audiences. We need to commit to telling truly inspiring stories that are bigger than a brand."
2. We Have Entered the Age of Content, Context and the Customer Experience.
The customer journey no longer follows a linear path. As Andrew Davis mentioned in his keynote, we must rethink the way we look at the customer experience.
In today's digital world, consumers are taking a series of actions to help them come to a buying decision.
PR 20/20's fearless leader Paul Roetzer (@paulroetzer) reiterated that the customer journey is a personal journey. It is their journey, not ours. We need to stop marketing content that does not directly align with the customer experience.
How do we better understand the customer experience? Paul encouraged us to be remarkable and different. Take the time to figure out who your personas are, what they are interested in, how they find information and how they landed on your site. From there, you can customize contextual content that enhances the customer experience.
3. When It Comes to Strategy, Look Before You Leap.
Imagine you're a bear.
You have one goal as a bear: eat some fish.
In order to achieve your goal, you develop a strategy to head down to the river. Your tactic is to open your mouth and wait for fish.
But if you remove the strategy from that equation, you might be standing in a field with your mouth open, waiting for fish to jump into it.
Brain Traffic's Kristina Halvorson (@halvorson) made her point loud and clear with this brilliant analogy to effectively demonstrate the importance of developing strategy—a clear path to position you to achieve your goal.
4. The Future of Content is Writing.
A lot of people find it daunting to improve their writing skills. But according to MarketingProf's Ann Handley (@annhandley), we can all get better at it. We just need to keep a few key principles in mind:
Follow a writing GPS. Keep track at all times of why you're writing and what the goal of your writing is. Always be asking: What's in it for the customer?
Write with a strong, unforgettable voice. Useful, inspired and empathetic content is the way to succeed. And it shouldn't just be in your copywriting. Infuse every part of your business with this voice.
See content moments everywhere. Make the customer the hero of your story, and take every opportunity to find and leverage content moments.
Give customers gifts. What if the gift is just delighting them everyday in those everyday spaces? The goal should be to make things just a little bit better through your content, at every possible opportunity.
PR 20/20's Mike Kaput (@MikeKaput) weighs in on the future of content writing, "In order to get our audiences to read and love what we write, we need to find the stories only we can tell."
More Content Marketing World 2014 Resources
Below are excellent resources from Content Marketing World 2014 you may find valuable:
Did you attend this year's Content Marketing World? Do you have any additional takeaways to share? Let us know in the comments below!
Rank Your Content Marketing Efforts
Content marketing is critical for any organization looking to attract, educate and convert increasingly research-driven consumers. Rank your content marketing efforts using Marketing Score, a free 132-factor online marketing assessment created by PR 20/20.
The first step in taking a more strategic approach to content marketing begins with an honest assessment. Find out your Marketing Score today.
Image Source: Allie Gottlieb via Instagram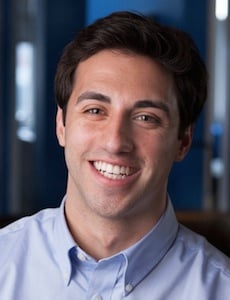 Sam Brenner
Sam Brenner is a consultant at PR 20/20. He joined the agency in July 2013, with experience in technology sales and marketing his own music. Sam is a 2009 graduate of John Carroll's communications department, and has been a proud Clevelander since 2005. Full bio.