A movement is rising in businesses and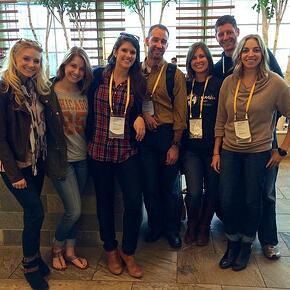 agencies across the country and around the world. It can be seen in the exponential growth of HubSpot's (@HubSpot) annual conference, with attendance nearly doubling every year since 2010.
More than 10,000 marketers, sales professionals, agency owners, developers, entrepreneurs and students gathered in Boston for the four-day event called INBOUND.
As the event tagline proclaims, "Come Together. Get Inspired. Be Remarkable." And we were. After reflecting on the keynotes, sessions and conversations with fellow attendees, we've highlighted the recurring themes of our experience at INBOUND.
Inbound Expands to Sales and Service
One of the biggest announcements was HubSpot's move into the customer relationship management (CRM) space. The company unveiled a CRM solution built on the same database as its marketing platform. Sidekick, a sales acceleration tool (and an evolved version of HubSpot's Signals tool), was also introduced. (Learn more about the CRM.)
HubSpot co-founder and CEO Brian Halligan (@bhalligan) started talking about "inbound selling" last year. The extension of inbound to sales and service means a greater focus on prospect research, context and personalization, and the consumer buying process. Inbound is no longer something marketing does—it's a philosophy that permeates all customer touchpoints.
Marketers Face the Rise of Martech
Not surprisingly, INBOUND is heavily focused on technology—primarily HubSpot's namesake software. But many sessions also covered the broader question of the marketing technology stack: How does one select, implement and integrate bottom-up marketing software solutions for maximum impact?
Scott Brinker (@chiefmartec) tackled this problem head-on in his session, arguing that marketers are becoming technologists, and that some organizations may need a new role—the Chief Marketing Technologist—to be responsible for this growing overlap in fields. Other sessions touched on omni-channel marketing, context and personalization, wearable technology and more.
Performance, Measurement and ROI are the Holy Grail
If one theme was the most sought-after by attendees, it was that of performance, reporting, measurement and ROI. Sessions dropping these buzzwords were often standing room only, with encore sessions held throughout the week.
The proliferation of technology and increasingly digital consumer experience creates innumerable marketing data points. This means endless potential for consumer insight, data-driven marketing strategies and full-funnel metrics. It also means a fire hose of data for marketers to track, measure, analyze and interpret.
For marketers to reach their full potential, and demonstrate value to the c-suite, they must solve for this new reality.
View Paul Roetzer's (@paulroetzer) presentation deck, "Metrics That Matter: Building a Performance-Driven Inbound Marketing Campaign" on SlideShare.
Download the Marketing Performance Pack.
Change Starts with the Individual
INBOUND opened with Simon Sinek's (@simonsinek) powerful keynote on the responsibility of leadership and closed with Shiza Shahid's (@shiza) on overcoming adversity. These inspirational bookends reminded us that in order to change our teams, our companies or our world, we must first look inward.
Changing the way we approach marketing, frame a problem, or treat our co-workers has the power to fundamentally alter the world around us.
Marketers today face new challenges, but we firmly believe it has never been a better time to be a marketer.
More #INBOUND14 Resources
For more on INBOUND sessions, see our team's notes:
Agency
Business and Inspirational
Content
Data and Measurement
Leads
Product
Sales
Search
Did you attend #INBOUND14? What were your favorite memories?
Image Source: PR 20/20
Taylor Radey
Taylor Radey is the director of marketing and a senior consultant at PR 20/20. She joined the agency in April 2013 with a background in digital and content marketing. She is a 2009 graduate of the E.W. Scripps School of Journalism at Ohio University, where she received a Bachelor of Science in Journalism, with a focus in public relations. Full bio.