Medium is a social publishing platform created by Twitter co-founders Evan Williams (@ev) and Biz Stone (@biz). It was built to solve a problem:
There's too much noise.
How can online content consumers separate what matters to them from what doesn't? Web giants (Google, Facebook and LinkedIn) and startups (Medium) alike are tackling the problem. By doing so, they're having a powerful impact on how marketers do their jobs. Medium is a poster child for a changing content landscape—and can give us insight into what's coming next.
What is Medium, why does it matter, and how does it affect marketers?
Read on to find out. If you're already familiar with Medium (@medium) and how it works, skip to this section.
What is Medium?
There's disagreement over what Medium actually is. Slate calls it a content management system, then reconsiders. Anil Dash (@anildash) calls it the YouTube of blogging, where we "graze through the site" or, in other terms, a sort of crowd-sourced magazine. Medium's founders call it a place to start finding interesting content.
Medium's recommendation rating system echoes Reddit's front page. And the site's algorithms and human curators bring to mind some of the content discovery tools out there.
At its most basic, Medium is a way to publish stories. While Williams's previous company, Blogger, let you own those stories at a unique URL, Medium's stories all live on the same site.
How Does Medium Work?
Stories are organized into Collections. Posts do not have a date or time and, unlike blogs of the past, are not organized by publish date. You "follow" Collections to populate your reading list with material. Collections are created by Medium and its users.
If you find a post you like, click "Recommend." This action influences the story's visibility both within Collections and on Medium's Top 100 list, a central catalog of the month's best content as determined by Medium's algorithms and editors.
To write a post, click "New Story" and write directly into the platform's minimalist text editor. Technically, you could just as easily copy an existing post into Medium's text editor and republish it, but may risk running afoul of Google's duplicate content rules.
Once you publish, others can comment on each section of your post. Medium's analytics measure the following: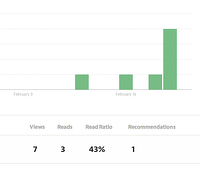 Views — The eyes that saw your story.
Reads — Whether or not the story was read, based on Medium's algorithms.
Read Ratio — The percentage of the post Medium judges a user actually read.
Recs — How many times the story was recommended.
These stats are available when you publish a post on Medium. However, because Medium's algorithm is not public, we can't judge how accurately stats related to Reads and Read Ratio are calculated.
It's both an evolution of and a departure from blogging—and one that's attracted attention. Medium secured a $25 million investment round led by Silicon Valley venture capital firm Greylock Partners, and participation from Google Ventures, Tim O'Reilly and Gary Vaynerchuk.
For more on how Medium works, see this article.
Why is Medium Important for Marketers?
Medium represents one new way to deliver quality content—without all the noise.
The platform hosts no ads, and only the (subjective) best content rises to the top. To do this, Medium uses a mix of social recommendation, human curation and algorithms that tell you how much of your post was actually read.
Medium provides an interesting set of tools for any marketer looking to become or cultivate a thought leader. It gives us a new platform on which to spread content. It also provides a set of metrics that might give us insight into how many people actually read our content. With the right post, Medium might even give one of us a viral hit.
But the most important thing Medium provides is a look at the future.
Content consumption changed with the web and social media. Everyone became a publisher. But now we need editors and curators, because content overload is at critical mass. The web giants understand this, and have taken action (and not always to the benefit of marketers):
Facebook made controversial News Feed algorithm changes that gutted brand reach, instead favoring "high quality" content. Facebook's Paper app lets you choose what posts you'd like to consume.
Google increasingly rewards rich, relevant content.
In the past, marketers learned how to stand out on various online channels. Now, the channels are fighting back by giving users the power to determine what they see or decide what's best for them.
How will your company stand out in a world where content delivery is increasingly contextualized and filtered?
What happens when—instead of using these platforms to drive traffic back to owned media—the platforms become the primary place where content is consumed?
How do you make your voice heard when someone else owns the megaphone—and decides when to turn it off and on?
Takeaways Medium Can Teach Us
Medium's way forward is unclear, both as a platform and business. But the underlying dynamics of content delivery it highlights can teach marketers a few lessons:
It's more important than ever to cultivate company thought leaders. As platforms like Facebook, LinkedIn and Medium begin to favor individual, rather than brand, voices, finding, developing and encouraging those voices within your company should be a top priority for marketers.
Marketers need to spearhead change management within their organizations. The rapidly changing content delivery ecosystem requires companies have guts, thick skins, and a willingness to experiment and fail. Marketers must explore new platforms, identify rapidly developing opportunities and encourage risk-taking. The cost of failure in these new content ecosystems is far lower than the cost of missing the opportunities they provide.
Don't sell. Tell. Your company's story and the stories of those who work there are crucial to success. As platforms filter out the noise, great stories are powerful weapons in the war for attention and relevance. Commit to storytelling. Commit to a powerful narrative. Commit to being exceptional. In the new ecosystem, only exceptional gets in front of the people you're trying to reach.
Have you used Medium? If so, how do you use it? What are your thoughts on its value? Let us know in the comments.
Image source: Medium