I may not be an engineer or architect, but like you, I'm pretty familiar with the purpose of a pillar. They're used as a baseline structure to support the entirety of a home or large building.
So as a marketer, why should you care?
Well, believe it or not, the characteristics of a constructional pillar are the same when it comes to SEO (search engine optimization). In order to build a structurally sound website and increase rankings and visibility online, marketers are turning to pillar pages to illustrate expertise in specific topics. Pillar pages serve as the basis for in-depth content and cover all aspects of a particular topic you're trying to rank for.
Now before I consider changing my career path to architecture, let's dive into what's so important about these informational structures and learn how they can attract organic traffic to your website.
What is a pillar page?
HubSpot defines a pillar page as "a comprehensive resource page that covers a topic in depth." This type of long-form page answers questions about particular topics but links to subtopic pages on your site that cover high-quality "cluster content" more in-depth.
For example, here's a pillar page from HubSpot on Instagram Marketing. It provides a thorough overview of the why and how of utilizing Instagram to market products and services, while also linking out to countless subtopic pages like how to gain Instagram followers and tips for taking great photos with your smartphone.
"But isn't a pillar page just a really long blog post?"
While this isn't untrue, a pillar page serves a much greater purpose—it's an overall strategy that can make a serious impact on your website's performance.
What are the benefits of a pillar page?
As you may have guessed, pillar pages require significant time and focus to ensure they are effective. However, once implemented, you'll realize that the benefits are so worth the effort put into them. When you start utilizing pillar pages, you'll begin to experience the following effects.
Improved Quality Content
There is a lot of strategy and planning involved in creating a pillar page and its topic clusters. However, at the end of the day, the thought you're giving each piece of content will vastly improve the overall quality and increase your chances of being looked at as an industry expert (both by search engines and your peers).
Faster Content Creation
While the initial draft of a pillar page may seem like it's taking you an eternity (trust me—been there, done that), the end result will aid you in future content creation. A pillar page makes it easier to find blog post topics to cover and helps you write faster because of the singular focus and shared research.
Improved SEO
Better SEO is one of the main reasons businesses choose to implement a pillar page strategy. Pillar pages improve your overall site structure and make it easier for search engines to determine your expertise and choose the best URL for a given search query.
Increased Organic Traffic
We all know organic traffic doesn't just come out of thin air. Pillar pages are one of the best stepping stones to begin driving more organic traffic to your website. You will be positively surprised by how fruitful it can be to answer users' questions with your pillar content.
How do pillar pages drive organic traffic?
As just mentioned, pillar pages are a great place to start if you want to drive more organic traffic to your website. Organizing your content around a pillar page with supporting topic clusters makes it easier for search engines to quickly scan your website—after all, they rely on web pages that display a level of expertise to be able to find the best answers to users' questions.
Think about it: When you're looking something up online, you likely start with a broad topic (e.g. running shoes) and then continue to dig deeper into topic clusters (e.g. the best shoes for a long-distance runner). Our method of search as humans is a perk for companies who utilize pillar pages because:
It makes the user more engaged in your content.
It encourages the user to spend more time on your website.
It increases the chances for the user to revisit your website in the future.
Steps to attract organic traffic with pillar pages.
It can be overwhelming to implement a pillar page strategy when you don't know where to start. Below we've outlined four steps you can take to build an effective pillar page to attract organic traffic to your website.
Step 1: Choose a Topic
The first step in the process is to focus on topics. Look at your target personas and find out what they are searching for—this will determine how broad to make your pillar page. You want the topic to be fundamental enough that you can actually write all the content for the pillar page while also introducing subtopics that can be covered in shorter-form blog posts. A great way to brainstorm topics is to start with your target personas' main pain points.
Step 2: Conduct Keyword Research
Once you've nailed down your topic, it's time to jump into keyword research. It's important to choose keywords with a lot of search volume that cover different aspects of the topic and use those to build your working titles.
Step 3: Draft Your Pillar Page
This step should be the easiest of them all—just pretend like you're writing an old-fashioned blog post… just a little bit longer. Some content elements HubSpot recommends you consider including within your pillar page are:
A definition of the topic or term you're covering somewhere in the first section.
A bulleted or numbered table of contents.
A more specific topic-related keyword in each of your subheadings.
Content that provides an overview of the subtopics discussed on the pillar page.
Step 4: Produce Additional Content
The final step is to begin writing blog posts based on specific keywords within your topic cluster. Make sure to link them to your pillar page to create a streamlined reader experience and help all of your content rank higher in search engine results pages. You can learn more about HubSpot's Content Strategy tool for researching, organizing, and executing on topics within your portal here.
Ready to find more ways to drive traffic?
For more strategic insight and actionable marketing takeaways, subscribe to our blog here. We promise it will be worth your while.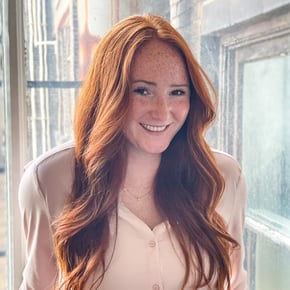 Macy Kittelberger
Macy Kittelberger is an associate consultant at Ready North. She joined the agency in January 2021 with a background in public relations and marketing. Macy graduated magna cum laude in May 2020 from Kent State University with her Bachelor of Science degree.