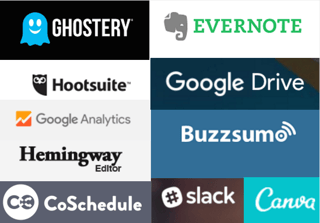 You've heard the saying, 'Nothing in life comes free.'
Well, good news: it's not true!
There are thousands of free software solutions out there claiming to make you more productive, more efficient and more impactful. Some are a waste of time (sad but true); others, however, have become a staple in my daily routine.
The key is finding the tools that work for you. Need a starting point? Below, I've listed my top 10. Yes, I could live without then … but I'd rather not.
My Top 10 Tools for Daily Marketing
Google Drive: This ranks number one purposefully. Google Drive is the mothership of all free marketing tools. It's a self-proclaimed "safe place for all your files," and a dependable way to collaborate with large teams. You can create sharable folders, sheets, spreadsheets, slide decks and even integrate your Drive with a number of your favorite solutions.
Canva: Not a designer? Not a problem. This one is clutch for both personal and professional use. Canva provides free templates for social media posts, blogging and ebooks, infographics, events, ads and other marketing materials. Tip: It even has templates for wedding invitations if you (or a friend) are looking to save.
Buzzsumo: A tool for content and influencer analysis. Buzzsumo generates the most-shared content by topic or domain, breaking down shares by social network. We use it to stay current on trending topics by industry, and to evaluate what's resonating and what's not. Sadly, there is a catch here: The free version limits your search results. It's worth getting a paid subscription for this tool.
Evernote: Clearly, you're not an elephant, so you can't remember everything. Stay organized with Evernote. The filing system is easy-to-use and formatting options are plenty. You can create lists, highlight copy, record a conversation, upload files, make charts, and post directly to social media or send via email. For those who need more storage, there is a paid version.
Hootsuite: Block out the noise on social media by filtering your listening on Hootsuite for Facebook, LinkedIn and Twitter. The publishing tool allows you to schedule out shares weeks in advance, and (a marketer's BFF) includes a link shortener. For more robust analytics and more social profiles in one dashboard, check out the paid version.
Ghostery: Rethinking your tech stack? Start by seeing what your competitors are using. Enable Google Chrome extension Ghostery and simply visit a competitor's website. Click on the ghost in the upper right corner, and you'll see a list of solutions current being employed on the website. See below for a snapshot of what we're using on the PR 20/20 website.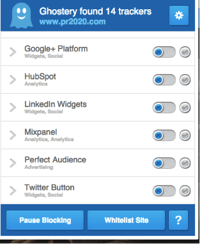 Hemingway: All writers—even Hemingway himself—need an editor. Now, thanks to the Hemingway App, no one has to see your murky first draft. Simply paste your text into the app, and it will identify hard to read sentences, adverbs and passive voice.
CoSchedule Headline Analyzer: Let's face it: No one's going to read your piece if the headline is dull. Write better headlines with the free analyzer tool, which delivers a score based on SEO value. The analyzer will provide an A – F grading, as well as feedback on percentage of words that are uncommon, common, emotional and powerful.
Related read: How To Write More Clickable Headlines in 3 Easy Steps
Slack: Personally, Slack is my metaphorical home base for all things agency marketing. You can invite co-workers to collaborate and message privately or in a group setting. All conversations can be tagged (e.g. #blog vision) and saved for later reference. Also nifty, you can drag and drop files and integrate Slack with other tools (like Twitter, Dropbox and others) to view your notifications in one place.
Google Analytics: Another Google masterpiece, this tool is a no-brainer, must-have solution for every digital marketer. Track website traffic, conversions, engagement and more or create custom dashboards and segments. The capabilities are nearly endless. If you're not measuring performance, you're not managing it.
It's so true: the best things in life actually are free.
With this list of free tools, you can create, publish, monitor, organize, edit, collaborate, message, measure and more. Good luck!

Sandie Young
Sandie Young started at the agency during the summer of 2012, with experience in magazine journalism and a passion for content marketing. Sandie is a graduate of Ohio University, with a Bachelor of Science from the E.W. Scripps School of Journalism. Full bio.