Disclaimer: this is not your average end-of-year tips and tools blog post.
We get that annual planning is a beast, and marketers everywhere are wrought with expectation and reporting woes.
If numbers are down, how can you prove that next year's performance will improve? And if your numbers are up, what can you do to keep climbing?
You need an actionable, original marketing plan—driven by purposeful planning and backed by data—to truly gain executive buy-in.
Thus, below we've outlined seven tips (including PR 20/20 tools, concepts and templates) that can lead to actionable change. The following tactics featured (of which are nearly all free) will add value to your planning framework, year-over-year analysis and assessment, performance reporting, team brainstorming, integration with artificial intelligence, and more.
7 Tips & Tools for Marketing Strategy & Performance
1. Assess What Worked (and What Didn't) with Marketing Score
Year end is prime time to reflect, and gauge performance across the team. After all, as the old proverb goes: "What gets measured gets managed."
Why then do many of us fail to incorporate the year's ups and downs into a new, even better annual plan? Likely because a full 12-month analysis is downright intimidating.
The good new is, it doesn't have to be. Marketing Score is a (free) assessment tool created to help you determine marketing potential. The survey takes roughly 10 - 15 minutes to complete, and will deliver your score in the following core areas:
Performance

Lead sources

Marketing team

Technology utilization

Social media

Content

Public relations
This assessment can in turn be used to showcase your team's overall pulse on performance to the C-suite—and ultimately prove that you deserve that marketing budget bump.
Read more and sign up for Marketing Score here.
2. Maximize Planning with the Performance Pack

Next, further assess your business using the resources offered exclusively in the Performance Pack. The Marketing Performance Pack is an Excel workbook with resources and templates that complement The Marketing Performance Blueprint (but, you don't need the book to get started).
The Pack includes a three-phase approach—evaluate, establish, execute—to planning. It features resources for:
Marketing team assessment

Standard metrics by goal

Marketing scorecard

Buyer persona checklist

Standard activities by goal

Example campaign center

Project center
Download your own Performance Pack here.
3. Refresh and Redefine Your Content Strategy
Your content strategy (if done well) is the core driver of all inbound activity throughout the year. A documented, purposeful content map will ensure your team is executing on targeted topics and campaigns across the customer journey.
Not sure what I mean? As a starting point, we've created a comprehensive template for content publishing, content production and a persona-journey map. These assets will help reframe your content mindset based on key touchpoints at each stage in the buying cycle.
You can download the template here.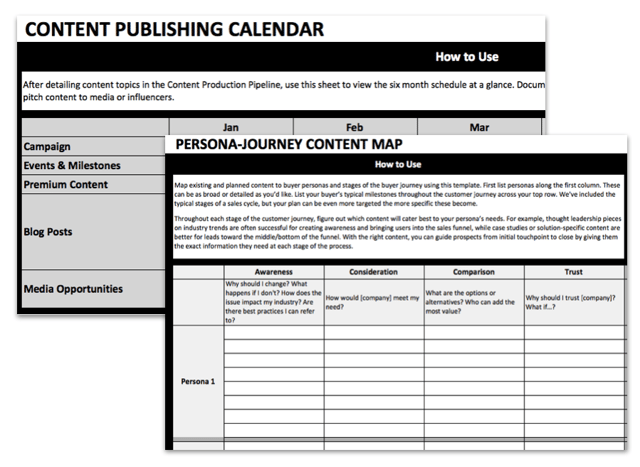 4. Host a Marketing Growth Hackathon™
Get by with a little help from your (marketing) friends. You can do the heavy lifting solo, but it's critical to get team buy-in as early as possible and intentionally choose who will be involved in ideation.
At PR 20/20, we use a proprietary planning model—the Marketing Growth Hackathon—to help organizations plan faster, experiment more efficiently and adapt constantly to accelerate success. The live 4 - 5 hour workshop provides a framework to develop more realistic, impactful ideas.
One SXSW session attendee said the Hackathon, "...provided great tools to help us develop actionable goals and ways to achieve them."
Book a hackathon with PR 20/20, or learn how to host your own hackathon.
5. Use Natural Language Generation for Seamless Reporting

In the wise words of Mike Kaput (@MikeKaput), natural language generation (NLG) "produces narrative from a structured dataset." Thus, NLG can turn a dataset into a logical story without human interference.
Here at PR 20/20, we use NLG to automate monthly reporting for our clients—specifically via Automated Insights. We sync up client data with the Wordsmith portal, and create a template using rules and dynamic synonyms. Once generated, we always review the NLG report and insert additional context as needed.
Is better data usage and insights part of your strategic objectives for 2018? According to the MarTech Data Report, "...data quality and management were the top two marketing technology challenges in 2016."
We expect a similar sentiment in 2017 as it's still a primary challenge for many enterprises. What's more, Smart Insights reported, "Highly data-oriented enterprises are 3 times more likely to improve their decision-making processes."
As an immediate next step, review your data, assess your potential to incorporate NLG, as well as how it would impact the daily function of your team. When pitching the idea to top executives, showcase how NLG could improve internal reporting to stakeholders, and highlight the potential to reduce headcount.

6. Enable Data Visualization to Empower Data Storytelling

Marketers are inherently data obsessed (and likely, data inundated). We aren't surprised that the data visualization software field continued to explode throughout 2017.
So, how are you making sense of the numbers? Luckily, the learning curve isn't too steep. Marketers can seamlessly take advantage of tools to first, automate data reporting and second, visualize data. On a smaller scale, free tools like Canva and Piktochart are invaluable for more advanced graphic design (e.g. cool templates for infographics, social media, etc).
But to fully automate reporting, we recommend experimenting with a Business Analytics platform—namely Databox (pictured below). The platform streams all data from dozens of integrations into one customizable dashboard. If you're not sure which KPIs matter most, Databox offers several templates to guide your reporting based on channel and goals.
And, if you're a HubSpot user, you now have access to a multitude of data visualizations under the Reports tab.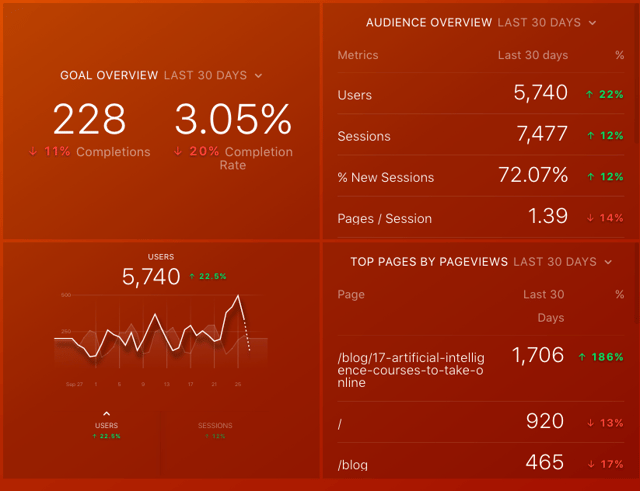 7. Explore the Marketing Artificial Intelligence Institute
You might be surprised to know that you're likely already using AI on a daily basis. Netflix suggest shows to watch based on your consumption, Facebook asks to tag your friends in photos, Gmail offers recommended email replies—all AI in the works.
And (if you haven't yet) it's time to integrate AI to truly tap into your marketing program's potential. But, where you do start? The Marketing Artificial Intelligence Institute (MAII) is a content hub created for modern marketers looking to explore the current and future potential of AI. PR 20/20 launched the hub in 2016 to be a community by marketers, for marketers, and is packed with how-to content for everyday marketing use cases.
To look for one way to utilize AI in 2018, check out 5 Artificial Intelligence Tools to Plan Your Next Content Strategy.
Best of luck as you dive into annual planning! Please don't hesitate to reach out to our team with any questions regarding the above resources.

Sandie Young
Sandie Young started at the agency during the summer of 2012, with experience in magazine journalism and a passion for content marketing. Sandie is a graduate of Ohio University, with a Bachelor of Science from the E.W. Scripps School of Journalism. Full bio.