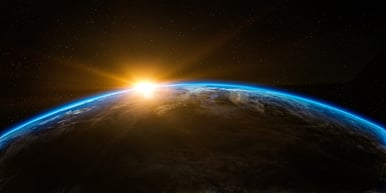 At the heart of what we do, all marketers are storytellers.
Through content marketing, we work hard to design narratives that inspire, inform, explain, and even challenge what our buyers might already believe.
But to do that, we must deliver our message to consumers at the right time, in the exact right way—so as not to be intrusive or irrelevant. And with so much noise in the publishing world, that job is getting harder and harder every day.
Luckily, new technologies are enabling marketers to deliver on smarter content marketing strategies. Not sure what I mean? You're not alone, which is why content marketing is one of the top tracks at our upcoming, inaugural Marketing Artificial Intelligence Conference (MAICON).
Check out these seven sessions at MAICON to dive into what's possible with AI and content marketing.
1. Be the Netflix of Newsletters
"Newsletters are at the crossroads of email marketing and content marketing and are a force to be reckoned with when they're also mobile responsive," says Iris.xyz (and we agree). Email newsletters can be an extremely effective method for content distribution ... when done right.
Who: Jared Loftus, Chief Revenue Officer, rasa.io
What: Netflix is an extraordinarily influential player in the video content world. How do they do it? They gather invaluable behavioral insights by using the data they gather from their community of users as they interact with the extensive world of Netflix content. They then take those insights to create the most relevant content for their subscribers. Learn from Jared Loftus of rasa.io how you can gather key insights about your subscribers, create content that is relevant to them, and make your newsletter smart.
When: July 17 from 12:25 p.m. - 1:55 p.m.(Lunch Lab)
2. 5 Ways AI Can Deliver the Right Content to the Right B2B Buyer at the Right Time
It's all about timing. Use smarter technology to serve up a more intuitive content experience.
Who: Cassandra Jowett (@cassandrajowett), Director of Integrated Marketing, PathFactory
What: The B2B buyer's journey is full of friction and frustration. As marketers, we can't fix it all. What we can do is use AI and machine learning to reduce unnecessary friction in our marketing so buyers can move toward their important purchase decisions faster and easier. The best way to do that is by delivering the right content to the right buyers at the right time. In this session, learn how to:
Remove barriers and reduce friction throughout the buyer's journey using AI.

Understand the new class of data required to achieve this.

Explore the tactics and tools top marketers use to better enable their buyers.
When: July 17 from 12:25 p.m. to 1:55 p.m. (Lunch Lab)
3. 7 Ways Customer Data and AI Can Revolutionize Your Content Strategy
How do you come up with new content ideas? Is there a method to the madness? If not, this session has your name on it.
Who: Patti Doyle, Chief Customer Officer, Vennli
What: How effective is your content…really? Seventy-one percent of marketers say they are challenged with prioritizing their marketing efforts toward one audience over another. Moreover, 61% say they are challenged with knowing what is most important to those audiences. The reality is, today, we are faced with the ongoing challenge of breaking through the noise, differentiating ourselves from the competition, and curating content that our audiences actually want and value. Lucky for you, there is a way to revolutionize your content strategy all while staying aligned with your business objectives.
In this presentation, we'll walk you through seven ways combining customer data with artificial intelligence can forge insights that can be used to create better, more targeted content that will connect and engage readers and deliver on conversion goals.
When: July 17 from 12:25 p.m. - 1:55 p.m. (Lunch Lab)
4. How Machine Learning Is Changing the Landscape of Search, Discovery and Engagement
Your content might be excellent, but are you getting found during the discovery process?
Who: Duane Forrester VP of Industry Insights, Yext
What: Today's consumers have more choices than ever and are less brand loyal than at any point in history. We'll examine pivotal inflection points driven by consumers that influence search and data discovery. These directly affect what search engines rank and show in results, so you need to know what you can control and influence. Data about your business, products, and services remains one key area under-explored by most businesses, and digital knowledge management is proving to have a deep impact on consumer engagement, revenue, and business success.
When: July 17 from 3:55 p.m. - 4:25 p.m.
5. Should AI Enable You, Or Your Buyers?
Our expectation for B2C consumption is permeating our B2B buying behaviors. Use your content marketing to enable them to do their own research in a way that inspires them to purchase.
Who: Nick Edouard (@nickedouard), President and Chief Product Officer, PathFactory
What: B2B marketers are pondering how artificial intelligence and machine learning might make their jobs faster, easier, and more effective. But what if we've been looking at it the wrong way? As B2B buyers start to look more like consumers and increasingly self-direct their own buying processes, marketers and salespeople struggle to keep up despite the proliferation of new technologies and tactics. Buyers still can't find the information they need most, when they need it. If marketing truly exists to help buyers buy, why don't we apply AI to the serve the buyer, rather than marketers and salespeople?
Join this session to learn how B2B buyers are changing, why buyer enablement is more important than ever in the era of self-directed buying journeys, and how AI is the only way marketers can achieve hyper-personalized, one-to-one marketing at scale.
When: July 18 from 10:30 a.m. - 11:00 a.m.
6. Making Content Your Competitive Advantage: How to Ensure Every Article Delivers ROI
You can use AI to make your content creation process more intelligent (and more intentional).
Who: Jeff Coyle (@jeffrey_coyle), Co-Founder & Chief Product Officer, MarketMuse
What: Too many companies are stuck in a "publish and pray" mentality and spend way too much time conducting keyword and competitor research. Bringing AI into the content creation process not only saves weeks of research but uncovers more audience insight than can be physically researched by hand. In this session, we will explore how AI can drastically improve productivity throughout your content team and help them create more effective content. Join this session to learn how to:
Identify gaps and opportunities in your content and your competitor's
Use content clusters to build topical authority
Incorporate buyer intent into your content plan
Avoid publishing bad content
When: July 18 from 11:15 a.m. - 11:45 a.m.
7. Generate Machine-Assisted Content at Scale
Formulaic content (think press releases) can be a massive drain on your time; luckily, in some cases, you can tap into machine-assisted writing for a solution.
Who: Keith Moehring (@keithmoehring), VP of Strategic Growth, PR 20/20
What: Writing formulaic content is a mundane pain. It's redundant, often data heavy, requires no creativity, and in certain cases, the time to produce the copy doesn't equate to value.
In this session, we'll take a look at the power of Natural Language Generation and how it can transform aspects of your content production process. In addition, we'll explore the AI technologies that exist today to support with planning, production, promotion and performance.
Attendees will leave the session with an understanding of when and how to use NLG, and a list of AI technologies to start evaluating today.
When: July 18 from 1:10 p.m. - 1:40 p.m.
BONUS: Catch the Content Marketing Workshop on July 16
Before the main conference kicks off on July 17, Mike Kaput, Director of Marketing AI Institute, will run a workshop featuring: Artificial Intelligence for Content Marketing + Email 101.
This workshop shows you exactly how to start using AI in your content and email programs. You will walk away from the workshop with the knowledge to:
Create intelligent content and email strategies that target the right people, talk about the right topics, and get audiences to take action.
Augment your current content and email production teams with robust AI tools, so they can produce better assets in less time.
Scale your content and email marketing programs by using AI to create, test, and optimize.
Find out more about the workshop here.

Sandie Young
Sandie Young started at the agency during the summer of 2012, with experience in magazine journalism and a passion for content marketing. Sandie is a graduate of Ohio University, with a Bachelor of Science from the E.W. Scripps School of Journalism. Full bio.