The short answer and general rule of thumb: no. If you are worthy of inclusion, someone else will create a page for you.
Wikipedia reserves pages for notable topics, meaning topics have received significant coverage independent of what is published by the organization. This way, editors can pull from a variety of secondary sources for information, and maintain neutrality. Along these lines, if your company is notable enough, odds are somebody already created (or will create) a page on your behalf.
The best strategy is to focus on making your company remarkable and notable. Leave it up to the community to determine if, and when, a page is created.
However, if you truly feel your company is worthy, have the third party resources to back up your claim, and believe you can write neutrally, it is okay to submit your page as a draft for the Wikipedia community to review. Going through this process will help minimize the chance that your page is deleted upon publishing.

What About Editing an Existing Page?
The Wikipedia community prides itself on the reliability and neutrality of its content. In an effort to prevent biases—conscious or unconscious—from slipping into its text, it discourages individuals from contributing to topics in which a conflict of interest may exist. Conflicts of interest may stem from:
A financial relationship with the company (i.e. employee or contractor)
Close relationships with the subject
Involvement in a campaign or court case
Any other situation in which the advancement of yourself or organization is placed above the advancement of Wikipedia
That said, what's the best plan of action should you find information on a Wikipedia page to be inaccurate or outdated? Or, if you really have the encyclopedia's best interests in mind and want to add relevant, useful information on a topic you're knowledgeable about?
Maintain Wiki Ethics
If a potential for conflict of interest exists, Wikipedia encourages taking great caution. Instead of making the edits directly, suggest them using the Discussion tab with full disclosure. Requests submitted here are reviewed by neutral editors, eliminating the possibility of bias. In the words of Wikipedia co-founder Jimmy Wales (@Jimmy_Wales), as quoted in Wikipedia & the PR Pro: Friend or Foe?:
"If you think a page should say something, write it up, and post it on the talk page. That actually works wonders in virtually all cases … There is never a need for PR people to directly edit articles."
In fact, editing entries to paint your company in a more positive light is deemed unethical by the community, as demonstrated in December 2011 when Wales banned a British PR firm for routinely rewriting client content.
Another general best practice is to avoid requesting links to your own website, or submitting rewritten content to reviewers, unless a neutral party would do the same. Default to third-party sources whenever possible to support your recommended changes.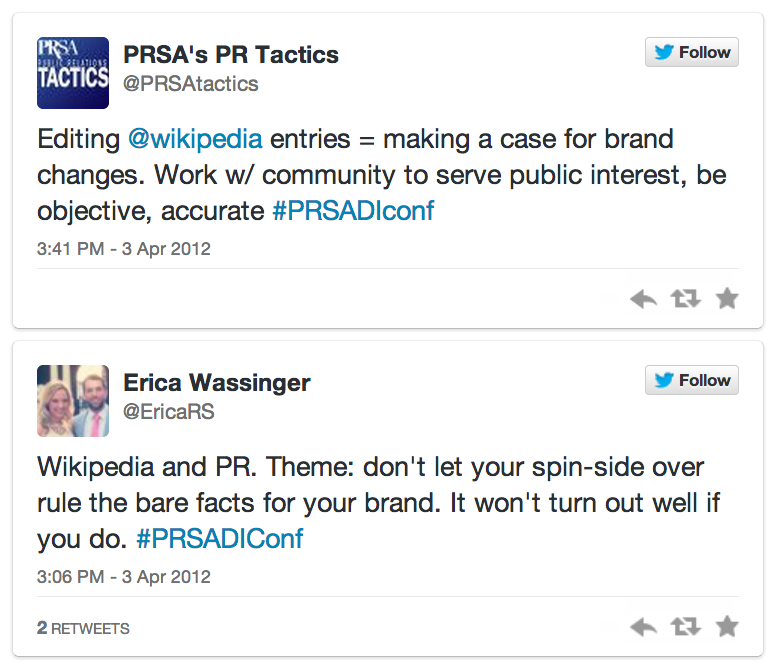 Your Take?
PR professionals and business owners can be a great resource to the Wikipedia community in ensuring that content is accurate and complete. However, this is only if they use the site in the way that it is intended, and not as a blatant promotional tool.
What do you think Wikipedia and the PR community can do to better foster a mutually beneficial, working relationship?
Note: Wikipedia and PR was discussed at the 2012 PRSA Digital Impact Conference. While we weren't in attendance, embedded tweets were pulled from the event hashtag #PRSADIConf.
Stay updated: Subscribe to the PR 20/20 blog, check us out on Facebook or follow the team on Twitter.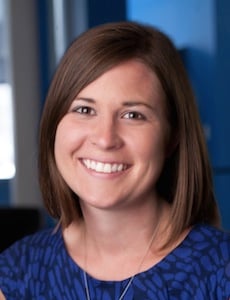 Tracy Lewis
Tracy Lewis is the director of talent and a senior consultant at PR 20/20. She is also the community manager for Marketing Agency Insider. She joined the agency in March 2009 after graduating from Ohio University. Full bio.