Since you asked…
Yes, I am currently the youngest person on our team.
Yes, I got our CEO to start using the word ✨saucy.✨
And yes, I have started posting TikToks of the week on our team's Slack channel because I need everyone to understand how truly life-changing this app is*.
*I know "life-changing" may seem a little dramatic, but this app has taught me more than almost any class in school.
I am fully aware of how Gen-Z this makes me sound. However, you'd be surprised to know that one-fourth of TikTok's monthly users are above the age of 35—and TikTok has a whopping one billion monthly active users, to put that into perspective.
So, if TikTok and other video platforms' users actually represent a huge amount of buying power, why are many brands hesitant to take the plunge into creating video content for them?
Many marketing departments are intimidated by the rapidly changing video landscape and are afraid to invest in creating content there. But the truth is, these platforms (and their constraints) are massive opportunities for growth.
This information-packed, girl-boss session at INBOUND 2021 from Canvas+Co's Carly Potock and Charlene Tassinari explains why. 👯‍♀️💪
The State of the Video Industry
Today's video landscape is rapidly changing, and since the onset of the pandemic, some trends that have been years in the making have only accelerated.
Streaming quickly became the preferred way to enjoy content.
E-commerce experienced

5 years of growth in a matter of months

during the pandemic.
Short-form content is here to stay (i.e. TikTok, Instagram reels, etc.).
So, how does a marketer thrive in this constantly changing world? According to Canvas+Co, it's a matter of three things: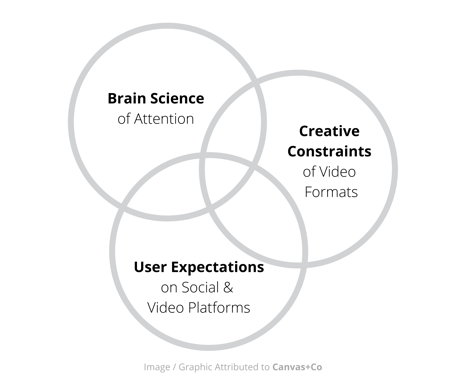 Brain Science. First and foremost, you need to figure out what makes people pay attention.
User Expectations. It's not enough to just know someone is on TikTok—you need to know why they are using the app and what the experience is like for them.
Creative Constraints. The constraints of Instagram, YouTube and TikTok are all opportunities for creativity. Carly and Charlene stand by the fact that creativity thrives in constraints.
Think of it like this: When you're asked on the spot to tell a joke, your mind likely goes blank (unless you're some sort of super rad comedian, I suppose). However, if you are asked to tell a knock-knock joke, that makes things a bit easier to come up with something—this is how creative constraints operate.
Creative Best Practices
Harvard Business Review runs an annual study often showing the same results: Nearly 50% of a campaign's effectiveness is driven by creative.
Really good creative is built with an understanding of the canvas that it's going to show up on—meaning you design creative that works for the platform you are working on and the constraints that exist on that platform. Some universal creative best practices include:
Capturing attention fast (1-3 seconds to make someone care).
Keep up the pace.
Design under the assumption that your creative will be used on a mobile device.
Use text to highlight key messages.
Close with a clear CTA.
While these five best practices work for all platforms, each has its own creative constraints to deal with. Let's unpack each social channel.
Instagram
Historically, the 'gram has always been a square photo-sharing app, but a recent announcement shared that they are leaning into a more video-driven platform (i.e. Instagram reels).
>>>You can view the full Instagram announcement here.
As marketers, we tend to panic when we hear of a change as big as this occurring on our daily-use platforms. But what we should be doing is jumping on the bandwagon. If video is a business priority for Instagram, that's the type of content it's going to favor.
Video is going to become more present in the broader Instagram experience. Here's how:
Feed/IGTV. This is where you will deeply engage with your audience who already knows you.
Reels. This is where you're going to get discovered by new audiences (this is the TikTok of Instagram).
Stories. This is where you can bring your audience along for everyday moments.
Explore. This is where new people can find and follow you. More videos are being pushed into this tab.
With this new push, Instagram has added new features to make editing video content simpler.
✅ Keep in mind that most IG ads and videos are going to be viewed without sound—so, plan for sound off and enhance with audio. Using text as a part of the creative execution will help with this.
Below are five tactics with examples that will make your Insta-vids fire 🔥:
Use close-up shots of people staring right into the camera.
Always keep it short (10 - 15 seconds).
Front-load the key messages as much as possible.
Incorporate branding in the first three seconds.
End with a clear CTA.
YouTube
YouTube can be an overwhelming platform for marketers of all sizes because of the several creative constraints throughout the channel:
Ads can show up before, during or next to other videos.
Users have the ability to skip ads after five seconds.
A large percentage of ads are viewed in the vertical landscape.
However, even with these constraints, 70% of people have said they bought something because of a YouTube ad they came across while streaming.
To help your brand become one of these successful ads, your go-to ad type is going to be in-stream action ads. This means:
Grabbing the user's attention in the first five seconds.
Setting up the problem right off the bat.
Introducing your brand as the solution.
Highlighting one to three key product benefits.
Closing with a CTA.
With in-stream action ads, there is a customizable CTA button you can implement underneath the video. You can also add up to four site links or a product feed to show on mobile devices.
There are several different ad types that can work with an in-stream action ad (i.e. stock, repurposed, net new). It's all a matter of what best suits your brand.
TikTok
TikTok recently announced that they have hit one billion monthly active users (and yes, I am proud to be one of them). What's shocking is that Instagram also has one billion monthly active users.
🦗*crickets*🦗
TikTok only started getting popular less than three years ago (2019), compared to Instagram's launch in 2010. Its rapid ascent to popularity is just one of the many reasons why brands should be utilizing TikTok.
Many people think of TikTok as an app just for high schoolers, college students and Gen-Zers like myself. But like I mentioned before, one-fourth of TikTok's users are above the age of 35.
TikTok has a lot of niche communities—or like the TikTokers of the world like to say, "I'm on the couch boy side of TikTok," or "I'm on the Emily Mariko side of TikTok." IYKYK.
The biggest constraint on TikTok is really just the way you create your content. 61% of TikTok users say the videos on this platform are more unique:
There's a specific style.
They are more casual.
It's authentic.
It's not overly produced or highly polished.
To meet these criteria, there are two ways you can think about creating content for TikTok:
Use your team. Have them film content for you. TikTok users love seeing behind the scenes of businesses.
Work with creators. There is a TikTok creator marketplace where you can handpick individuals to represent your brand. You can also publish a brief where creators can reach out to you if interested.
Creator content is huge—there is even a whole trend called TikTok Made Me Buy It. One in two TikTok users say they have discovered new products from creators on the platform. (I am most definitely that one in two).
What's that I hear? You want to get started on your TikTok now? Here are some easy trends that will help you adjust to the app quickly:
Trending topics. The discover page allows you to see what the top trending hashtags, sounds and videos are. Trending topics are what typically get the most hype.
Product demos + FAQs. This trend allows brands to quickly show consumers how their product works rather than putting it into full production.
Learn with me. This trend is HUGE on TikTok. 45% of users feel more connected to brands that help to teach them something new.
Discover Even More Up-and-Coming Content Marketing Ideas
Feel behind the times when it comes to marketing trends and the latest platforms? Subscribe to our blog and receive relevant tips, articles on top trends, and more straight to your inbox.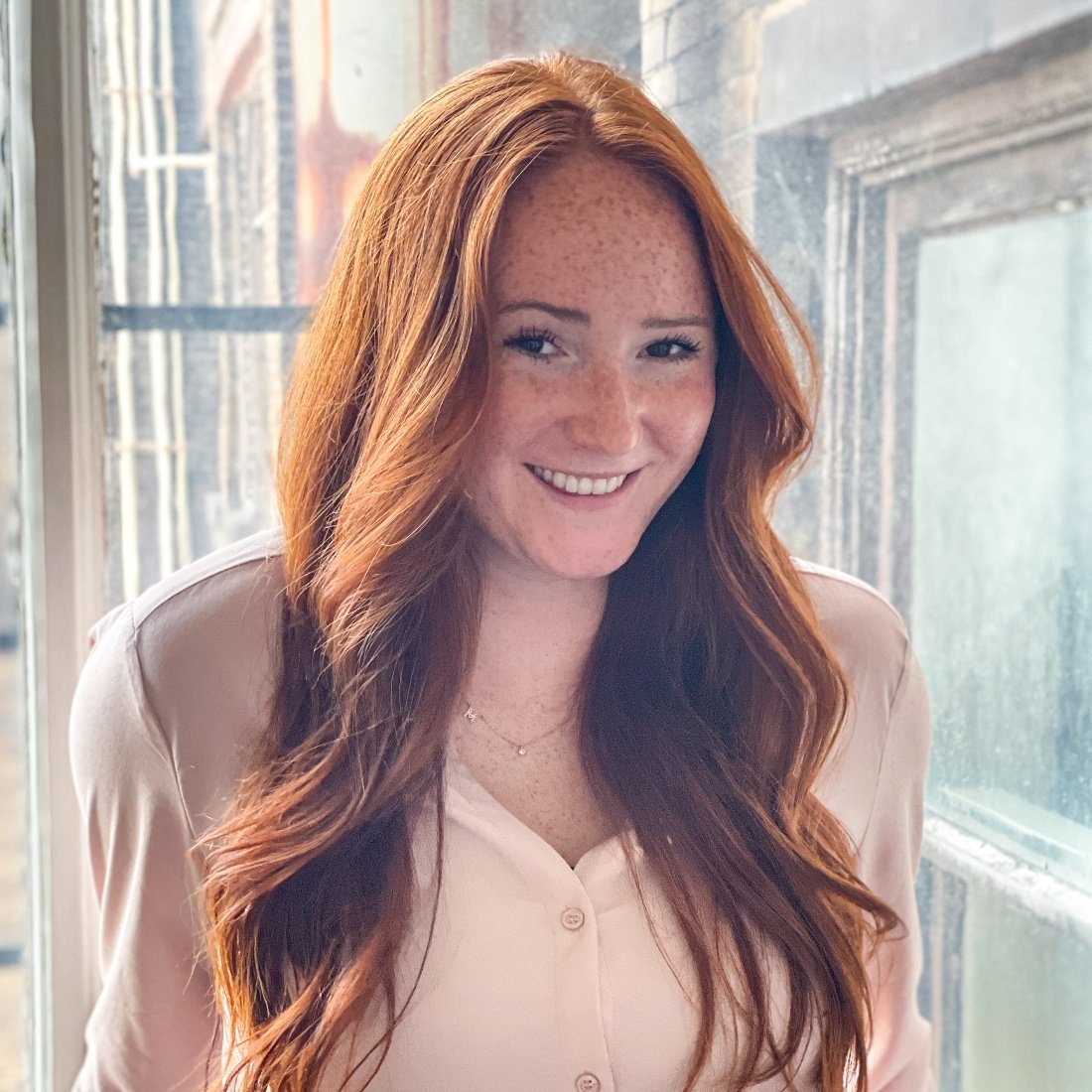 Macy Kittelberger
Macy Kittelberger is an associate consultant at Ready North. She joined the agency in January 2021 with a background in public relations and marketing. Macy graduated magna cum laude in May 2020 from Kent State University with her Bachelor of Science degree.