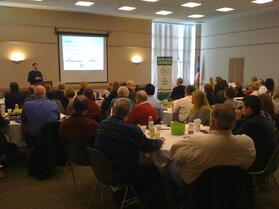 CLEVELAND — Feb. 24, 2011 — PR 20/20 founder and president, Paul Roetzer, presented "Social Media for Real Estate Agents," Feb. 23, in Rocky River, Ohio.
More than 55 real estate professionals were in attendance to learn how tools like LinkedIn, Facebook, Twitter and blogs, can help them build and strengthen relationships, network with industry professionals, increase referrals and generate leads.
"Earning repeat business and gaining referrals remain the top priorities for real estate agents in growing and sustaining their businesses," said Roetzer. "Social media, when used as a relationship-building tool, is the natural fit for accomplishing these goals."
Roetzer added, "Social media also enables real estate professionals to differentiate themselves in the market, from sharing valuable content, to developing their online personal brands."
The energized crowd was highly engaged throughout the presentation, asking questions, sharing experiences and offering unique industry perspectives.
The presentation was a Continuing Education course sponsored by First Federal of Lakewood and co-sponsored by First Federal Title.
To view the slideshow presentation, see Social Media for Real Estate Agents on SlideShare.
About PR 20/20
PR 20/20 is an inbound marketing agency and PR firm specializing in search marketing, social media, content marketing and public relations. Based in Cleveland, PR 20/20's business model provides access to professional services and consultation, without the prohibitive hourly rates charged by traditional firms. For more information, visit http://www.PR2020.com.
###