An organization's core values inform every decision it makes. These principles inform how it operates, how leaders make tough decisions, and which direction to move in collectively. Core values are so crucial that many experts say businesses would sooner change markets or lose money than stray from them.
Jim Collins outlines some important questions to ask when you're determining what a core value really is:
If you were to start a new organization, would you build it around this core value regardless of the industry?

Would you want your organization to continue to stand for this core value 100 years into the future, no matter what changes occur in the outside world?

Would you want your organization to hold this core value, even if, at some point in time, it became a competitive disadvantage—even if in some instances the environment penalized the organization for living this core value?

Do you believe those who do not share this core value—those who breach it consistently—simply do not belong in your organization?

Would you personally continue to hold this core value even if you were not rewarded for holding it?

Would you change jobs before giving up this core value?

If you awoke tomorrow with more than enough money to retire comfortably for the rest of your life, would you continue to apply this core value to your productive activities?
You can see why getting your core values right is so important. Here are ours.
Connections first.
"We focus on people first and lead with empathy. Profits follow treating people the right way in all types of relationships."
People come first, always. Our relationships with our clients and team are the top priorities. We genuinely enjoy working with each other daily, and we strive to partner with clients we connect with on a personal level. At Ready North, meetings usually feel more like hanging out with friends, even while we GSD (see core value number two).
That said, we are focused on growth. Growth creates opportunity for our clients, our business, and our individual careers.
The only way to achieve growth is by being the kind of person people want to do business with. That's why we lead with empathy, no matter the relationship.
Get shit done (GSD).
"We're energized by hard work, and we don't cut corners. Each deliverable is completed with care, precision, and attention to detail."
"GSD" is something of a battle cry for our team. Our most fulfilling days are those in which we solve challenging problems, meet or beat deadlines, and produce extremely high-quality work. We aren't the kind of people who are satisfied with jobs that leave us feeling bored.
But we don't just fly through task lists and churn out sub-par work. We strive for top quality on every deliverable.
Curiosity is our compass.
"We are knowledge-hungry, lifelong learners that always ask 'why?' We learn by doing and constantly scratch the innovation itch by jumping into the growth zone, where comfort is scarce."
Marketing is an ever-evolving field. There's always new technology and new strategies to learn—and when you're truly listening to your audience, you'll realize that their needs are constantly shifting, too. You can't excel in this field without the desire to learn something new daily.
And if you've ever tried something new, you know it can be uncomfortable. You're probably not going to excel immediately, which can be hard to grasp. But our team embraces the discomfort and jumps into learning moments head-first.
"A" players only.
"We believe personal achievement and teamwork go hand in hand. We take accountability for ourselves and own our outcomes for the good of the team."
There is no room on our team for benchwarmers. Every single person has the skill, drive, and endless potential of an "A" player, and they're happy to suit up and attack any challenge they're confronted with.
A vital trait of an "A" player is the capacity to push one's own personal achievement and take accountability for their outcomes, not strictly for personal gain, but for the betterment of the team. We always work together and support one another, and the knowledge that our team is counting on us pushes us to be our best.
Get more Ready North in your inbox.
Want to see more content from us? Subscribe to our newsletter. We promise you'll only get high-quality, curated marketing info from us.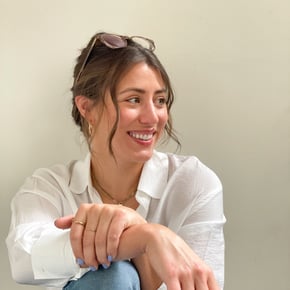 Elizabeth Juran
Elizabeth Juran is Ready North's director of operations. She joined the agency in March 2017 with a background in corporate marketing and communication.