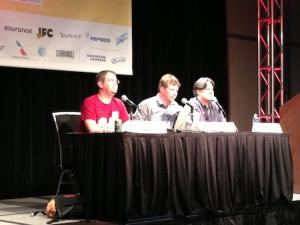 You will never again hear me criticize teenaged girls for sobbing at the sight of their favorite boy band. I lived an hour in their shoes when Danny Sullivan (@dannysullivan), editor-in-chief of Search Engine Land, ledMatt Cutts (@mattcutts), head of Google's Web Spam Team, and Duane Forrester(@duaneforrester), senior product manager with Bing's Webmaster Program, on stage for the "How To Rank Better on Google and Bing" session at this year's SXSW Interactive conference.
For those of us who follow SEO closely, it doesn't get much better than this, and the trio didn't disappoint. The session was Q&A style, where the crowd asked search-related questions and the panelists answered in turn.
While nothing ground-breakingly new came of it, a lot of the advice was very actionable. Despite my trembling hands, I was able to take copious notes, the highlights of which I've polished below.
Overall Takeaway
Before we get into the Q&A, one central theme seemed to resurface in most of the answers given:
If you want to rank better on search engines—both Google and Bing—publish high-quality content that is relevant to your audiences. Both search engines strive to deliver the most valuable content to users, and the more a site's content is shared, engaged with and linked to, the more valuable search engines consider it.
Now on to the Q&A.
How do I know if search engines are properly indexing my content?
Different technologies (i.e. Flash and some JavaScript) can hide content from search engines, and if Google and Bing can't see it, they can't rank you for it.
To test that Google and Bing are properly indexing all the content on your site:
Conduct a search on Google for your company or website.
Click the double-gray arrow next to your site's search result (see below).
Click on the "Cached" link below your page title in the right column.
On the next page, click on the "Text-only version" link in the grey bar along the top.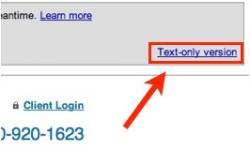 What you see on this new page is your web page without any design elements. This is what search engines see and is the extent to which they can index. If you don't see your content here, then neither does Google or Bing.
This type of report is also available in both Google and Bing Webmaster Tools.
How can I compete against powerful sites if I'm small or just starting out?
In one of the more hilarious parts of the session, a woman who runs a well-intentioned sex-education site asked how she can compete against the juggernaut that is online porn since in many ways they compete for the same keywords.
This type of issue isn't constrained to the porn industry, as many startups and small businesses also have a seemingly Sisyphean task to face when trying to rank for competitive keywords.
To "climb porn mountain," both search engine reps advised that the woman find a niche that she could own, and then build up authority around that topic through relevant, valuable content. They recommend to start focused on one or two specific niches, and then as the site gains credibility in those areas, expand into other, more competitive topics.
What value do online press releases offer in terms of search?
Both Google and Bing have downgraded the value they place on online press releases and their embedded links, even though they get "picked-up" by some powerful sites. What they found was that by and large, searchers did not find these releases useful and online press release links were not a good indication of valuable content.
Forrester went on to mention that this is not to say companies should stop publishing press releases, just that time spent on online distribution methods may be better spent in focused media pitching. The value of a press release, at its core, is to convince a reporter to write about you or your company, and links from well-established news sites pass a lot of PageRank.
"You really only need a couple high-quality links from highly credible sites to make a noticeable difference in rankings. You don't need 10,000 different links."
What is Schema.org and should I be using it?
Schema.org is a collaboration by Google, Bing and Yahoo! to improve the web by providing "a collection of schemas, i.e., html tags, that webmasters can use to markup their pages in ways recognized by major search providers. Search engines ... rely on this markup to improve the display of search results, making it easier for people to find the right web pages." (Source: Schema.org)
When asked whether webmasters should use Schema.org mark-ups, panelists offered a resounding "Yes!" Schema.org isn't necessarily meant to help you increase rankings, but it does help search engines better understand your products and website. The better understanding they have of your content, the more confident they are showing it to their searchers.
If marked-up properly, search engines can also better integrate different information directly into your search results listings, like ratings, reviews, profile pictures, etc. According to SEOmoz, "many companies have seen a 20-30% rise in click-through rates when using rich snippets."
Schema.org is similar in purpose to other rich snippets mark ups, but it is the only standard agreed to by all search engines.
Additional SEO Resources
Obviously, a lot more was covered in this one-hour panel. Listen to the complete session here.
Also, below are some resources both search representatives recommended looking into to help improve your understanding of what search engines look for in a website.
Stay updated: Subscribe to the PR 20/20 blog, check us out on Facebook, and follow the team on Twitter.
Keith Moehring
Keith Moehring is the vice president of strategic growth at PR 20/20. He joined the agency in July 2006, and is a 2004 graduate of the University of Toledo.