PR 20/20 launched Marketing Artificial Intelligence Institute in November 2016 with the mission to make AI more approachable and actionable for modern marketers.
We wanted to understand and apply AI ourselves, and figured other marketers might be curious too. So, we started a blog at www.MarketingAIinstitute.com, and began telling a story about the current and future potential of AI.
Challenge: Understand & Apply AI
Artificial intelligence is forecasted to have trillions of dollars in annual impact, yet most marketers struggle to understand what AI is and how to pilot it in their organizations. Some marketers even choose to ignore it because they perceive the topic to be too abstract.
Regardless of whether marketers embrace AI, it is accelerating change in the industry and transforming careers along the way:
Consumers will demand greater personalization, while wanting to control their data and privacy.
Technology will get smarter, intelligently automating traditionally human-powered activities while adding layers of complexity to your martech stack.
Career paths will evolve. Some jobs will be lost, and new ones, some we can't even fathom, will be created.
Brands will need to become more human with greater resources dedicated to listening, relationship building, ethics, empathy, creativity, culture and community. AI does not replace humans in most instances, rather, it enhances human knowledge and capabilities.
In essence, marketers who take the initiative to learn and experiment with AI will be able to increase productivity and efficiency, drive revenue, and generate greater ROI on marketing spend.
So what does it really mean? And how do you get marketers to explore AI and take action?
That's what we aimed to discover.
It began with our team's curiosity. At the end of 2016, we decided to share what we were learning along the way via a blog, Marketing Artificial Intelligence (AI) Institute.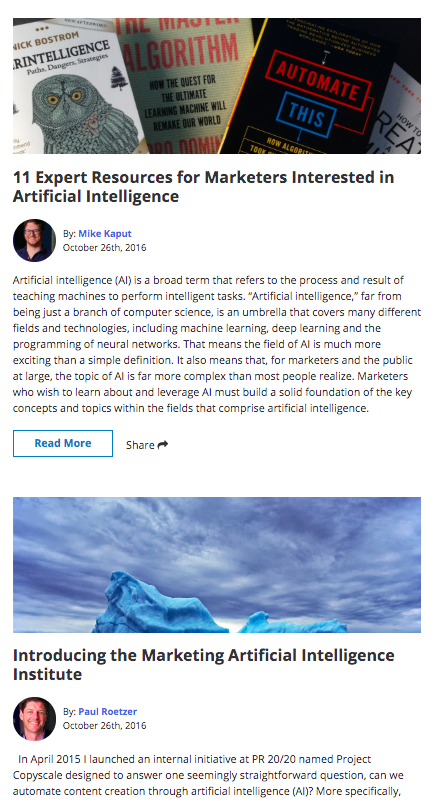 Early posts on Marketing AI Institute's blog.
Solution: Content Strategy That Drives Growth
Since its launch, we've published 600+ articles. The results of this work include (updated May 2020):
Visitors: From 0 to 16,000+ website visitors per month—and counting. The Institute now receives 140,000+ annual visitors.
Subscribers: In addition, we've built a captive audience of 15,000+ contacts, growing at 100% year-over-year.
Event Sponsors and Attendees: To take the community to the next level, we launched a global event in 2019: the Marketing AI Conference—or MAICON for short. It drew 300+ attendees and dozens of sponsors in the inaugural year.
Partners: Dozens of AI-powered marketing technology companies partner with Marketing AI Institute to help make AI more approachable and actionable.
Thought Leadership: 70+ interview and speaking requests, earned media placements, and quotes attributed to Marketing AI Institute and its thought leaders.
Thanks to the Cognitive Content Hub™ framework, Marketing AI Institute has grown from a simple blog into a global media brand. The approach isn't just growing our audience. It's growing our business.
Marketing AI Institute has a number of revenue streams, including media, speaking appearances, a global event, partnerships, and consulting.
As the marketing arm behind the Institute, PR 20/20 thinks about every activity funneling up into one of these revenue channels and core goals.
The Strategy
Building a media property starts with market fit.
From above, "Artificial intelligence is forecasted to have trillions of dollars in annual impact, yet most marketers struggle to understand what AI is and how to pilot it in their organizations."
The strategy: fill the content gap to address this market need.
The goal: build audience and relationships.
We built the Institute's readership by connecting with marketers interested in the latest marketing technology and AI.
For a deeper look at the Institute's subscriber base:
39% of subscribers work at companies with 500+ employees.
19% of subscribers work at companies with 10,000+ employees.
Sample titles include: Brand Marketing and Communications Leader, Global Director Digital, Strategic Transformation Leader, Marketing Lead - Conversational AI Products, Global Customer Marketing Engagement, Director of Demand Generation, Vice President of Corporate Marketing, Global Social & Immersive Media Strategist, Head of Digital Intelligence and Data Innovation, Executive Director Global Marketing Operations
While creating this content and audience, we also built relationships with technology partners along the way.
Each time we demoed a new tech and featured the latest spotlights on the blog or in our interactive tools, we intentionally asked if there were other opportunities to align. In doing so, we produce more immediate value for our audience (tech spotlights, buyer's guides, and more solutions in a recommendation engine), and we think long-term to additional revenue channels. All of this increases the potential of the Institute as a content engine and revenue generator.
Opportunities for other revenue channels—including speaking, events, partnerships, and consulting—all came once we were able to build audience. It's with this intentional, long-term roadmap in mind that we're able to tie each activity to one of these revenue channels and goals.
While we knew an event was a possibility, I don't think we realized this much potential in December 2016.
More on What It Takes to Build Ideas…
For the agency, the Marketing AI Institute began as a pilot idea. We'd devote some extra time and resources, and see where it went. For some behind-the-scenes numbers that show more of what that investment really looked like:
In 2016, we devoted 0.5% of the agency's total time to the Institute's launch and exploration.
In 2017, that number jumped to 3% of the agency's total time (it was in our top seven initiatives).
In 2018, the amount of time devoted increased to nearly 7%, which for us, justified turning the project into its own official LLC business.
What's Your Idea?
Have an idea that addresses a market need? There's serious power in building a content engine in your space, and this is the type of work where we thrive. We'd love to learn more about your idea, and what it will take to bring it to life.