After the movie based on its beginnings opened at #1 last Friday, Facebook has been on a roll with announcements this week that are shaking up the social network.
This week, we take a look at Facebook's three new features, with an emphasis on the most-talked-about, which also has the most implications for marketers — new Facebook Groups.
Facebook's New Groups
Facebook Overhauls Groups, A Social Solution to Create "A Pristine Graph"
Facebook announced a new Group feature, which is designed to replace friend lists and existing Groups. The new version will not delete any of the old, but rather is the best approach for new groups moving forward. These offer simplified management and an emphasis on enabling mini-communities for tight-knit groups within the larger construct of your entire Facebook community. Basically, the new Groups offer a cleaner way to set up "pockets" of friends and share within them.
According to MG Siegler, "Groups aren't replacing Friend Lists. [Mark Zuckerberg, Facbook founder] doesn't see the value in deleting what people have already worked on — but going forward, Groups is going to be the way this social element is set up." In fact, Zuckerberg shared the simplicity of the new feature in three steps:
Create a Group
Add Friends
Start Sharing
One key thing for marketers to remember, per Kipp Bodnar's take on Facebook Groups, is that the feature is intended for personal, established connections. Says Kipp: "Facebook indicated that the new Groups feature is not intended for business users, which is why Pages exist. Instead, the Groups feature is for individual users looking to have conversation about different topics with a certain segment of his or her Facebook friends."
Ian Paul also wrote a solid overview in Facebook's New Groups: 5 Things You Need to Know.
You can only invite friends to a Group.
When you're added to a Group, you're automatically opted in. If you opt out, the person who invited you is restricted from adding you to any other Groups.
Any member of a Group can invite additional members without admin approval. The administrator can, however, remove people.
After joining a Group, you will receive email notifications by default. (PR 20/20's Paul learned this the hard way, after joining an active group with more than 200 members.) You can, however, change this default setting by visiting the Group's page, clicking "Edit Settings" in the top right-hand corner, and unchecking the "send email notifications to" box.
As a new feature, there are still some bugs that need to be worked out.
And, an interesting take by Brenna Ehrlich looks at how Groups fit into Facebook's overall brand promise and user expectations. "We can now invite our friends to join us in gated (if we so choose) social networks where we can share wall posts, links, photos, videos, events, documents and engage in group chat. Sound familiar (well, aside from the docs and group chat)? Yeah, that's kind of what Facebook is — or what it started out as… Now we can create little sanctuaries within the jungle that is Facebook — a place of respite where ex-boyfriends, co-workers and random people we "network" with can't see us talking about how we really like Justin Bieber."
How to Create a Facebook Group
To create a group, visit http://www.facebook.com/groups/ and click "Create Group."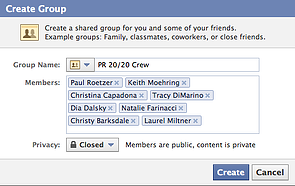 There, you name the Group, select an icon for it and add members (which start to populate as you type, using your Facebook friends list). You have three privacy options:
Open (members and content are public).
Closed (members are public, content is private). This is the default setting.
Secret (members and content are private).
Within a Group, you can share posts, links, photos and videos, and create events and docs. (Don't let the "docs" name fool you, though — this is more similar to a basic wiki than true document sharing.)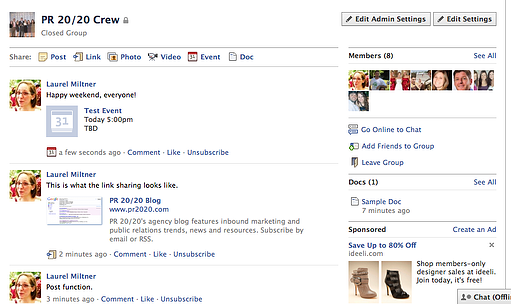 Other New Features: Profile Downloads and Application Management
In addition to Groups, Facebook released two other new features this week: the ability for users to download profile information, and updated application management. Both are aimed at alleviating privacy concerns that have plauged the social network ever since it announced and expanded the Open Graph.
Facebook Allows Users to Download All of Their Information
With the aptly-named Download Your Information, users can do just that — download their entire Facebook profile to their computer, including: profile information, wall posts, messages, photos, friends and more. Likely as a play to calm privacy issues, Facebook positions this as giving users more control of their data, though I'd argue that it's more about giving users more ownership of it.
According to David Recordon, senior open programs manager, Facebook, this open graph-related feature deviates from most open graph usage in that the company "built this product as something that's useful for people, not for other developers."
There's a great TechCrunch article by Alexia Tsotsis, which you can see for more details on downloading your information from Facebook, including a short tutorial video by Recordon.
Key benefits to this feature: Now, you can easily keep your information consistent across social networks, other online profiles and offline bios. Personally, I can see this being a big time-saver in that you no longer have to retype basic profile and bio information any time its needed, and can download all of your Facebook photos to your computer in one swoop, rather than individually picking them out when you want to share them elsewhere.
Facebook Launches New Application and Platform Privacy Dashboard
One of the biggest complaints with the Open Graph has been the lack of clarity regarding what personal information apps can access for a given user at a given time. Therefore, Facebook's new settings offer a simplified view and controls of application-privacy management. On one page:
You can see all of the permissions you've granted to an application
You can manage what permissions an app has over time
You can see what API calls an app is making, and see what data about yourself is being pulled
Leena Rao explains the new Facebook Dashboard for Connected Apps in a bit more detail: "For example, you could restrict an App from being able to post information on your wall. Or you could remove an application completely from within the dashboard."
According to the articles I've read, Facebook starting rolling out all of these new features this week. However, at time of writing, the only one I personally have access to is Groups.
For details on all three new features direct from Facebook, including explanatory videos for each, see the Facebook blog post, Giving You More Control.
What do you think of the new Facebook features?
Laurel Miltner is a consultant at PR 20/20, a Cleveland-based inbound marketing agency and PR firm. Follow Laurel on Twitter @laurelmackenzie, or connect on Facebook at Facebook.com/laurelmiltner.
Stay updated: Subscribe to the PR 20/20 blog, check us out on Facebook or follow the team on Twitter.