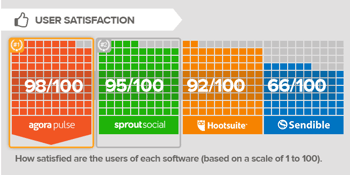 Remember when Myspace and Friendster were a novelty? Roughly 12 years ago, no one could have predicted the impact sophisticated social networks would have on international business, communications, activism and culture.
There are more than 1.23 billion monthly active users on Facebook, 396 million on LinkedIn, 307 million on Twitter, 100 million on Pinterest … and that's just a shortlist.
Social media keeps us connected to friends and family across the globe, informed on worldwide events, and has completely disrupted modern consumerism. Social media made the "selfie" possible, and has even given us a window into space.
Brands have already realized the significance of a social presence. But, we as marketers, have yet to master social media management.
And, it's understandable considering targeted audiences are segmented across networks, all demanding relevant, personalized messaging, plus real-time responses to complaints and questions. Luckily, there are solutions out there to make our lives a bit easier.
Lost in the sea of social media management software? Below, check out the infographic from the Seriously Social blog featuring the top four tools of 2015, including AgoraPulse, Hootsuite, Sprout Social and Sendible. The analysis is based on reviews from G2Crowd, "the world's leading business software review platform."
Infographic brought to you by Seriously Social and G2 Crowd
If you're in the market for social media publishing tools, my team also loves Buffer, Tweetdeck, Falcon Social, HubSpot and Radian6, among others.
Any tools we forgot to mention? Please share them in the comments below!

Sandie Young
Sandie Young started at the agency during the summer of 2012, with experience in magazine journalism and a passion for content marketing. Sandie is a graduate of Ohio University, with a Bachelor of Science from the E.W. Scripps School of Journalism. Full bio.