Last week, several members of the PR 20/20 team departed from Cleveland for a few days of marketing geekery in Boston. With multiple events taking place—Inbound Marketing Summit (IMS), HubSpot User Group Summit (HUGS) and FutureM—we had a great opportunity to network and learn from industry leaders and peers, and of course, share the best bits with you.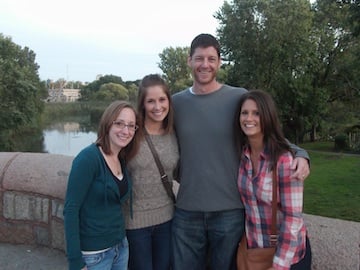 (L to R: Laurel, Dia, Paul, Jessica; on our way toward Fenway Park. See more of our pictures from the week.)
IMS
Youngme Moon kicked off IMS with an inspirational talk driven by her book, Different. As marketers, we always have to explain and differentiate our brands clearly enough so that audiences are able to do the same. According to Moon, "difference brings irreplaceability, which brings loyalty." But in a world where any type of product or service can be found through a simple online search, how can one achieve differentiation, and stand out among the crowd?
If you want to be different, you can't be afraid of being bad. Embrace the aspects of your product or service that may be perceived as negative. Some of the most-loved brands take advantage of "negatives" to truly differentiate and specialize, and create incredibly loyal customers because of them. Consider this: Apple doesn't listen to customer wants and needs, and Mini Cooper all but built its following on being "too small."
To truly be different, your ideas have to come from inside. What makes being different scary is that you're typically in it alone.
Different and crazy often look the same at first.
There is no better place to work than one with a culture of passion.
Guy Kawasaki (@guykawasaki) gave a speech about Enchantment, inspired by his book of the same title. The three keys to being enchanting, according to Kawasaki, are to be likeable, be trustworthy and have a great product. But what stood out to me most from this presentation were two actionable ideas:
"Nobodies are the new somebodies." In some cases, it may be more worth your time to connect with and enchant the kid in Arkansas that really loves your product, and will tell every one of his friends, family members and Twitter followers about it, than to try to reach a reporter at the New York Times.
"Make your mission statement a mantra." So many company mission statements are filled with lengthy, lofty language that doesn't really mean anything all at. To truly resonate with employees, customers and other audiences, keep your mission statement simple and straightforward, with your core values at the forefront.
HUGS
At the VAR day portion of HUGS, our very own Paul Roetzer (@paulroetzer) debuted a new website, Marketing Agency Insider, which aims to bring together marketing professionals in a more open and collaborative agency ecosystem. He also shared the story of building PR 20/20, and how his experiences led to into the forthcoming book, The Marketing Agency Blueprint. Sitting in the audience, I couldn't have been more honored to be a part of the team.
Rick Burnes (@rickburnes) offered insight into HubSpot's content strategy, with tips for how attendees can take content development to the next level. Some of my favorites were:
More authors = more content. By encouraging multiple team members to contribute to content marketing efforts, you're able to produce more. However, it's important to have a lead editor and/or strategist to keep information and messaging consistent with the brand identity, and to ensure quality standards are met.
Continually inventory your content with details on assets created, including format, publish date, author, topic, resource type and more. Use analytics to determine which pieces are the most popular, and focus future efforts heavily on the content that drives results.
Know your content mix. You don't have to—and probably shouldn't—spend five hours of research on every article you write. Determine what types of information you want to provide (how-to, curated, research-driven, thought leadership, provacative, etc.), and develop an editorial calendar to ensure regular, efficient content publishing.
The three keys to producing content with legs are: a relevant topic with mass appeal, useful/helpful/fun content, and a network with reach you can rely on.
When you know that a piece of content is starting to rank for a key search term, and you want to increase its visibility, focus linkbuilding efforts on that particular asset. Do this over time with your most important content to increase your reach and authority.
Kirsten Knipp (@kirstenpetra) did a workshop on inbound marketing ROI, during which she walked attendees through an ROI calculator spreadsheet (available here). If you're struggling to determine the value of your marketing efforts, you may find the tool useful.
FutureM
One of my favorite events at FutureM was led by Farrah Bostic (@farrahbostic), Brenna Hanley (@brennahanley) and Cindy Gallop (@cindygallop), where the group discussed the future of mobile marketing at From Neo to Trinity: The Matrix Reinvented.
This event began with the women presenting statistics on mobile usage, case studies of creative applications of mobile in marketing, and ideas to keep in mind when developing mobile campaigns. Then, the panelists set attendees loose in small groups to develop mobile campaigns for male-oriented brands, but targeted at females, who are leading mobile users. The creativity this activity drew was inspiring—Hanley even mentioned how cool it was to see people developing plans on the fly that in corporate settings would likely have taken weeks. Feel-goodness aside, this event offered some great tips and takeaways, but one idea stood out to me more than any other:
When people say that something is "dead" (e.g. QR codes, NFC, email), they often overlook the fact that for a technology or tactic to be truly successful, it needs to be combined with others. For example: QR codes are irrelevant without a unique, memorable or useful post-scan experience.
Were you at any of last week's Boston marketing events? What did you learn? The comments are yours.
Laurel Miltner is the assistant vice president at PR 20/20, a Cleveland-based inbound marketing agency and PR firm. Follow Laurel on Twitter: @laurelmackenzie.
Stay updated: Subscribe to the PR 20/20 blog, check us out on Facebook or follow the team on Twitter.