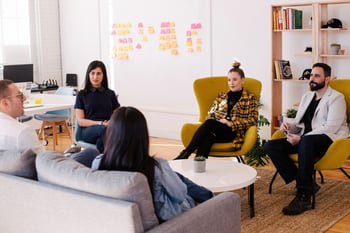 Crafting a marketing strategy is not a light lift.
With so many channels to choose from and endless data points to analyze, we could invest time and resources into thousands of areas. So where do you focus your efforts knowing that both time and resources are finite?
It's time to level set and prioritize those areas that are going to have the greatest impact on your marketing.
Luckily, there's a tool that will do the heavy lifting for you.
Marketing Score is designed to help you identify what needs to be improved and quick tips to get there.
If you aren't familiar, Ready North's Marketing Score is a free online assessment and strategy tool. It is intended to help you think critically about your marketing program, and walks you through the factors that impact marketing performance.
Related read: What's Your New and Improved Marketing Score?
Whether you're evaluating your performance from the first half of the year, starting to think about next year, or you just need a gut check, Marketing Score is a proven starting point. In fact, more than 5,000 individuals have signed up for the tool over the past seven years.
Before taking the assessment, read through the following key questions that will not only provide insight into the assessment but help you to uncover valuable context and insights to improve strategic planning for your marketing program.
1. Are your business and marketing cores healthy?
Before getting too granular, take a step back to assess the strength of your business and marketing cores.
If your cores are strong, you can dive right in and zero in on campaigns that drive leads and sales. If cores are weak, though, you'll need to invest in building the foundation.
These factors include, among many others as seen in Marketing Score:
Brand awareness
Buyer persona profiles
Customer database
Financial stability
Marketing team
Vision
Website
A strong foundation positions you well for success; individual campaigns will flounder without reach, targeted messaging, vision, and of course, the right people to drive it forward.
2. How would you rate your strength in strategy?
The proliferation of marketing channels has presented us with more choice than ever before. While positive, we must be deliberate in the delivery of our marketing message. Consumers will appreciate quality content if it's in the right place, at the right time.
Your strategic approach to the following, among others, will impact the holistic customer journey:
Account-based marketing
Content marketing
Digital advertising
Email marketing
Social media marketing
PR
Which areas can you pinpoint as a strategic liability? This might flag a go-to starting point for your planning process.
3. Does your team have the right skillsets?
The strongest marketing teams have multivariate capabilities and specializations. Even a team of talented A-players can fail if they are missing core competencies critical to organizational goals.
Marketing Score will help you to identify skillsets you might be missing, like:
Coding / programming
Communications
Data analysis
Graphic design
Market research
4. Do your technology solutions support your goals?
Next up: let's talk technology.
How would you rate your company's marketing technology utilization? The right technology solutions can transform operations and enable human talent to focus on initiatives that will move the needle.
A few areas to assess your technology usage include:
Artificial intelligence
Content management systems (CMS)
Competitive intelligence
Customer relationship management (CRM)
Marketing analytics
These are just a few, but to see the bigger picture, marketing technology is crucial to maximizing the strength of your team.
5. Are your lead sources generating sales?
You can't lean on just one channel to provide every new lead. Survey your lead generation across multiple channels and diversify your lead sources. A few of these include:
Interactive tools
Media coverage
Online chat
Organic search
Premium content
Take Marketing Score to see the full list and to rank your performance across each channel.
6. What is historical performance telling you?
In the words of Keith Moehring (@keithmoehring), "Your company must excel at bringing structure and meaning to numbers."
Simply pulling data isn't enough; someone must be able to analyze performance and adjust activities in real time. Rethink your key performance indicators (KPIs) with a few from Marketing Score:
Customer lifetime value (CLV)
Cost of customer acquisition (COCA)
Customer retention rates
Lead quality scores
Lead-to-sales conversion rates
Ready to level set your marketing?
More than 5,000 other individuals signed up for the beta version of Marketing Score. And now, Marketing Score is bigger and better than ever.
Released in July 2019, Marketing Score has been completely reimagined from the ground up. We've simplified and updated the questions and categories, overhauled the design and user experience, and reengineered the report to immediately provide far greater value.
Within 5 to 10 minutes, Marketing Score's algorithms analyze your ratings against your goals, budget and additional business factors. It then generates a personalized report with actionable insights to accelerate growth. Specifically, the final report provides:
An overall grade and context around what your ratings mean.
Opportunities to strengthen your marketing program.
Resources, tips, technology recommendations, and more to get you off and running.
Marketing Score is completely free to take. Simply visit www.TheMarketingScore.com and click the Get Started button.