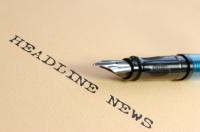 Recently, Arik Hanson (@arikhanson) questioned whether corporate America is killing our PR writers because of the prolific use of jargon, gobbledygook, buzzwords, and other meaningless text.
Too often, organizations rely on the way things "should be" in press releases and other company news. They write for the media, vendors, executives and board members. They lean on overused phrases and canned quotes because they are easy and expected, and won't ruffle any feathers.
Hanson calls for PR pros to use "a more human voice. A more conversational voice. Write like you speak." But, facing executive and client expectations of the norm, is it really possible?
In a word? Yes. If PR pros and the organizations behind them were willing follow one simple tip, I truly believe they'd see better results.
Make Announcements Like Humans

Following are two example corporate announcements that prove it is possible to ditch the PR lingo for a more conversational tone. They stand out from the crowd, and succeed in getting the word out, by speaking directly and honestly to target audiences. And by taking a few chances.
Woot Gets Acquired by Amazon (June 30, 2010)
An oldie, but one of my favorites.
Woot published a company-wide email on its blog from CEO Matt Rutledge announcing the acquisition. The memo is written in a conversational tone and uses humor to immediately help employees and customers feel at ease about what could be a disruptive move. It includes a list of "Top 5 Burning Questions" that make details of the announcement important to key audiences—such as "Will the Woot culture change?"—crystal clear.
The retailer also published a video of a rapping monkey that shared the news. And spread it.The video has more than 205,000 views on YouTube as of May 15, 2012. How many people read your last press release?
Why It Worked: Imagine being a Woot employee, hearing that the startup you helped become the breakout star of deal-a-day sites was acquired by the biggest online retailer in the world. Wouldn't you be a little scared? What if you were one of Woot's die-hard fans? Wouldn't you be afraid your favorite online shopping destination would cease to exist?
Woot's clever announcements squashed these concerns. It forewent the traditional route of the press release, and instead embraced its laid-back culture. By using humor and a bit of good-natured self-deprecation, Woot made sure that employees and customers felt safe in the company's stability. The Woot they loved wasn't going anywhere.
Nearly 44,000 results appear in Google for searches on the news. This includes placements in Mashable, The New York Times, and Inc.
SEOmoz Receives $18 Million in Series B Financing (May 1, 2012)
SEOmoz published a detailed blog post outlining the company's path to date, financing process and future plans. The article was a rare, behind-the-scenes look at a startup's road to serious venture backing. It offered a cool company story to employees, investors, customers and prospects, as well as valuable insight and guidance for other startups.
As its official announcement, the company published a "meme-ified" press release, tying key points of the deal to popular graphic internet memes.
The two resources were tweeted more than 1,600 times total in its first two weeks. How many people passed around your latest company announcement?
Why It Worked: SEOmoz's approach spoke directly to its customer base. And, it embraced the company's TAGFEE mission (be Transparent, Authentic, Generous, Fun, Empathetic and Exceptional) to break the news.
Nearly 3,000 results appear in Google for searches on the news from the last two weeks. This includes placements in The Next Web, Forbes and VentureBeat.
What's the Common Ground?
Both Woot and SEOmoz understood their brand and their audiences, and stayed true to themselves in making major company announcements. They told their stories authentically, in the personality of their brands, and each spoke to the people who mattered most—their employees, customers and fans.
Rather than writing quotes in press releases about how "excited," "thrilled" or "honored" they were, they showed their enthusiasm by putting real thought into how the news was announced. The Woot video and SEOmoz article took time and care to create, because the companies truly cared about the information within them.
In short: they made the announcements like humans, not corporations.
And, taking risks paid off. Both of these stories were all over the web in the weeks they were announced, being shared by traditional media outlets, popular online publications and customers alike. In addition, the creative announcements themselves made news—and if you count this blog as a news outlet, they still are.
What if you took a chance on your next press release?
Stay updated: Subscribe to the PR 20/20 blog, check us out on Facebook or follow the team on Twitter.