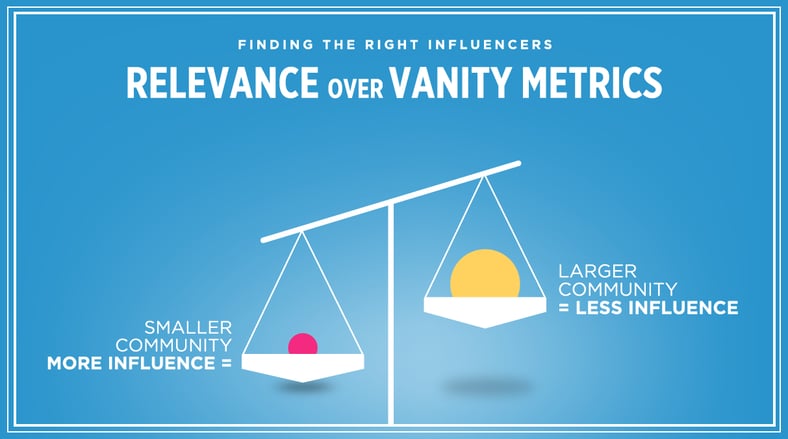 The following is a guest post by Lauren Jung. Lauren is the

co-founder of TheShelf.com, an influencer marketing platform that enables brands and agencies to connect with the most relevant influencers. You can connect with her on Twitter or LinkedIn.
When brands and PR pros dive into the influencer marketing game, finding the right bloggers to partner with is key. From my own experience, people usually head on over to Google and search for influencers related to their industry. The more savvy marketers might use an influencer marketing platform to narrow down to the bloggers they feel are a good fit for their brand. Oftentimes though, they look for bloggers that have at least 10,000 followers across every social media platform. Any blogger with a smaller audience than their sought-after follower count is not even a consideration in their books.
Unfortunately, this rules out too many bloggers because vanity metrics usually don't match up with the factors that determine success for a brand—like ROI and purchases. What truly does matter is relevance.
Why Relevance is Key
Bigger doesn't necessarily mean better. In fact, relevance and niche targeting play a far bigger role when it comes to influence. When you set out on your influencer marketing journey, you'll want to keep relevance top of mind.
It may come as a surprise, but you should be demographic-matching, not vertical matching. For example, you might find a travel blogger educating her followers on a new exercise regimen she's using to get into shape for her next big trip. That trip ties back to the general theme of her blog and targets her readers, who are also actively trying to stay fit. To that end, you don't have to exclusively work with travel bloggers just because you're a travel brand. Or a fashion blogger might be sharing a home tour, featuring decor from her favorite design company. Her readers are just as interested in styling up their homes as they are their outfits. The same rule applies here: you can work with bloggers outside of the decor space as long as they reach your demographic.
Through the Technorati Digital Influence Report, we've also discovered that 54 percent of consumers believe that the smaller the community, the bigger the influence. What's more, consumers put more trust in these communities. 'People like me' consistently falls into the top tier of influencers when it comes to conversions, according to the annual Edelman Trust Barometer research. After all, niche targeting to the right audience is far more powerful than mass reach to the wrong audience! Now, we aren't suggesting you go after the smallest fish in the sea, but we ARE suggesting that you go for relevance over vanity metrics.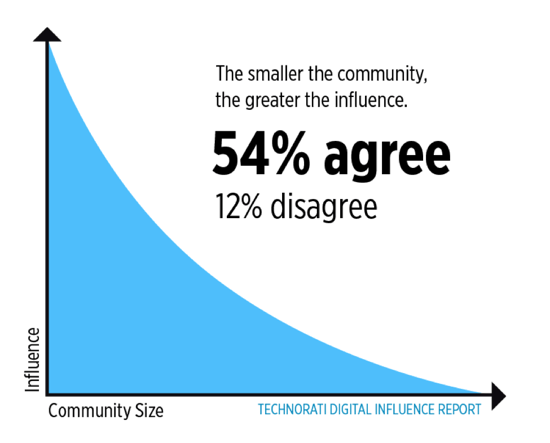 The "Magic Middle" is Where It's At
Initially defined by David Sifry (@dsifry), the "magic middle" is something that every brand should be aware of before they choose what influencers to work with. As Sifry says, "This realm of publishing, which I call "The Magic Middle" of the attention curve, highlights some of the most interesting and influential bloggers and publishers that are often writing about topics that are topical or niche [...]."
While the most well-known bloggers and celebrities have the biggest reach, they might not necessarily have the biggest impact with your target audience. Finding voices in the magic middle of the attention curve is where the good stuff happens. Brian Solis (@briansolis), writer of the book, The Art and Science of Blogger Relations defines the magic middle as "the bloggers who have from 20 to 1,000 other people linking to them." He adds, "It's this group that enables PR people to reach The Long Tail, and its effects on the bottom line are measurable."
Since these bloggers tend to be very niche in their focus, they are also very passionate about their work. They love what they do and because their audience isn't too large and difficult to manage, they're able to nurture relationships with them far more than A-list bloggers are able to. They tend to inspire their readers to try new things in their niche based purely on their recommendations.
The Truth About Vanity Metrics
Vanity metrics are all the buzz lately. What with Instagram's recent push to remove inactive accounts and spam-bots from every account, this topic was brought to the forefront, especially in industries where influencers are heavily using their social followings to secure brand partnerships. And although Instagram cleaned up their fake account act, Facebook and Twitter have yet to join in on the bot-account-removal bandwagon. In fact, some bloggers have even been approved as public figures on Facebook because of the sheer amount of (fake) followers they've amassed.
What's more, brands and PR professionals are using these numbers as validation that the bloggers are huge and will produce 'results' for them. But what kind of results are they really producing? As First Round Capital's Josh Kopelman (@joshk) advises, "The real data is retention and repeat usage." This is what brands and PR agencies should be focused on if they want to see real results.
What to Look for When Partnering Up with Influencers
When you're sussing out the right bloggers for your campaigns—the ones that will produce a good ROI—there are a number of things you should look out for. For starters, instead of just looking at the follower count, dig deeper into engagement. Does the blogger have lots of comments on her social media and blog posts? Are people interested in learning more about the brand or do the comments look more spammy in nature? This is especially relevant if you can find posts where the blogger covers a similar brand to yours.
See how the brand is positioned, how the audience responds, and how the blogger interacts back with her audience. Does she nurture them and offer more information? Once you're digging through her blog posts, try to find patterns in partnerships. Is there any repeat business from brands? If so, it's usually a good sign that the brand is serious about influencer marketing, and if they're serious about it, they typically track results. So, the repeat business is a pretty good indication that the blogger is doing a good job for the brand.
Lastly, as more brands and PR professionals put the focus on follower counts, we encourage you to look outside of vanity metrics and toward that elusive "magic middle." When you find these niche and passionate bloggers, you will also find equally passionate audiences that you can access and tap into.
Do you have any creative techniques for finding the right bloggers to work with? Let us know in the comments!
Image Source: The Shelf (@ShelfInc)
Taylor Radey
Taylor Radey is the director of marketing and a senior consultant at PR 20/20. She joined the agency in April 2013 with a background in digital and content marketing. She is a 2009 graduate of the E.W. Scripps School of Journalism at Ohio University, where she received a Bachelor of Science in Journalism, with a focus in public relations. Full bio.