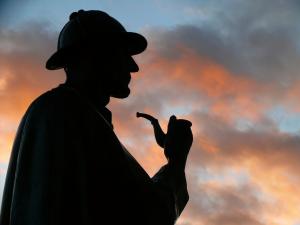 "You have been in Afghanistan, I perceive."
In seven words, Dr. John Watson meets, and is astonished by, the legendary consulting detective Sherlock Holmes.
How did Holmes know Watson's background? He observed:
Watson's medical and military bearing. His suntan (not his natural color, for his wrists were pale). A haggard face. An injured left arm.
Then, he deduced:
"Where in the tropics could an English army doctor have seen much hardship and got his arm wounded? Clearly in Afghanistan."
Few people, fictional or real, extract conclusions from a deluge of information better than Sherlock Holmes. That makes him a sterling example for marketers who want to better interpret the marketing data generated by their campaigns.
The Game is Afoot
Today's marketers must wear many hats to excel as the marketing game rapidly changes. The deer-stalker cap of a consulting detective is one of them.
(See what the others are in our free ebook, Evolution of the Prototype Marketer.)
We're not solving crimes like Holmes. We're solving problems like webstore performance, open and click rates, content effectiveness and visitor engagement—among many others.
Scaling the mountains of data required to make marketing deductions isn't easy—and not every marketer is a data wizard. But even analytics novices are required to make recommendations, build campaigns and prove ROI.
How do you even begin to think about the data in front of you? What's important? What's not?
We don't have Holmes' raw intellect to make our deductions—just his powers of observation and encyclopedic memory thanks to programs like Google Analytics. But we can steal his methods to better extract insight from our marketing data.
Here are four lessons I've liberated from the detective's playbook to make better data deductions.
1. Find What Doesn't Belong
---
"Is there any point to which you would wish to draw my attention?"
"To the curious incident of the dog in the night-time."
"The dog did nothing in the night-time."
"'That was the curious incident,' remarked Sherlock Holmes."
---
No idea where to start? Look at trends. What's gone up or down this month? What's stayed the same? How do those trends stack up against last month or last year?
Now, look for what doesn't belong. You don't need to be an analytics ninja to find a spike in a graph or an outsized portion of a pie chart. What's your data's curious incident?
A precipitous dip in traffic. A massive spike in downloads. A flood of registrations. You don't need to know what caused them. Just know what isn't "supposed" to be there. That's a great start: it gives you an idea of where to drill deeper.
2. Look at Just the Facts
---
"Insensibly one begins to twist facts to suit theories, instead of theories to suit facts."
---
Holmes knew approaching a case with preconceived notions was dangerous. The same is true when you approach marketing analytics. Marketers must produce results, justify budgets and provide insight. Jumping to conclusions is easy—and dangerous.
The moment you say Aha! is the moment to remember that correlation does not equal causation. Consider carefully:
Do you have enough data to draw conclusions?
What else could be going on?
Are there other metrics that need to be analyzed before passing judgment?
In short, you need to ask yourself about all the ways you might be wrong. It's exhausting, especially when you think you're on to something, but a little temporary pain is worth arriving at sounder conclusions.
3. Be Mindful of Your Surroundings
---
"You see, but you do not observe. The distinction is clear."
---
Holmes always knew every detail of his surroundings, including the smell, the sounds and even the number of stairs up to his rooms at 221B Baker Street. (Seventeen.)
Environmental details are critical pieces used to solve puzzles. The same goes for the connection between your on-screen marketing data and the real world.
For instance, a travel company typically experiences seasonal traffic swings. That might be the reason your traffic numbers are down this month. Organic searches for lawn care services in Minnesota probably drop in the winter. An app company just profiled by TechCrunch should expect some temporary popularity.
It also helps to put yourself in the consumer's shoes with a quick gut check. Would you open an email with that subject line, read a blog post this long or navigate the webstore with ease? If not, why would they?
Forget the metrics for a moment, and simply observe the environment in which your client or company, and your customer, operate. What environmental conditions could be influencing your data?
4. Don't Miss the Forest for the Trees
---
"Having gathered these facts, Watson, I smoked several pipes over them, trying to separate those which were crucial from others which were merely incidental."
---
What are your goals when analyzing a set of data? What questions do you hope to answer? Which metrics are most important to you?
Know your goals before you determine what success looks like. Each campaign is different—and metrics are weighted differently as a result. For instance, a 10% drop in page visits this month doesn't matter if your main metric, conversions, is up.
Here are a few resources to identify key campaign metrics:
How do you approach data? What methods are most useful to you? Leave your deductions in the comments.
Image credit to dynamosquito via a Creative Commons license.