Ninety-one percent of B2B marketers produce content marketing materials, according to CMI's yearly benchmark report. If you're among the vast majority knee-deep in content production—stop right there. A recent study from Altimeter Group found:
"Despite an overwhelming trend toward content marketing and the need to continually feed an ever-increasing portfolio of content channels and formats, most organizations have not yet addressed content on either a strategic or tactical level."
Often marketers are too busy producing white papers, blog posts, social media updates, etc., to stop and strategize. Unfortunately, the ugly truth is that if content production is not aligned with strategic foresight, it will fall flat.
A colleague of mine suggested that marketers "work smarter, not harder, on content marketing efforts." To do this, retrace your path and remake your marketing with a strategy and organized process for production.
Content Marketing Strategy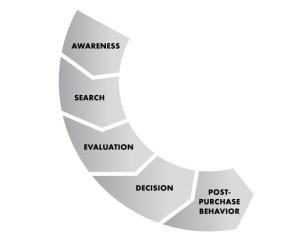 Buyer personas should be the main driver of content planning. With no buyer, you have no business. In the words of Lee Odden, "Understanding the pain points, goals and topical preferences of your customers' personas provides invaluable insight into planning content to guide that customer through the buying cycle."
We couldn't have said it better.
Get familiar with your buyer. Conduct discovery research to find out what problems they commonly face. Dig deeper to expose leading causes and uncover success factors. Observe current activity online. What social networks do they use? What publications do they read?
With a comprehensive understanding of target personas, brands can more easily (and strategically) relate. A targeted piece of content, relevant to buyer pain points and interests, is more likely to be shared and valued.
Take it a step further and integrate the sales cycle into content planning. Map your buyer's typical route to purchase, step-by-step. A standard cycle may look like:
Buyer becomes aware of a need.
Buyer begins the search for a solution.
Buyer evaluates options and compares your product to other leading brands.
Buyer makes a purchase decision.
Buyer demonstrates post-purchase behavior, based on experience.
At each stage in this cycle, the buyer seeks different information and answers related to your brand. Keep this in mind while mapping content, and seek to provide the information needed—at the exact moment it's required. To aid in topic brainstorming, list the typical activities and common questions at each stage. These topics often make for the most versatile, evergreen content that can be repurposed in lead nurturing efforts.
Content Production Organization
There is no universal secret to organizing content production. The absence of a standardized process, however, can ultimately lead to total content chaos. It's one of many reasons why content marketing software tools have exploded in popularity.
As you build your content production process, consider the gaps or problem-areas that exist in your current process, and ways to alleviate them. Remember, not all organizations need dedicated software to manage content efficiently.
A smaller organization may be able to function successfully with simple tools—for example, Google Drive coupled with a project management application. A larger enterprise, however, may need something more sophisticated like digital asset management.
Consider the following factors when evaluating your needs:
Number of writers, editors, etc.
Content review processes and approval hierarchy
Content timeline
Publishing frequency
Content strategy
Talent
Desired functionality and capabilities
The (Free) PR 20/20 Content Marketing Tools Guide
Explore your options. Download our free content marketing tools guide, which spotlights 8 content marketing solutions. The guide includes key software features related to organization, workflow management, editing, measurement and more. We've even included pricing information (if available) and whether each solution offers a free trial. Each tool offers features that can, if used strategically, truly advance your content marketing practice.
Below is a list of the tools reviewed by PR 20/20. Download the guide to investigate further and discover what aligns best with your strategy.
For a more detailed look at content marketing software vendors, we suggest Content Marketing Institutes' newly released technology report written by Chief Strategist Robert Rose (available by purchase only): Content Collaboration Tools: An Analysis of 13 Technology Solutions in a Disruptive Marketplace. Within the report, Rose takes a deep dive into the features and functionalities of 13 differing solutions.
How does your business organize content production? Would you recommend a content tool not mentioned in PR 20/20's guide? Feel free to share below.

Sandie Young
Sandie Young started at the agency during the summer of 2012, with experience in magazine journalism and a passion for content marketing. Sandie is a graduate of Ohio University, with a Bachelor of Science from the E.W. Scripps School of Journalism. Full bio.